Martha's Vineyard town responds to climate change, beach erosion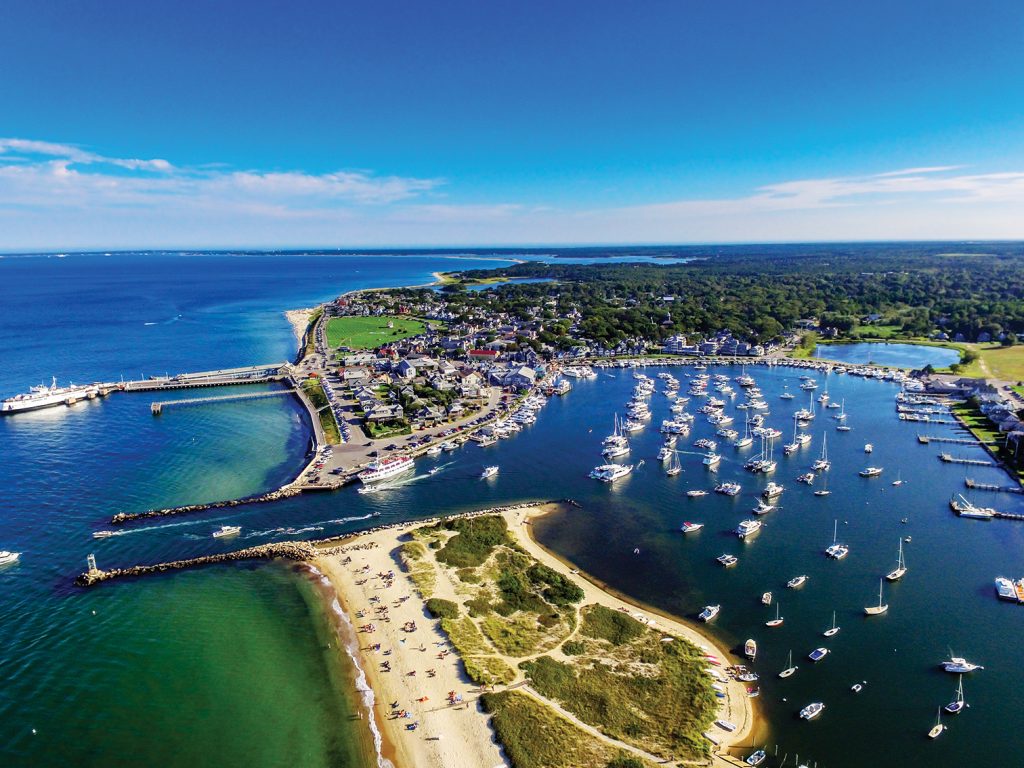 Martha's Vineyard has long been a destination spot for tourism, the allure of the island drawing visitors and summer residents from hundreds of miles away.
Beneath all of the serenity and beauty, however, lies a problem that remains a reality year-round: erosion.
Due to climate change, the beaches of Martha's Vineyard are at risk for disappearing, taking the island's tourism industry with them. To prevent this, island towns like Oak Bluffs are taking action.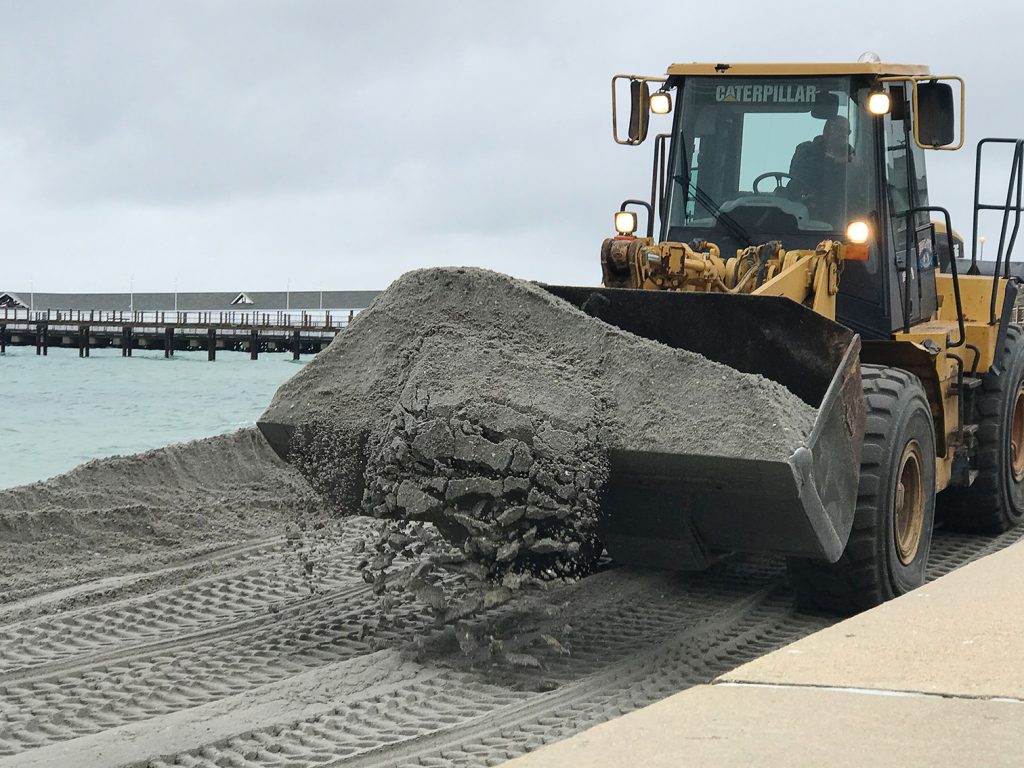 "Tourism is the main island industry, and Oak Bluffs, we're a very seasonal, resident-vacationer and tourist-centric town," Elizabeth Durkee, the conservation agent for Oak Bluffs who headed up the Martha's Vineyard Coastal Resiliency Project, said. "So it's important that, while we still can, we need to protect our beaches because that's what people come here to enjoy."
In 2015, the Martha's Vineyard Commission created the hazard mitigation plan for seven towns on the island, which included Oak Bluffs. Concerned about severe weather-related damage to beaches and roads, the town wanted to take things a step farther.
In November 2018, Oak Bluffs applied for a Municipal Vulnerability Preparedness grant from the Massachusetts Office of Energy and Environmental Affairs. With this funding, the town was able to conduct two community resilience building workshops, building upon the 2015 plan, as well as a 2016 coastal vulnerability assessment and adaptation plan.
"As an island community, we're really in the bullseye of climate change and were taking it very seriously," Durkee said.
By March 2019, project consultants Dodson & Flinker, Landscape Architects and Planners had compiled the findings into a report, which they presented to the Massachusetts Executive Office of Energy and Environmental Affairs. Work was underway fairly quickly after that.
"There were five identified priority actions in the report and one was to protect Seaview Avenue," Durkee said. "We applied for a Municipal Vulnerability Preparedness Program action grant to renourish the North Bluff beach."
The North Bluff includes a road running above the beach, between the harbor and the steamship authority hub. It is busy with people dropping off ferry passengers and day-trippers arriving on the island.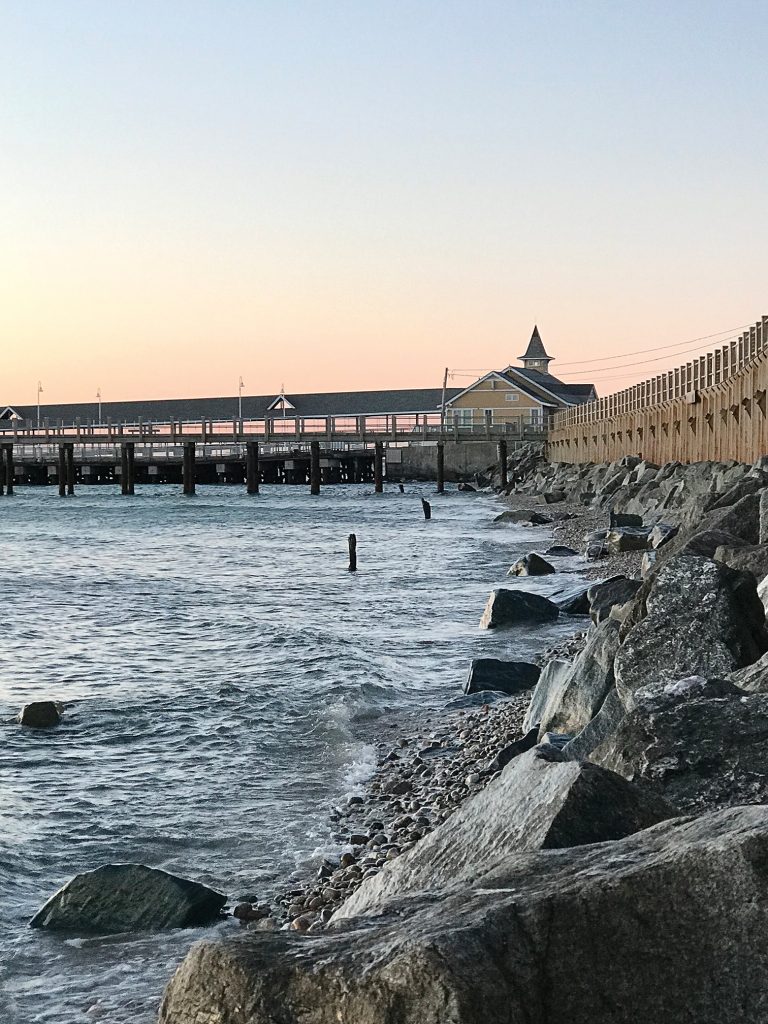 "The North Bluff project is a really great example of a coastal adaptation project," Durkee said. "If that coastal bank had collapsed and if that seawall had collapsed, it would have been a transportation nightmare."
Part of this project involved rebuilding a failed seawall. The new seawall, Durkee explained, is 4 feet higher, with a pedestrian boardwalk on top that has become quite popular.
"Coastal armoring is not considered the best protection," she said. "But if you've already got a seawall in place, it's important to make sure you protect what's behind it."
The project also included a state-built, ADA-accessible fishing pier.
"Almost all of this huge project is a really great example of protecting the coast, adding amenities and increasing the recreational value of the site while protecting the road," Durkee said. "The beach nourishment is designed to protect the seawall and provide recreational benefits for the town."
Besides the North Bluff project, other work has also taken place throughout the town.
"Rehab was performed on some old timber growings on the beach to help to keep the sand in place longer than it might otherwise stay," Durkee said. 
The harbormaster applied for and received a grant through the Coastal Zone Management Coastal Resiliency Program to conduct a study on harbor resiliency, which began earlier this spring.
Another priority Durkee pointed out is protecting the town's freshwater supply. Likely this will involve raising a causeway that will protect well sites from saltwater intrusion.
The Martha's Vineyard Commission, Regional Planning Agency and town of Oak Bluffs applied for and received the MVP action grant to develop an island-wide climate adaptation master plan. Plans are to apply for a second round. Of course, this will greatly benefit Oak Bluffs, as well as the other towns.
"All the island towns have done the MVP project, so the identified priorities from each town will be looked on as priorities for the master plan," Durkee said.
It does not stop here, however. Oak Bluffs is applying for another MVP action grant to finish designing an enlargement for a culvert along Farm Pond Road as well as beach nourishment in front of the culvert between Farm Pond and Nantucket Sound on Seaview Avenue.
Pertaining to climate change-affected weather, the Martha's Vineyard Commission and town of Oak Bluffs has also applied for a coastal resiliency grant for a storm pathways study. This will help identify where flood waters are anticipated to go as sea levels rise and storms become stronger.
A threat many people may not think of on an island is wildfires. Yet, Martha's Vineyard has its share. With woodlands in the middle of town, Oak Bluffs is no exception.
"It's not all coastal resiliency," Durkee said. "There are other issues we're concerned about."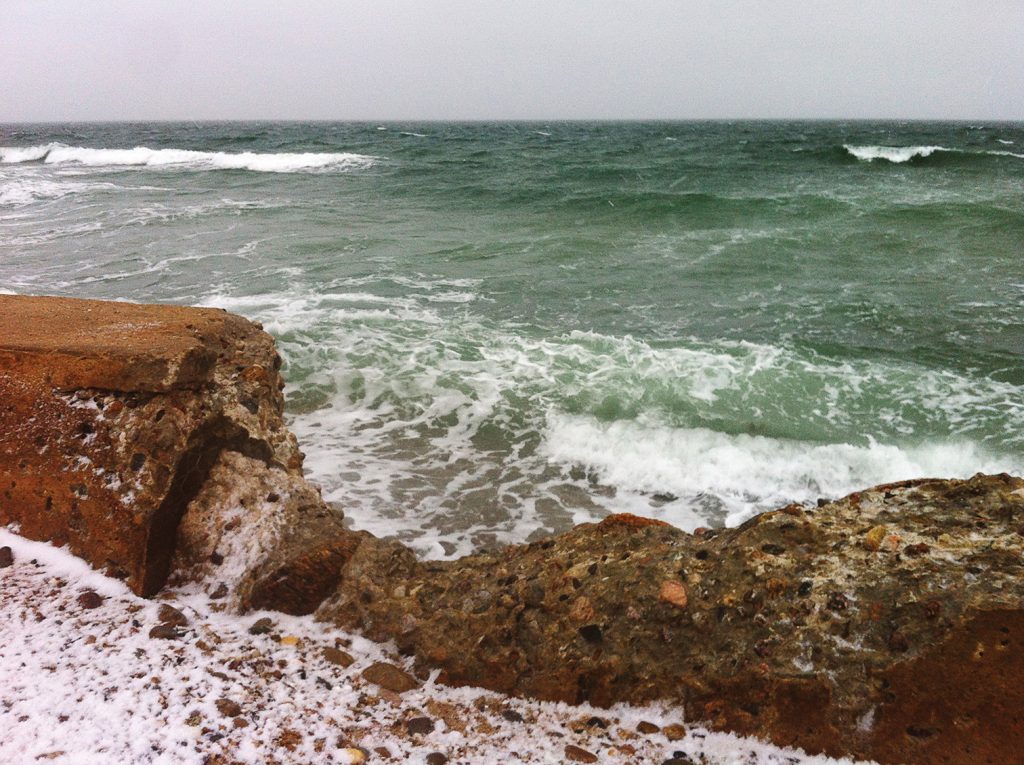 All of the above serve mainly as an overview of some of the community resilience building workshop's findings and of projects that have taken place thus far.
Prior to the MVP program, Oak Bluffs performed a vulnerability study, which was ultimately rejected due to lack of public and stakeholder input.
"The public and stakeholder input is really important," Durkee said. "It was a good exercise. There's a lot more that we need to do to, but we're trying to check off the priorities and get things done. We're a very vulnerable island and town."
Even with all of the work that has taken place, there is still a sense of urgency when it comes to coastal preservation.
"In this last year, the amount of activity going on in regards to climate adaptation really exploded, and there's just so much going on," Durkee said. "We need to become aware that we need to address this now, because it's starting now and roads are flooding in storms, and the sooner we do these things, the less expensive they're going to be as well."
While climate change is a known threat, there have been other unforseeable factors affecting Oak Bluffs and Martha's Vineyard. In March, coronavirus-related shutdowns began, including a ban on construction in Massachusetts.
"The North Bluff project was wrapping up just about the time construction bans went into place, so that worked out OK," Durkee said. "Other than that, we are just kind of concerned about whether anybody is going to be able to use the beach this summer."
Typically, the Martha's Vineyard tourist season lasts Memorial Day through Labor Day, with some people arriving as early as April and staying as late as October or November. July and August, Durkee said, are the peak time for tourists and summer residents.
As of press time this spring, a lot of uncertainty hung in the air as to whether Martha's Vineyard would even have a 2020 tourist season.
"This virus situation is obviously affecting the summer season," Durkee said. "Businesses are closed and we don't know how many people are going to be coming, or if people are going to be coming."
This is only a small reflection of the uncertainty surrounding all coastal areas as the effects of climate change progress.
"This is a preclude to what we're going to be seeing in the future with climate," Durkee said. "Will people still want to come to an island resort?" For now, destinations like Martha's Vineyard and coastal towns like Oak Bluffs are doing the best they can to preserve what they have.