Cities nationwide deal with urban wildlife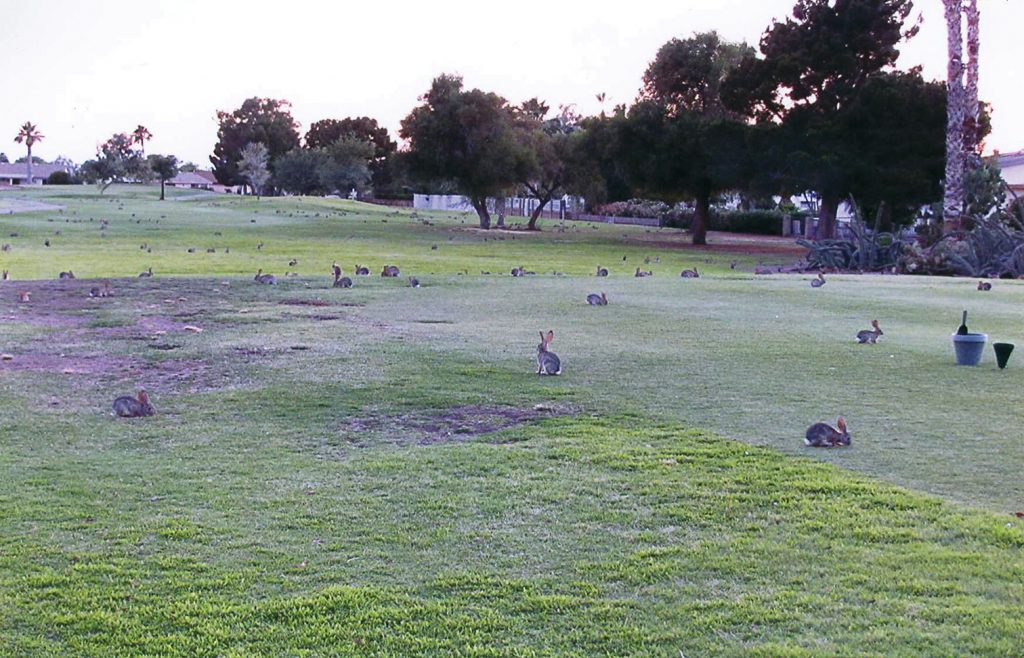 Cities in Arizona
In Arizona, the state, rather than individual cities, is responsible for urban wildlife problems. In turn, according to Darren Julian, Arizona Game and Fish Department Region VI urban wildlife specialist, the state relies heavily upon municipalities to help them get the word out about urban wildlife management.
Julian's region consists of the Phoenix metropolitan area but overlaps into smaller cities as well.
Coyotes are one of the biggest urban wildlife pests in Julian's region. Others include bobcats, gray fox, mountain lions and a pig-like animal called a Javelina.
"Coyotes have figured out where people are, where food sources are," Julian said, adding coyotes seldom attack humans.
"More of the things I end up dealing with are the chronic nuisance issues, pet concerns, livestock like backyard chickens," he said. "Rarely it becomes a human issue, then that's when our wildlife managers are involved as well."
Springtime is coyotes' "pup-rearing" time, when adults are more willing to take chances to secure food for their young.
"We also see some defense of den space, although that's kind of gone down," Julian said. "Coyotes have figured out humans are not a threat at this point."
Since 1997, there have been 22 reports of coyote bites or scratches in the Phoenix Metropolitan area, and nearly all of those can be attributed to people feeding the coyotes.
"I tell people there's bad feeding and there's terrible feeding," he said.
"Bad feeding" is leaving food out for the animals. "Terrible feeding," he added, is directly offering the coyote food, which in essence rewards it for coming close to humans and teaches it to see them as a food source.
"That's when people get bit," Julian said.
Successful mitigation of wildlife concerns often depends on a good working relationship between city and state. Scottsdale is one example.
"We have a good working relationship with them, mainly their parks department and their open-space natural preserves," Julian said.
In one instance, the state worked with these entities to outlaw the feeding of all wildlife in city parks.
"So basically, you can't go feed the ducks," Julian said. "There were some big issues with that. There were getting to be some aggressive geese, water quality issues, that kind of thing."
Paradise Valley is another example.
"The chief of police was very beneficial in testifying before the state legislature to get a law passed, a ban on feeding wildlife," Julian said.
Paradise Valley was the first city in Arizona to have a city ordinance banning the feeding of coyotes, Julian said. The ordinance was passed before 2006.
A 2006 Arizona state law makes it illegal for people in cities of 280,000 population or larger to feed wildlife, with the exception of birds and tree squirrels. Unfortunately, this law does not pertain to smaller cities, and some people tend to feed whatever wanders into their yards, including larger animals like elk and deer.
"We're still trying to figure out how to move forward with that," Julian said. "We have no authority telling them how to treat elk and deer at this point."
Overall, Julian said the department has had great success in building partnerships at the community level. He named Sun City and Sun City West as examples, plus retirement communities and homeowners associations.
"There's usually a point of contact within the community that deals with wildlife issues," he said. "They're kind of a gatekeeper, if you will. They look at what's going on, they have the pulse of their community and usually when things start getting a little crazy, we will come in and do a large public meeting."
While urban wildlife management has largely fallen to the state, in the past there was some thought of handing it over to the individual municipalities to handle. "The issue with that is that we've owned it to this point; we can't just say, 'Here, you own it,'" Julian said. "So, it becomes kind of a hard question. If any city wants to take on more authority, we will gladly give it to them (and) work with them."