Bring downtown alive with 'Music on Main Street'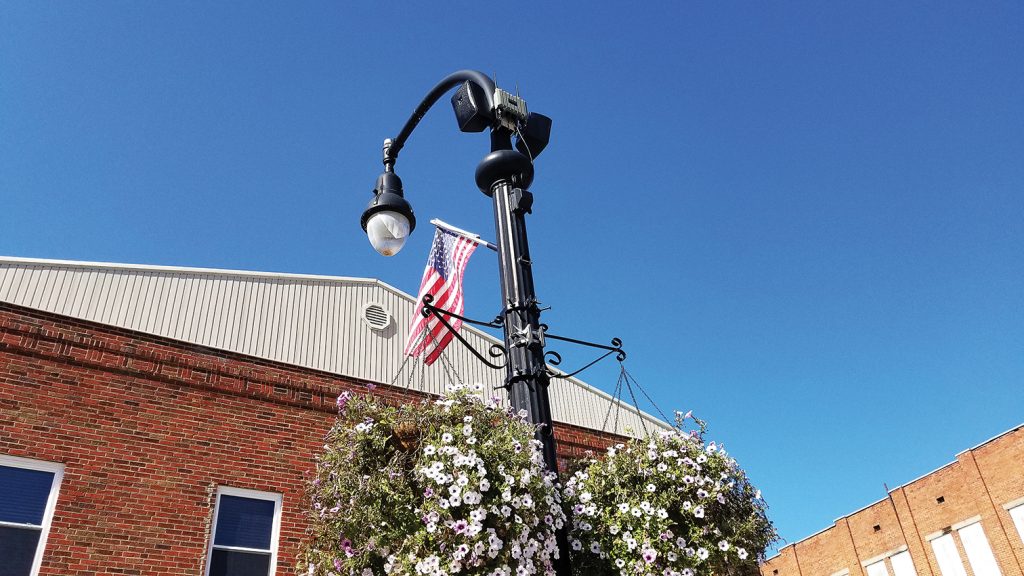 Today more cities are investing in their downtowns than ever before by completing a variety of streetscape and placemaking projects. While these updates generate a visually pleasing place to visit, cities shouldn't discount adding background music when crafting the perfect atmosphere for businesses, residents and visitors. However, if a streetscape project has just been wrapped up, public works departments are probably going to shy away from even the thought of excavation work. But what if a sound system was possible without digging or even stringing wiring from pole to pole? The dream certainly becomes more attainable and affordable with a new wireless solution.
AirNetix of Smyrna, Ga., has developed a ruggedized outdoor wireless audio system called StreetSounds, specifically designed for "Music on Main Street." The company has been selling the systems to small- and medium-sized towns across the U.S. and Canada since 2015.
Nearly 100 customers have seen the benefits of StreetSounds, musically boosting festivals, parades, special events and the holiday season. Having daily background music can encourage downtown visitors to sit a spell and simply enjoy their city's beautification efforts or support local downtown businesses. Such systems also have the benefit of mass notifications, whether for weather alerts, Amber Alerts or any other necessary public emergency announcement.
A sound match
If you have a classic small-town Main Street, with a high concentration of shops, businesses and restaurants, plus ample outdoor seating, StreetSounds could very well be a match made in heaven, especially if you have a plan.
The first step is to determine where audio coverage is needed. The wireless audio system is designed to be mounted on existing streetlight poles from which it gets its AC power. Most small-town city blocks are between 250 feet and 350 feet long, with streetlight poles typically situated about 120 feet to 150 feet apart. This provides the perfect mounting location for the wireless speakers. Affixing the speakers in an alternating pattern, or zigzag pattern, can offer good audio coverage. Additionally, AC power must always be turned on, opposed to power that only comes on in the evening.
If the poles are not owned by the city, a pole attachment permission must be obtained from the owner, i.e., the local power company, similar to what is needed for holiday decorations or hanging baskets. The power company will take into account the size and weight of the speaker system as well as the power consumption.
Installation is typically done by public works personnel using either a bucket truck or ladders, depending on the height of the pole. A typical installation takes about 15 minutes per pole.
A StreetSounds network includes a single master transmitter into which the music or audio is fed. The master transmitter needs to be within radio range of at least one of the pole-mounted speaker units. It can even be located in an office somewhere on Main Street. Since the pole-mounted speaker units are "repeaters," the signal is propagated from one pole to the next and can even go around corners and down side streets so the master transmitter does not have to cover all units directly.
Sound at work: Luck, Wis.
The town of Luck, Wis., welcomed StreetSounds to its downtown a little over a year ago. "We always had a sound system," Seth Petersen, director of public works, explained. "It was kind of homemade and not very good. During our Main Street rehab design phase, we looked at wired sound systems and also put in a conduit."
By chance, the department heard of a wireless sound system, and after a quick Google search, it discovered StreetSounds. Petersen stated, "It was good luck!"
Once selected, the wireless sound system was approved by the board members, who appreciated its less expensive price tag compared to wired alternatives. Installation was easy, especially since the public works department had already placed brand-new light poles, which also hold the town's holiday decorations and decorative flags. Since the poles and speakers are black, the department found black strapping and mocked one up: The results were favorable.The speakers simply blended in. Using computer remote access, a representative with AirNetix assisted with final configuration and made sure the network was functioning as it should.
"I was watching the mouse move, and then the next thing, it was playing music downtown," Petersen shared, noting since then, "It has been very seamless."
During the COVID-19 pandemic, StreetSounds created an opportunity for the town of Luck to support and honor its high school graduates with a parade downtown. Petersen, through the use of his cellphone, played "Pomp and Circumstance" over the StreetSounds system as the graduates drove by and the community turned out to cheer them.
This is only one application of StreetSounds by Luck. Petersen shared the town plays classic '50s music for two hours over lunch. The wireless sound system also enriches the holidays with kid-friendly Halloween music played in October, followed by Christmas music from Thanksgiving through Christmas and the winter carnival. The system is also used heavily during the Lucky Days Festival, playing both music and being used for announcements, especially during the parade.
"Someday I would like to play a movie or set up karaoke," Petersen said, noting nothing has been determined yet for such events. "But it's nice to have the option."
And the new wireless system has been embraced by the community, with Petersen commenting, "Everyone has been happy. The old system was hard to understand, but the new system is so clear and sounds so good. Even a board member who deals with sound systems is amazed."
Other nearby communities have noticed as well, and Petersen said he has fielded questions from them about StreetSounds. "It just sounds so good."
StreetSounds inventor and AirNetix President Mike Hooper said, "Our biggest thrill is to watch the faces of our customers as they first turn on the music. Their ear-to-ear grin makes all of our hard work worthwhile."  For information, visit AirNetix LLC's website,
www.streetsoundswireless.com.