Dockless bikes & scooters: Avoid being clueless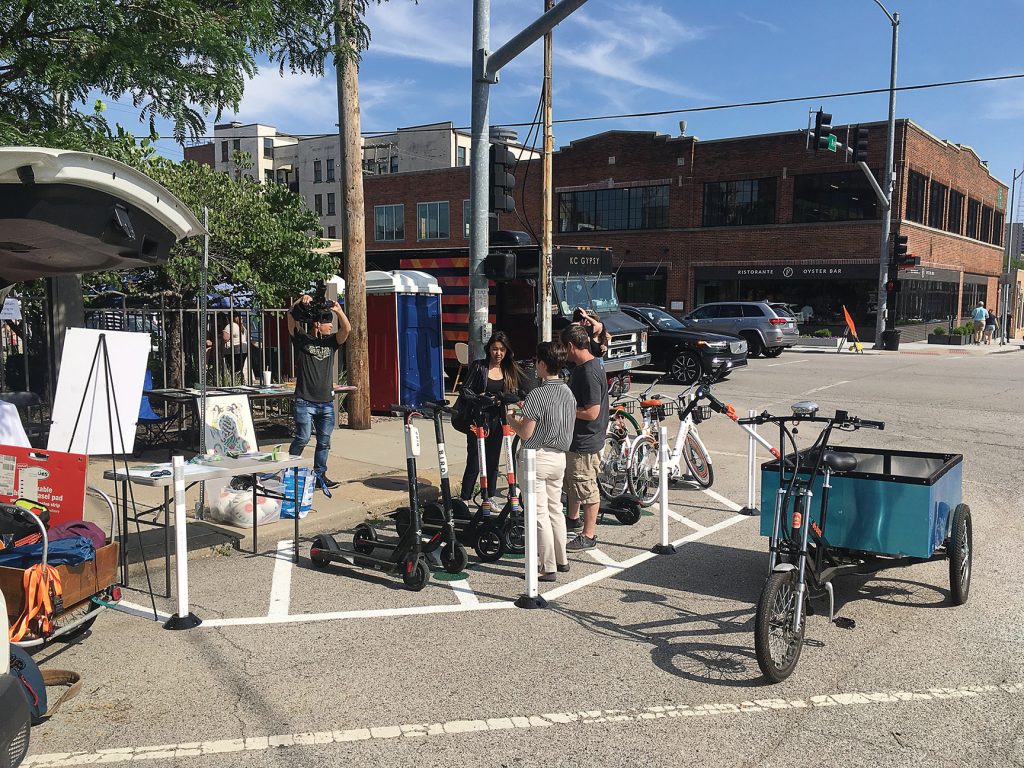 Now that spring is finally here, people are coming out of their musty winter caverns and enjoying pure, warm sunlight again, including venturing into the heart of their cities.
Those who work in offices yearn for the outdoors, especially folks who live in the suburbs and other crowded places. One way to get the most out of this exuberant season is to travel by bike or standup scooter downtown, and this enjoyable pastime is often available in cities and towns who partner with e-vehicle businesses.
Cities desiring healthier citizens embrace these newer modes of e-transportation that offer pollution-free exercise, fresh air and a reduction of traffic congestion.
Maggie Green, public information officer with public works of Kansas City, Mo., was enthusiastic about such a program and volunteered her expertise on the subject of additional modes of transportation. Her city began a yearlong pilot program last year.
"We have three providers operating in KCMO currently in a yearlong pilot program that started on May 9, 2019," said Green. "Spin and Bird are both dockless scooter companies, and Ride KC Bike and Ride KC Scooter use lock-to technology on both bikes and scooters that can be locked anywhere — so long as permitted.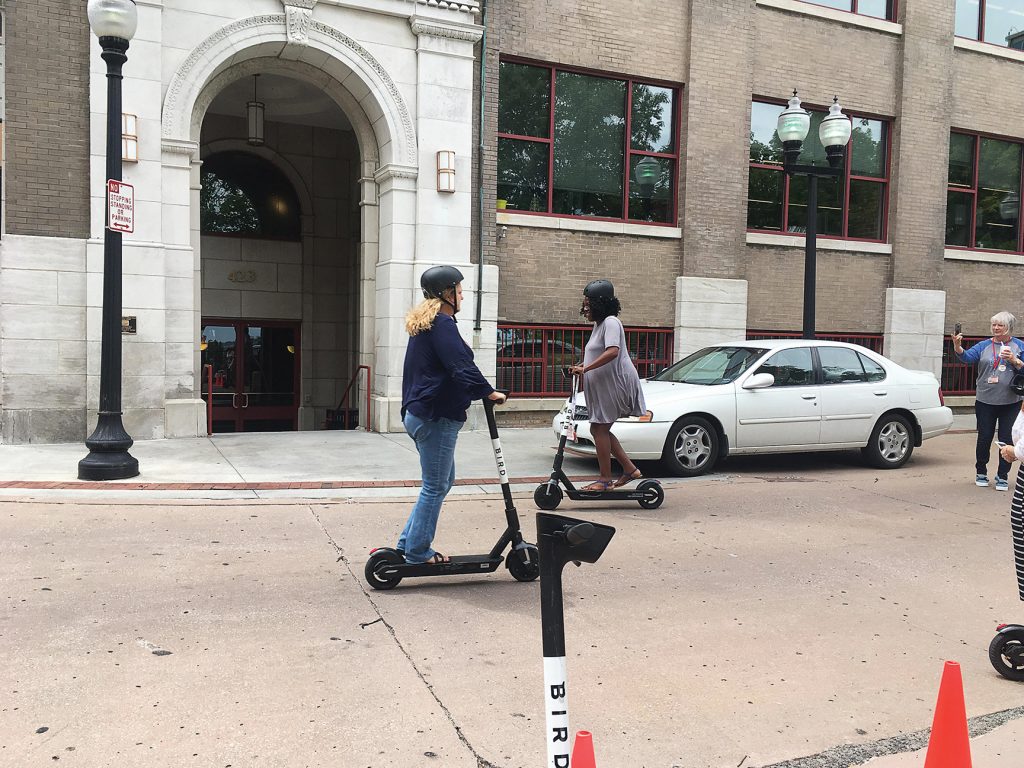 The first e-scooters arrived in KCMO in the summer of 2018, according to Green, and the staff acted quickly and intentionally to develop an interim operating agreement to keep the scooters on the ground through the busy season. In winter 2018-2019, staff developed the structure for a pilot program and micromobility pilot operating agreement, in which companies were encouraged to apply through a competitive request for proposals process. The pilot kicked off May 9, 2019, and ended April 30, 2020. As of press time, Green and her staff are currently working on wrapping up the existing pilot program and determining next steps.
There were challenges, to be sure, according to Green, who bulleted some examples:
• Flexibility: Traditional planning does not account for emerging disruptive technologies; staff had to act swiftly to make sure there was a process and regulations for scooters operating in KCMO.
• Ongoing management: KCMO does not have a dedicated staff person to this program. Instead, this is the program being led by a multi-department group that tracks various components of the program. A program coordinator would allow for a more streamlined management approach both internally and externally with the partner companies.
• Supporting infrastructure: KCMO is working to build a bike lane network, as well as add scooter parking hubs to support this transportation mode. The more micromobility infrastructure, like bike lanes and end-of-trip facilities, available, the better — for safety, network connectivity and providing adequate infrastructure for riders.
• Enforcement strategies: The city has encouraged riders to not park on sidewalks or blocking ADA ramps; use safe riding behaviors and not ride on sidewalks. Both the city and its partner companies are working to address these issues.
Kansas City B-cycle, now RideKC Bike, is the city's docked, kiosk-base bike share system that launched in 2012. It's operated by nonprofit BikeWalkKC in coordination with RideKC, the city's transit system. The nonprofit has expanded to include dockless, lock-to technology for e-scooters and e-bikes as of the start of the pilot program in May 2019.
The city is developing policies for this event, Green noted.
"KCMO's approach to scooters and e-bikes has been intentional, incremental and equitable," said Green. "We launched a yearlong pilot program to learn more about how the scooters would interact with KCMO's infrastructure, market, weather, demographics and existing rules and regulations.
"Each company signed an operating agreement for the pilot program that outlines reporting requirements; fees; data sharing and privacy; equity and inclusion; education and outreach; and program operations. We've met/had calls with each company several times over the course of the pilot to check in, make adjustments and hear feedback about the program."
What are the advantages of docked vehicles to undocked vehicles in KCMO? According to Green, dockless provides autonomy of being able to use the device and park it in any appropriate space without having to worry about locking it up. Lock-to requires the scooter or bike to be locked to a bike rack, pole, etc.; this can alleviate some of the parking compliance issues experienced, such as scooters blocking ADA ramps, transit stops, middle of sidewalk, etc. On-street mobility parking for both vehicles is often sought in or near bike lanes.
Dockless scooters can be disruptive to traffic by zipping in and out without warning or regard for others. They can clutter sidewalks and block wheelchair ramps and weave through crowds. They can ignore traffic rules. The list goes on.
Green noted the city's multi-departmental team continues to meet to work through opportunities and challenges with scooters and e-bikes in KCMO for residents and visitors.
Kansas City has the unique distinction of being the first to offer both electric bike and electric scooter options that are fully integrated with the regional transportation system.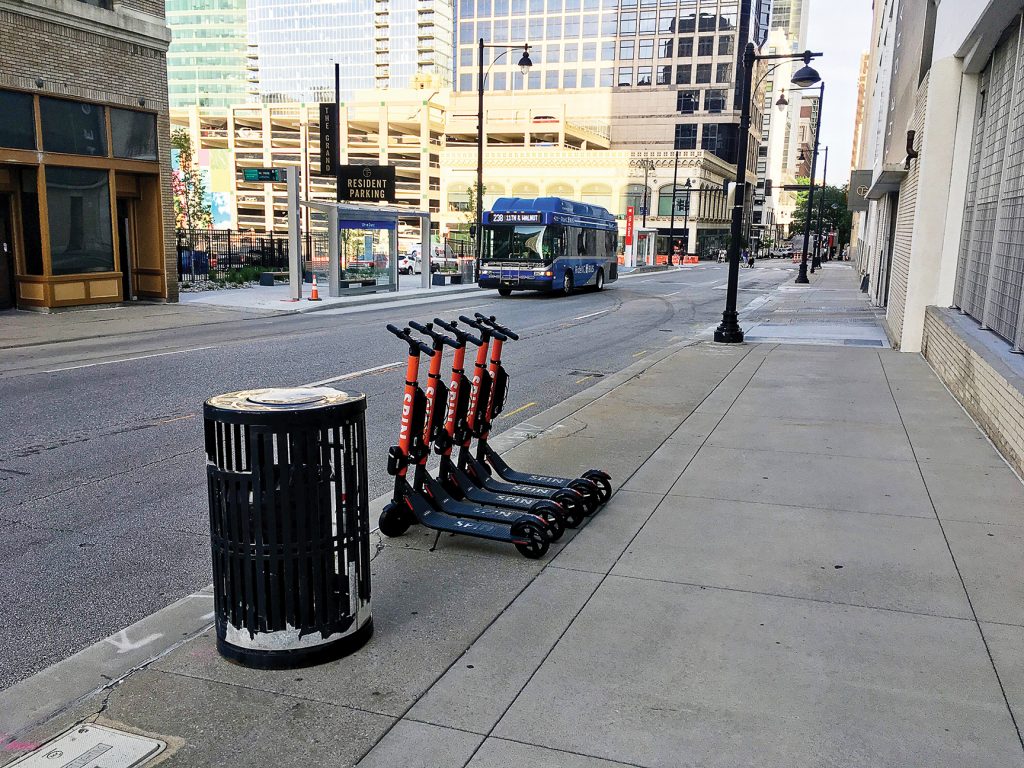 Rules for riders may include wearing helmets, riding in certain marked areas — not on sidewalks or parkways — and not blocking access to sidewalks or building entranceways when parking. Each city must set its own rules and regulations, including licensing, in addition to the rules that come with each e-vehicle.
With COVID-19 in mind, each e-vehicle company is taking critical measures to keep its riders safe. Spin, for example, keeps updated with World Health Organization, Centers for Disease Control and Prevention and local public health agencies guidelines. To ensure a safe ride, Spin is increasing cleanings of its 
vehicles as soon as they come back to the warehouse. Its employees are required to wear gloves when cleaning the vehicles. Riders are also recommended to use hand sanitizer containing at least 60% alcohol before and after the ride.
Riders are asked to educate themselves on what to do in emergencies or accidents; how to do minor repairs; and know when to bring the e-vehicles back for charging support. Spin's cost is $1 for every 30 minutes, which its cellphone app will track. Riders will learn how to enter their passwords, how to unlock their vehicles and what to do if their vehicles do not unlock.
Green said there had been no widespread thefts of bikes or scooters, but that one would have to check with the scooter companies directly to see if they have had any issues. Also, few injuries have been reported on either e-vehicles, with four-month records showing only 19 accidents. Most injuries are abrasions or bruises. Scooters can travel up to 15 mph.
Cities interested in beginning such a program for their residents over the age of 18 and visitors can Google scooter/bike companies, such as Bird, Spin, Skip Scoot and Lime, to see which company is a good fit for them and what their fees are. Let your residents go green while enjoying one of these al fresco options to enjoy the warm-weather months.