City seals: Roswell, New Mexico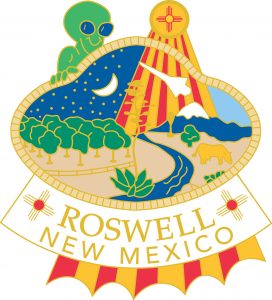 The city seal of Roswell, New Mexico, is probably the only one in the country to feature an alien.
The green extraterrestrial is shown looking down upon an idyllic rustic scene from outside its boundaries. The alien is holding a disc, from which beams emanate to the ground behind a mountain, river, woodland and a grazing animal.
The seal boasts "Roswell, All-American City" across the bottom of the image.
The seat of Chaves County, Roswell, population 47,635, is the fifth-largest city in New Mexico. Its main businesses are a balance of agricultural and industrial, and include irrigated farming, dairy, ranching, manufacturing, distribution and petroleum production.
Roswell is home to the New Mexico Military Institute, which was founded in 1891. TV journalist Sam Donaldson and hall of fame quarterback Roger Staubach attended the academy.
The city, of course, was put on the map in the summer of 1947 with the apocryphal report of the crash landing of an alien aircraft, though the debris was actually found about 75 miles north of Roswell. A rancher in Lincoln County found the strange wreckage — including rubber strips, tinfoil and thick paper — on his property and took some of it to the sheriff in Roswell, who notified the commanding officer of the Roswell Army Air Field.
The RAAF released a statement the following day about coming into possession of a "flying disc," but changed its story a day later, claiming the object was a weather balloon, an explanation the U.S. Air Force admitted in 1994 to being bogus. Instead, the Air Force said the wreckage came from a spy device designed to float over the USSR to detect sound waves.
The alien bodies allegedly seen by some were dismissed in a 1997 government report as fallen parachute test dummies.
Questions persist and many Roswell enthusiasts will probably always believe the government was and is up to nefarious secrecy.
Roswell hosted an out-of-this-world descent of the more celebratory kind on Oct. 14, 2012. Austrian daredevil Felix Baumgartner jumped from a helium balloon that had ascended into the stratosphere, setting world records for the longest free fall — 24 1/4 miles — and fastest free fall speed — 834 mph, making him the first human to break the sound barrier outside a vehicle.
Since 1996 Roswell has hosted a UFO Festival, drawing thousands of visitors a year to the International UFO Museum and Research Center. The three-day event, held the first week of July, features alien costume contests for humans and pets, an evening light parade, memorabilia and Fourth of July fireworks.