ITD eyes potential animal detection systems, wildlife crosswalks
As populations boom and humans encroach more on wild spaces, there has been an increase in the number of wildlife-vehicle accidents. Many municipalities and state departments of transportation, however, are seeking ways to ensure the safety of drivers with innovative animal detection systems, over/under wildlife crossings, special 8-foot fencing, among other avenues.
These methods are not without dissension, however. The Idaho Transportation Department, after finishing a Targhee Pass Environmental Study, has proposed animal detection systems along the U.S. 20 passageway near the Montana border to reduce the number of vehicle/animal collisions.
According to Megan Stark, ITD Office of Communications, the study was an evaluation of the risks, benefits and costs in regards to the reconstruction of Targhee Pass stretch of the U.S. 20 corridor, which was targeted for updates in 2016 by the Federal Highway Administration. The study proposed road improvements and five alternate improvements, including a "no-build" alternative.
The Fremont County — population 13,094 as of 2017 — road upgrades include:
An additional travel lane in the uphill direction from State Highway 87 to the Montana state line
Shoulder widening from 5 feet to 8 feet
Hill cut to improve stopping-sight distance
Left- and right-turn lanes into Big Horn Hills Estates' entrances
Tree clearing to reduce shade
Road subsurface reconstruction and drainage improvements
The first alternative is a "no-build" option, which means only maintenance improvements by ITD. Alternative two proposes wildlife crossings and a fence while alternative three would be an animal detection system.
Alternative four proposes wildlife fencing on both sides of the road, one wildlife-crossing structure and "wildlife crosswalks," which would be a break in the fence where animals will be led through electrified mats to cross the highway. Each crosswalk would come with an animal detection system to alert drivers when an animal is crossing.
Alternative five consists of "operational measures" such as variable message signs to alert drivers when an animal is on the highway.
"We had a public meeting on Jan. 17, 2019, at the Island Park EMS building where we showed the public where we were at in the environmental assessment process of the project and the proposed alternative, which is alternative three — animal detection systems," said Stark, adding that the Targhee Pass project is 4.2 miles total.
"There was a 30-day comment period where we accepted all comments from the public on the draft EA, which ended Feb. 1, 2019. ITD is currently reviewing all received comments and will put together a document responding to all comments and questions along with revising the EA analysis as necessary."
According to Idaho Falls resident Ryan Suppe, of the Post Register, there are "very passionate advocates on both sides of the debate.
"The area in question stretches from milepost 402.1 to 406.3, according to ITD's Targhee Pass environmental assessment," said Suppe, "and that is where the proposed detection systems would go.
"Fremont County residents voted against the wildlife crossings by a wide margin via a November 2018 ballot question, preferring to install wildlife detection systems, rather than wildlife crossings."
On the other side of the coin, hunters advocate crossings that protect drivers and the hunting heritage. Studies have been done on roadkill counts and projected traffic volume making it hazardous to navigate in the backcountry.
Busy roads — the posted speed is 65 mph at Targhee Pass — are an obstacle to wildlife migration as large herds of elk, deer and moose migrate en masse to find food during the winter and to provide top-notch hunting opportunities. After several fruitless attempts to cross the roads, the herds give up, and since migratory behavior is learned over several generations, the herds begin to stop crossing roads; this forgotten conduct can be very hard to recover.
"ITD has driven this project many times," noted Stark. "In the environmental assessment, ITD equally evaluated five alternatives. The department thoroughly considered the environmental impacts any alternative would have. From our analysis, ITD determined the animal detection system would be the best option for the Targhee Pass Project. We based our preferences for the ADS alternative on several factors. ADS is an ever-evolving technology. There is evidence and research that shows these systems are effective in reducing wildlife vehicle collisions. ADS provides drivers the opportunity to be more aware that wildlife are in the area and near the roadway."
State Representative Jerald Raymond, District 35, travels Highway 20 over Targhee Pass multiple times each year and in all four seasons.
"My biggest reservation against the wildlife crossings is the long-term maintenance cost," said Raymond. "It is very hard to project maintenance cost. It all depends on the winter. Many successful wildlife crossing/fencing areas are in 'high desert' areas where the snow load is manageable. This particular area is forested with extremely high snow loads. Livestock operators in the area use drop fences to reduce annual maintenance. Even permanent pole fences often require extra maintenance from the harsh winters in that area. Add to the fact that fencing would likely not deter wildlife during a winter like we have just had; they would be completely covered. Recommending alternative three was the precise decision for ITD."
According to Jean Bjerke, a nature photographer and volunteer with Island Park Safe Wildlife Passage — a passionate animal crossings advocacy group — research illustrates that animal crossings are more effective than detection systems are. Wildlife crossings are used over the world and have proven to be an effective migration tool while reducing vehicle collisions.
"ITD did not proceed with its initial goal of seeking a plan that pushed for safety for drivers and for animal benefit. Also, whatever their decision, I hope we can come together for the good of all," said Bjerke.
ITD erred on the decision, Bjerke feels, and vows to keep up her advocacy for animal crossings on Highway 20 and hopes that the public eventually comes to a similar understanding.
"A group of local grassroots activists in Island Park and Fremont County, Idaho, have been working for nearly three years in support of building crossing structures to keep animals off U.S. 20, to reduce risk to both animals and drivers," she said, noting more than 120 people have struck large animals last year on this particular road, Idaho's "gateway to Yellowstone." This included vehicles involved in a head-on crash last summer that badly injured five people, when an elk herd was on the road.
"It is only a matter of time before people are killed, and the proven, most-effective way to avoid wildlife-vehicle collusions is to keep the animals off the road in the first place," Bjerke added.
"The under-crossings are interesting because they are barely visible to drivers — lots of roads have culverts under them anyway and people don't notice them," said Bjerke. "There are various considerations that lead highway planners to decide on an overpass or an underpass. It depends on many factors, especially which animals they are being designed for. Some animals are more likely to use an overpass, others an underpass and lots of them use the crossings when they are available."
Bjerke lives just a few miles from Targhee Pass and has seen a lot of wildlife in that area, including elk, moose, deer, pronghorn and bear.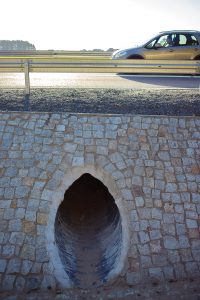 "We watch migrating elk and pronghorn on the other side of our valley from our deck each fall and spring," said Bjerke. "Friends have seen wolves from their house, and all of these species have been hit on the road over Targhee Pass.
"Two summers ago, a family hit a bison causing a multiple rollover crash over Targhee Pass, and I think they only survived because their vehicle was encased in a strong roll cage, like off-road drivers often have. They posted their story with details on Facebook. You could find the story by searching for 'one-legged dog survives crash in Idaho.' Their one-legged dog was already famous and that seemed to be the news hook that the media picked up on."
There was no deterrent — fence, overpass, etc. — at the accident, which was at night, according to Bjerke. "It is almost impossible to see a bison at night, even with headlights, as they have very dark fur that absorbs the light. The animal hit was a mature male and they can weigh 1,000 to 2,200 pounds. And yes, local supporters of wildlife crossing structures were horrified by the accident but not surprised. It was a miracle that no one was killed, which could have easily happened."
Today, with increased safety awareness for the lives of humans and animals that navigate Targhee Pass and countless roads like it, innovative solutions will continue to be used, saving lives.