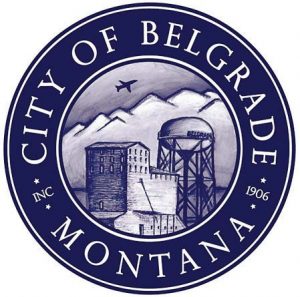 It took 101 years, but the 8,556 residents of Belgrade, Mont., got a city seal.
The seal was adopted by a resolution of the city council Feb. 5, 2007, after Heidi Jensen, a newly hired associate planner, discovered the oversight and hired a graphic design student to submit several proposals.
Images in the circular seal depict both modern and antiquated landmarks, spanning the city's history from its incorporation on March 27, 1906, to the present.
According to a Feb. 13, 2007, article in the Belgrade News,
"The simple design, which will grace all city correspondence and other documents, features a sketch of Belgrade's most prominent landmark — the water tower — along with one of its oldest landmarks — the turn-of-the-century Story Mill that stands on East Main Street. The seal also features the Bridger Mountains and an airplane, since Gallatin Field airport figures so prominently into the city's history and economy."
Jensen said, "Throughout the years, the grain elevator would be the center of this busy farming community and continues to be used to this day," and "even though the water tower has only been present for 30 years, it has become a distinguishing landmark, visible for miles, separating Belgrade from the surrounding communities."
Also of note is what was excluded from the seal. City Manager Joe Menicucci said designs featuring trains were rejected because they identified more closely with other central Montana municipalities.
Depictions of a mobile home park, gravel pit and casino were also scuttled during the selection process.
Jensen is optimistic about the emblem's longevity. "The seal will embody the spirit of Belgrade for future generations to come."
Belgrade, the largest city in Montana that is not a county seat, was founded by businessman Thomas B. Quaw in July 1881.
He named the town aft er the capital of Serbia in a nod of gratitude to Serbian investors who helped finance the local portion of the Northern Pacific Railroad.
Quaw served as the town's first postmaster when the post office was established in 1887.
For the next half century, Belgrade added residents and professional and agricultural businesses until suffering a hiatus of growth during and aft er the Great Depression.
Belgrade cultivated a vibrant resurgence aft er World War II, and today enjoys the distinction as one of Montana's fastest growing communities, featuring manufacturing, agricultural, retail and biotech businesses.
For more information, visit www.ci.belgrade.mt.us.