International Baler Introduces First "European Style" Auto-Tie Made in the USA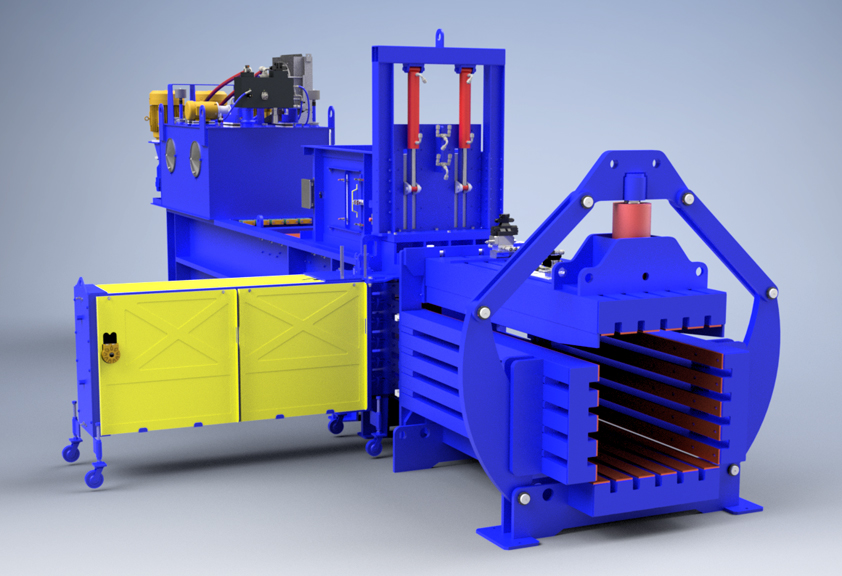 International Baler Corp. (IBC) has begun production of their new ATX Auto-Tie baler series, a high-volume, "European style" baler for MRF and MSW applications. IBC is the first manufacturer to offer this class of machine in the USA. Built entirely in their plant in Jacksonville, Florida, IBC offers US customers a domestic alternative to the high cost and extended lead time of overseas shipping, parts, and service.
Designed for high-production applications, the ATX auto-tie baler is ideal for single and dual stream recycling facilities, large fiber processors, and municipalities where speed is a necessity. The ATX is capable of processing over 60,000 cubic feet of material per hour, with throughputs up to 50 tons per hour. The ATX handles this massive load thanks to its triple-motor 225 horsepower flooded suction power unit and a robust roller platen that rides easily inside the chamber on solid steel ball-bearing rollers. A powerful 10" (5,000 PSI) main bore cylinder allows the ATX to achieve optimal bale density, while a jam-clear stamper minimizes down time.
IBC has also designed the ATX with longevity in mind. A solid-plate, keyed construction frame provides robust support for years of use under the high pressure achieved by heavy duty hydraulics. The fully-lined chamber features replaceable AR-450 liners to eliminate the traditional wear of a non-lined chamber, even as the roller platen reduces friction throughout the stroke.  Bolt-in liners reduce the down time associated with conventional plug-welded liners during replacement.
IBC plans to bring the ATX to market at a competitive price point and lead time. For inquiries on the first of the series, already in production, contact the sales team at 800-231-9286 or sales@intl-baler.com.
Since 1946 IBC has been a leader in the design and manufacturing of commercial and industrial recycling equipment, offering over 200 different models of vertical balers, closed-door horizontals, open-end auto-ties, and two-ram balers, as well as expertise in systems engineering, customer support services, and application consultation.