Josiah White: Jim Thorpe, Pa.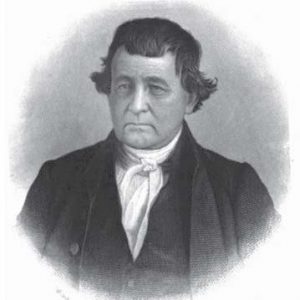 Josiah White and Jim Thorpe never met; White died 37 years before Thorpe was born.
Yet the confluence of the two men's impact forged the town of Jim Thorpe, Pa.
White (1781-1850) was an industrialist and entrepreneur with a staggering resume of innovation and success. His efforts were indispensable in perpetuating the fledgling American Industrial Revolution.
During the War of 1812, he spearheaded the discovery of a method to burn anthracite coal. Shortly thereafter, White helped combat the country's first energy crisis — prompted by forest depletion through overlogging and rapidly increasing coal prices and firewood — by supplying the energy needs of other industrialists.
He pioneered advancements in civil engineering, mining, iron production, wire works, railroad development, water transport and boat and barge construction and shipping.
White and his partner, Erskine Hazard, founded numerous mining operations and transportation enterprises and built a transportation infrastructure to deliver passengers, coal, ores, timber and finished goods throughout the area in Pennsylvania where he would establish the town that was later to bear the famous Olympian's name.
The partners' coal and navigation companies are the earliest known example of vertical integration wherein they combined in one entity the stages of production normally operated by separate companies. They established the region's first blast furnaces and built the nation's first steel cable factory.
In 1814 the partners obtained an interest in Lehigh Coal Mine Company, which experienced considerable difficulty safely transporting its product to Philadelphia, 80 miles to the southeast. White and Hazard scoped out the mine and its surrounding geography and determined a descending wagon road from the mine's elevated entrance would facilitate loading boats by chute and delivering the material down the Lehigh River.
The river, however, was too shallow to accommodate the loads, so they engineered a canal with a lock system to handle the boat traffic.
Commercial success grew and in 1818 the partners founded a riverside town at the bottom of the gravity railroad, naming it Mauch Chunk, a name derived from a Delaware Indian phrase meaning "bear place," probably a reference to a nearby outcropping resembling a sleeping bear.
Population grew slowly at first, then accelerated as the town became known as a railroad and coal shipping center. Fortuitously situated, the local coal mine serviced Philadelphia, New York City, Trenton and cities all along the East Coast.
Legendary athlete and Olympic medal winner Jim Thorpe began his sports career as a student at Carlisle Indian Industrial School, 100 miles southwest of Mauch Chunk.
Upon his death in 1953, Thorpe's widow requested the state government of Oklahoma, Thorpe's birthplace, to erect a memorial in his honor. They refused, so she sought an alternative site, striking a deal with the neighboring boroughs of Mauch Chunk and East Mauch Chunk.
The boroughs merged, renamed the resulting municipality Jim Thorpe, obtained the athlete's remains and erected the requested monument.
The monument site contains Thorpe's tomb, two statues of him in athletic poses and historical markers describing his life story. His grave rests on mounds of soil taken from his native Oklahoma and from the Stockholm Olympic Stadium in which he won his Olympic medals.