Zackquill Morgan: Morgantown, W.Va.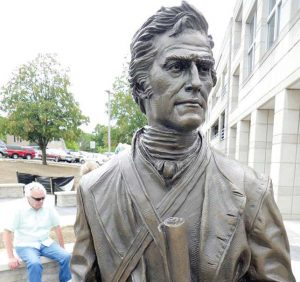 Several rival factions — including settlers, Native Americans, the English and the French — grappled over possession of the land now known as Morgantown, W.Va., until Zackquill Morgan (1735–1795) literally settled the matter for good.
Morgan served honorably in the French and Indian War and attained the rank of colonel in the American Revolutionary War, commanding a 600-man militia in Virginia.
Morgan and his older brother David arrived in the area around 1767 in the latest of several attempts to establish a settlement.
In 1772, Fort Morgan was established—one of several fortifications that dotted the nearby landscape—on the present site of the city of more than 31,000 residents.
The Virginia Assembly chartered the town, first called Morgan's Town, on Oct. 17, 1785, appropriating, at Colonel Morgan's request, 50 of his 400 acres to plat the municipality.
The land was sold in half-acre plots—the deeds required purchasers to build a small house within four years—and the Virginia town, then 700 residents strong, was incorporated in 1838.
The town became part of the newly created state of West Virginia in 1863.
Several of the neighborhoods that comprise Morgantown were independent towns annexed during the city's growth. The city is home to West Virginia University, which hosts approximately 30,000 full-time students. The wider metropolitan area boasts a population of almost 120,000.
Zackquill Morgan's home served as the county seat of Monongalia County and also housed the county court pending construction of a courthouse in the public square. He also opened the town's first tavern in 1783.
Morgan married Nancy Paxton in 1755. They had four children during their seven-year marriage before she passed away in 1762. Three years later he wed Drusilla Springer; together they had 11 children.
Morgan died in 1795, leaving behind a modest estate of about $60,000 in today's money. Included in his estate inventory: 20 livestock, including horses, cows, pigs and sheep; a pair of "plow irons"; a few pieces of household furniture; some essential kitchenware, including "seven pewter plates and one pewter salt seller … one old tea kettle … one old iron kettle and hooks" and a couple other pots and pans; and a suit of clothing.