State-of-the-art heating with the New Eberspaecher Hydronic S3 Economy (5kW) Pre-heater System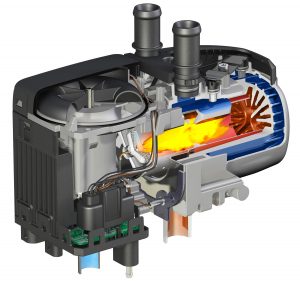 Mississauga, Ontario August 2016 –Eberspaecher, the leading system developer and supplier of vehicle heaters, is expanding its product portfolio with the new Hydronic S3 Economy (5kW) engine pre-heater. The engine pre heater impresses thanks to its compact dimensions and flexible installation options for simple retrofitting in a large number of day cabs, sleepers, off-highway and construction equipment, marine, bus, municipal and work truck vehicles. As a ground-breaking all-in-one solution with comprehensive peripheral devices, it offers installation partners many practical advantages. With the new EasyScan diagnostic and service tool, workshop staff can analyze the operating condition of the pre-heater easily and quickly.
Compact, efficient water heater with CAN bus interfaces
Innovative peripheral devices and new diagnostic device
Simplified installation
CARB approved
Compact and robust engine pre-heater for simple installations
With the third generation of its Hydronic series, Eberspaecher is offering an easy-to-operate preheater with stepless heating power control. The coolant heater works efficiently with all popular types of fuel. Due to its robust construction – with an encapsulated fan motor and the separation of cold and hot components – it is designed for longevity. A high IP protection class also secures the unit from the ingress of water during high-pressure or steam jet cleaning. The new water spigots are fully rotatable by 360 degrees and are fully replaceable, they ensure convenient and rapid
fitting in a range of installation positions. Optimized brackets enable the pre-heater to be mounted anywhere in the smallest possible space and can be attached quickly for ease of install.