Wilkesboro, North Carolina
Founded in 1800 Pop: 3,413 (2010)
Government type: Council-manager
www.wilkesboronorthcarolina.com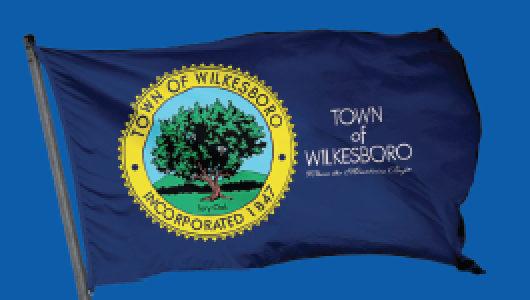 The county seat of Wilkes County, the town of Wilkesboro sits atop a low, broad ridge, which runs for over a mile along the south bank of the Yadkin River. That location receives special note on the town's flag, which also bears it's motto: "Where the Mountains Begin."
While officially founded in 1800, the town harbors a history that stretches back to the American Revolution. It's not surprising that history is predominantly displayed. Featured on the flag is also the town's seal, which has the Tory Oak at its center. The black oak tree stood in the Wilkesboro downtown area for close to three centuries. Most notably, the Tory Oak was used to execute five Tories during the American Revolution and became a symbol of the fight for freedom.
The tree was also known as the Cleveland Oak, after Colonel Benjamin Cleveland, who used its limbs to hang two Tories in the fall of 1779 aft er they were found "guilty" of plundering the home of George Wilfong in neighboring Lincoln County.
Over the years, strong winds and storms took a toll on the tree, leading to its collapse in June 1992. In 1997 the stump was removed. A new black oak sapling was planted in its place, and along with the town's flag memorializes the courage, determinate and sacrifices of locals.