Sex trafficking: Remaining alert in rural and urban areas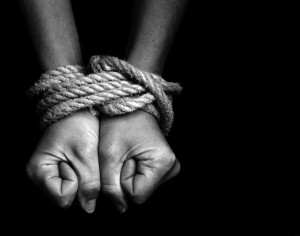 There are many countries at the forefront of the sexual slavery trafficking; Thailand, Cambodia, Amsterdam are referenced numerous times in the media, yet there are over 160 countries actually affected.
Each year, more than $99 billion is earned globally through commercial sexual exploitation, according to data provided by ECPAT USA, an organization focused on ending child slavery within the United States. The National Human Trafficking Resource Center closely monitors tips and stories of human and sex trafficking, and provides a hotline to make it easy for those who suspect trafficking to report what they've seen. In 2015 alone the hotline has received 973 reported cases of sex trafficking. In 2014, over 3,500 cases were reported, nearly 3,400 in 2013 and 2,367 during 2012. During each one-year period, the NHRTC also tracks which states have the highest numbers of reported trafficking cases. Over a period of four years, California has ranked number one, averaging well over 300 cases each year. Texas holds the number two spot for 2012, 2013, 2014 and the period of 2015.
During 2014, the NHRTC received reports of sex trafficking for 3,250 females and only 173 males.
'Not in my backyard' mindset
The Department of Homeland Security took part in a webinar in 2013 dealing with the topic of the increasing shift from big city trafficking to smaller, more secluded communities.
In the presentation, Scott Santoro, training program manager at DHS Federal Law Enforcement Training Center, addressed the smalltown mindset.
"Traffickers like to work underground," said Santoro. "They don't necessarily want to work in big cities. They are drawn to small towns … because they feel like they won't get caught. So areas that have a lot of agricultural farming, areas that have not a lot of law enforcement on patrol … those are areas that are also breeding grounds. Traffickers know that and they want to do some of their work there."
The International City/County Management Association host of the webinar, noted that the average age of a trafficked female is 12 to 13 years old, and the average male age of a trafficked victim is 13–14 years of age.
Methods of coercion, luring
Within the United States, many human and sex trafficking sources cite juvenile runaways as a leading cause of sex slavery victimization. Polaris provides examples of promises made to those sold or coerced into sex slavery: "Sex traffickers use violence, threats, lies, debt bondage and other forms of coercion to force women, men and children to engage in commercial sex against their will," its website says. "Sex traffickers may lure their victims with the false promise of a high-paying job. Others promise a romantic relationship, where they first establish an initial period of false love and feigned affection." Polaris adds that these romantic relationships quickly turn to controlling methods, such as physical and mental abuse, financial control tactics and isolation from family and friends.
Recognizing victims of trafficking
In the eyes of most people, trafficking must cross extensive borders to be a problem. But in many cases traffickers never even see the inside of a plane. Using lies or false promises, traffickers can convince young men and women to travel away from home of their own free will. Out of 5,042 reports to the Polaris-run hotline, over 3,200 were adult victims.
The Journal of Applied Research on Children: Informing Policy for Children at Risk, offers this insight into the trouble in finding help for victims: "While larger metropolitan centers have established shelters and service provision specific for trafficked persons, in smaller cities and more rural settings, survivors of trafficking (especially minors) are usually served by multiple, disparate social service and health providers working across different systems. Sexually exploited minors present an even greater challenge due to intersections with child welfare and juvenile justice systems, histories of abuse by family that limit placement options and limited services that address the complex medical, mental health and psychosocial needs of these youth."
According to the journal, the Trafficking Victims Protection Act expanded the laws to include any person under the age of 18 who has been engaged in commercial sex be deemed a victim of trafficking.
Although the problem affects more than just children, the journal addresses a very important issue — finding help for victims and resources for possible victims in smaller, rural settings. One of the most important methods is education.
Sources agree that there are warning signs to look for, even in small community settings. Victims of sex trafficking may exhibit these signs, according to Polaris: a fearful, submissive or anxious demeanor; avoids eye contact; lacks health care; has signs of physical restraint or confinement; lack of knowledge of locational whereabouts such as city or state; and the inability to provide a home address.
Getting help
Groups like Polaris, ECPAT and Airline Ambassadors International point to education as the first step in preventing trafficking. Setting aside the idea that trafficking only happens in large, metropolitan cities and at large, international airports, these groups address the signs of victimizations and help spread the message.
"Sex trafficking exists within diverse venues, including fake massage businesses, online escort services, residential brothels, in public on city streets and in truck stops, strip clubs, hotels and motels, and elsewhere," according to the Polaris website. "In street-based sex trafficking, victims are often expected to earn a nightly quota, ranging from $500 to $1000 or more, which is confiscated by the pimp. Women in brothels disguised as massage businesses typically live on-site where they are coerced into providing commercial sex to six to 10 men a day, seven days a week."
Since 2011, following the launch of a new training program, Airline Ambassadors International has provided 24 training sessions to over 2,000 individuals at airports in the United States to educate personnel on recognizing and preventing trafficking. AAI's program focused on the travel industry, including hotels, airports and other tourism necessities.
The Institute of Medicine/National Research Council Report provided a guide for those in the field of victim and support services and included several factors that make an individual at-risk. Community risk factors for children include under-resourced schools, neighborhoods and communities. The study also points at foster homes as part of the problem, noting that children in the welfare system can easily feel a disconnect that leads them to find attention elsewhere.
Resources
There are many resources available to men and women who have been victims of sex trafficking. There are also several options for reporting suspected trafficking. A few resources are provided below.
ECPAT USA
www.ecpatusa.org
National Human Trafficking
Resource Center
www.traffickingresourcecenter.com
Hotline: 1 (888) 373-7888
Polaris
www.polarisproject.org