Reinventing Racine Rust belt community comes back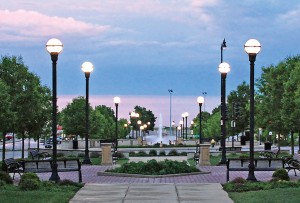 Located along the shore of Lake Michigan between Milwaukee and Chicago, Racine, Wis., is a Rust Belt community of 78,000 built on the backs of a diverse immigrant population that moved into the area during the late 19th and early 20th centuries. Right from the start, Racine established itself as a factory town and became known for a wide range of industrial campuses that dappled the landscape and helped the city flourish throughout the post-war era.
In the mid 1980s, globalization took its toll on the manufacturing industry and caused many corporations to move their operations south of the border and overseas. As a result, Racine fell on hard times and suffered an identity crisis.
"We were hit hard, and since then we've been struggling to reinvent the community — knowing the heavy manufacturing will never come back to where it was before," said Thomas Friedel, city administrator. "We've been looking for ways to bring in new employers and attract new businesses and at the same time improve the quality of life for our residents."
A strong industrial base established during the 19th and early 20th century in Racine disintegrated during the 1980s. The city struggled, but successfully invented a new identity as both a commercial center and a model of ecologic leadership.

A lot to offer
It hasn't always been easy, but Racine is a city with a lot going for it. Not only is it the Kringle capital of the world — a Danish pastry primarily produced in the region — but it is still home to manufacturing giants such as S.C. Johnson Company; Case IH; Nestle, in nearby Burlington; and it has all of the amenities anyone could want in a municipality. Racine not only provides easy access to larger communities, but within an hour's drive, folks can enjoy the opera, outdoor recreation, fine dining experiences, the arts, shopping and waterfront activities at North Beach — the first beach in the state to be designated a Certified Blue Wave clean beach by the National Clean Beaches Council.
The riverfront is a huge asset for Racine. The city has worked tirelessly to clean up along the Root River and maintain the area so that it can serve as a destination for residents and visitors who may want to ride the 5-mile bike path alongside the water, swim, take the kids to play on the playground or walk to the beach and take in any number of special events like EVP Professional Beach Volleyball or the Ironman 70.3 Racine Triathlon, which draws national and international competitors each year.
"You have to create reasons for people and employers to want to be here, establish jobs and propel the economy," Friedel said. "When people have a job it makes them want to invest locally, so we are always looking for those incentives that make Racine an attractive place for businesses."
Another way it's accomplishing that is through the efforts of the Downtown Racine Corporation, a nonprofit organization dedicated to revitalization of the city's central hub. The DRC has been active for 35 years, and since its inception, it has added over 600 new residential units to the community, helped to add 50 new businesses to the area since 2007, has helped cultivate an arts hub and sponsors 20 events throughout the year.
"It would seem that we have turned a corner," Friedel said. "When the recession hit, the community suffered. We had a lot of foreclosures and unemployment was around 17 percent, but now we are down to a 7 percent unemployment rate, small businesses and industry are coming into the area so we are growing, and, of course, we continue to look for ways in which we can be a more sustainable community."
An emerging leader
Although it may still have a reputation as a factory town, today Racine is emerging as a leader in sustainable practices and programs from which other municipalities can benefit. From a focus on forestry and beautification to responsible waste management and protection of wetlands, Racine leaves no stone unturned when it comes to ecological concerns.
When Wisconsin Partners for Clean Air expressed a concern about the emissions school buses were sending into the atmosphere, the city contacted the Department of Natural Resources and was successful in obtaining funding to retrofit buses with systems that would allow them to put out cleaner air than they take in. The city has also instituted a huge recycling program, installed solar panels on City Hall, LED lights on city streets, motion sensor lights in parking garages and public bathrooms, roundabouts to save money on traffic lights and timers on municipal water fountains so that they shut off at night when no one is in the building.
Friedel believes it's important for communities to be good stewards of the resources they have and says more cities should look into making small investments that mean big savings down the road.
"We are already seeing them pay off . Through our efforts, we are making lasting changes that can serve as a model for other cities. It's a great time to be part of this new and reinvented Racine."