World Chicken Festival 2015 festival dates: Sept. 24-27
For the past quarter-century during the last full weekend of September, the small town of London, Ky., in Laurel County, has commemorated two of its favorite sons with a "finger lickin' good" downtown festival that draws upwards of a whopping 100,000 people a year.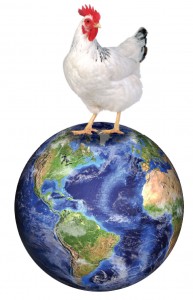 The World Chicken Festival takes place where Colonel Harland Sanders opened his first Kentucky Fried Chicken restaurant and introduced his original recipe in 1940. Th e festival features the world's largest skillet, capable of cooking 600 chicken quarters in 300 gallons of oil. Th e skillet's diameter runs 10 feet, 6 inches, and the chicken pieces are turned with rakes. More than 7,000 pieces are served up by the end of the festival.
The four-day family-oriented event occurs entirely within an eight-block area. Street closures are announced online well in advance for the convenience of the 8,092 residents.
Downtown merchants are split on their reaction to the festival. Some bristle at the customary annoyances that attend a throng of visitors milling about the confines of storefronts. Others overlook the frustrations and welcome the potential business that wafts in with the crowd.
The festival "makes a major impact on the offices and businesses downtown," said Chris Robinson, executive director of the recently formed tourism committee, "but over the years people felt more benefit than interruption. Some have a bitter taste, but some love it."
Even with all the chicken sold downtown, nearby restaurants are the main beneficiaries of the increased traffic.
"A lot of people will get a snack at the festival but eat their full meals at the restaurants," said Robinson. He cited hotels and gas stations as other businesses that thrive over the weekend.
Municipal participation is not cheap, however.
"Th e police department has always done a great job with crowd control," he said, "and there's a lot of sanitation and waste to contend with. It's expensive and the city absorbs those costs." He described London's participation as an "in kind contribution. It's not a money maker for the city."
But the returns in positive recognition for London and tourist dollars for its businesses have kept the city coming back for another heapin' helping for 26 years and counting.
For more information, visit www.chickenfestival.com.