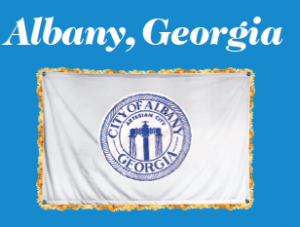 Settled: 1836
Pop: 77,434
Government type: Mayor, city manager and board of commissioners
There might not have been a more welcome sight in the city of Albany, Ga., in 1881 than the miracle Col. John Porter Fort produced.
With the young community, and in fact the entire county, languishing in an oppressive drought, Porter, a self-taught geologist, dedicated his personal resources to drilling a conveniently placed artesian well that would serve the people. Although he nearly gave up due to the inefficiency of the tools available to him, aft er 400 feet he finally reached the region's layer of blue marl and tapped it. On Aug. 4, 1881, he received word that water was flowing from the drill pipe at seven gallons per minute. Parched townspeople regarded the accomplishment as akin to Moses tapping his staff on the rock and making water flow. That flow continued for 19 years, with people coming both to drink and to marvel at its purity.
Other wells were drilled in quick succession. The reportedly curative properties of the water added to the community's drawing card, and it became known as the "Artesian City." Officials immortalized the slogan and the symbol of a well on its seal in 1887.
Most of the wells have since stopped flowing. Some have been covered up. But a few pipes and exposed well heads attest to the legacy of clear, fresh water that was first made convenient for personal and business uses by Porter.
"We have an abundance of fresh water here. There were even some springs down along the streams and creeks at the time, but it was a matter of bringing it to the people," said Tommy Gregors, executive director of the local Thronateeska Heritage Center. Although a rebranding during the 1980s added another slogan, "The Good Life City," to Albany's marketing efforts, the ready water supply and its contribution to the development of the city remain on the flag that still flies today.
"We have a strong appreciation for his contribution and for where we come from as a community," Gregors said. "Both from an agriculture and municipal standpoint, water and the availability of water has always important in our community."