Settled 1700s
Pop: 127,488 (2013)
Government type: Mayor, manager and city commission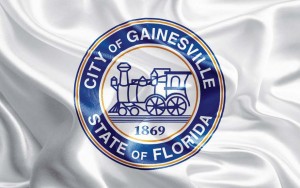 The development of railroad transportation and commerce in the state of Florida fi gured quite largely into the design of the Gainesville, Fla., city flag.
Even as the population of north-central Florida swelled during the early and mid-1800s, rail service in the state lagged behind that of the rest of the nation. The first line built to traverse the peninsula, completed in 1861, was called the Florida Railroad but dubbed the "Cedar Key Railroad" by locals. It was designed to connect the region's many rivers and two coastlines and eliminated the need to pass through the Florida Keys: It ran between Fernandina on the Atlantic coast and Cedar Key on the gulf side.
In light of those plans, in 1852 residents of Alachua County had begun to lay out a town in the path of the train. They even petitioned the state legislature to allow a popular vote that would move the county seat to it. The move was completed, commerce boomed and Gainesville flourished.
The city's flag pays homage to its founding motivation by featuring a steam train as the lone icon. The image flies at city hall, the Matheson History Museum and in the Gainesville city commission chambers.
Information provided by the city of Gainesville Illustration: Richard Aguirre & Shutterstock