Fire safety promotion really does save lives
It's a worst-case scenario: A family wakes up in the middle of the night to the sound of a smoke detector blaring. Upstairs, the kids are asleep: But without hesitation, the parents rush in and get them out. Smoke is everywhere as they follow their carefully planned escape route. The fire department and emergency medical services arrive, and the husband is treated at the scene for minor smoke inhalation. The rest of the family is uninjured.
A Minnesota nightmare
Now imagine that this family had only replaced the batteries in their smoke detectors the day before.
Such a situation happened Nov. 2 in Minnesota. Fire Chief Steve Zumberge attributes the family's survival to a tenacious kindergartener.
"During Fire Prevention Week we always go into the schools and talk to kindergarten through sixth grade," he said. "We talk about having a plan, about getting out and checking your smoke detectors."
One little girl took what she learned very seriously.
"I was doing my interview with the family, and they credited the kindergarten girl with coming home in October and demanding that they make a plan as far as getting out and checking the batteries in their smoke detectors."
The family made a plan, but they did not replace their smoke detector batteries until Nov. 1.
"On Halloween we always have an open house at our fire station, and we invite the community to come in and trick-or-treat, and we hand out batteries. They ended up doing it the next night," Zumberge said.
The family lived in a split-level house. The parents discovered that the downstairs smoke detector did not work, so they plugged in a portable one.
"Fast-forward one day," Zumberge went on. "Just after midnight or 1 a.m., the parents woke up with the smoke detector going off downstairs — the portable one, which they'd never had before. They go upstairs, where it is smoky. The smoke detector was going off upstairs, and the kids were sleeping through it," Zumberge said.
One month later another family in the area awoke to their smoke detector going off. Though everything seemed fine, they exited the home, only to find their attached garage completely engulfed.
"So within less than five weeks, we had six lives saved because of smoke detectors," Zumberge said.
Kentucky lives saved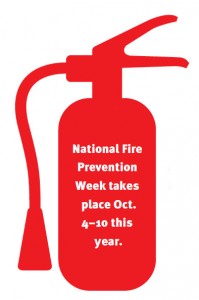 Joe Stambush, who goes by the name "Fireman Joe," was the Edgewood, Ky., fire/EMS public education officer for 33 years. Though he has retired from that position, he still works part time for Fire Department Bellevue-Dayton in Dayton, Ky., and for the Campbell County Fire District One.
FDBD hosts an open house each year during Fire Prevention Month. In addition, the station is open to the community and local schools for tours. It holds school assemblies, Safety House and other programs.
"Over my 55-year career, I am happy to tell you I have 10 saves accredited to public education efforts, as documented by the department," Stambush said.
Stambush served 16 years as chairman of the fire and life safety committee for the Kentucky Firefighters Association, visiting departments across the state and helping them develop their own fire safety programs.
Education: Effective in what doesn't happen
Besides serving as the deputy state fire marshal and fire-and-life safety educator for the Minnesota Department of Public Safety State Fire Marshal division, Amanda Swenson serves as fire prevention educator and a firefighter on the Braham, Minn., Fire Department.
The Braham department hosts a chilifeed open house each year, which includes kitchen safety demonstrations, Christmas tree safety and activities for children. Her department also gives presentations for students in kindergarten through sixth grade.
"Of course, the activities don't stop with Fire Prevention Week," Swenson said. "The department works year-round with residents to increase fire prevention awareness."
Swenson has heard her share of stories from across Minnesota in which local fire departments' efforts have ultimately saved a life.
"Most of these have to do with survival because, in the ideal scenario, a fire does not happen," she said. "The mom who would have normally left the kitchen to check on the laundry, now having learned that half of home fires start in the kitchen, never leaves a pan unattended and prevents a potential fire. Or maybe a college student remembers to blow out a candle before falling asleep for the night. Maybe it's a family that remembers to check the Christmas tree every day, because they saw a demonstration showing how horrifically flammable a dry tree can be."
Swenson chalks all of this up to fire departments taking the time and resources to educate the public.
"I whole-heartedly believe that fire prevention educators save more lives than they ever realize," she said.
National Fire Prevention Week
This year the National Fire Prevention Association's National Fire Prevention Week is Oct. 4–10. Observance always falls the week of Oct. 8, the anniversary of the Great Chicago Fire and the Peshtigo, Wis., Fire. While one was urban and the other rural, the Peshtigo Fire ultimately destroyed 16 Wisconsin towns and killed more than 1,100 people. National Fire Prevention Week has taken place every year since 1925. At press time this year's theme had not been announced, but the 2014 theme was
"Smoke alarms save lives; test yours every month."