Waycross city auditorium comes alive again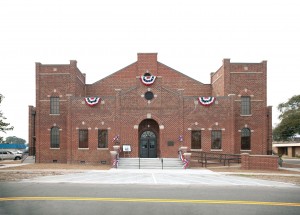 It once hosted the biggest stars, such as Elvis Presley, but it sat vacant for many years. A once-dilapidated building is now breathing new life into a city in Georgia. It's also generating much-needed revenue for the city.
The reopening of City Auditorium in Waycross, Ga., was a historical project benefitting both the city and county. Even so, the decision to save it or tear it down was not an easy one.
The 15,000-square-foot structure was built in 1937 with Works Progress Administration funds. Acclaimed entertainers, among them Ella Fitzgerald, Johnny Cash, Louis Armstrong, Otis Redding, Billy Eckstine and James Brown, graced its stage. City Auditorium was a prime location for local groups and schools to hold graduations and dances. It also hosted wrestling matches in the 1940s.
Through the years, however, its popularity waned. Redefining the needs of the community, the city of Waycross used it for office space during renovations to city hall in the mid-1980s. After the renovations were completed the city added basketball goals and bleachers, and children from all over the community used the facility for social events and basketball games.
Thanks to Special Purpose Local Option Sales Tax funds, a tax that was subject to public vote, the historic shell and much of the architecture of the building was maintained. The facility, which sits on the corner of Pendleton and Oak Streets, has retained is status as a historical icon while creating a state-of-the-art modern, multipurpose facility.
Renovating it has provided a positive impact on the community, attracting consumer traffic and helping to rejuvenate local businesses.
"This is a very new project, which was open for rental in February of 2014, and therefore it is in its infancy of revenue generation," said Jessica King Deal, P.E., city engineer for Waycross.
"However, at the end of fiscal year 2014, it had a positive net balance of $3,827. For the most part, the auditorium has a booked event every weekend, and it is our hope to have a positive net balance at the end of fiscal year 2015. We have set a very reasonable rental fee on the City Auditorium, not really to make money for the city but to support itself while providing our citizens a venue where they may host events that will bring people into our community."
The construction was formally bid and awarded to John W. Spratlin and Sons of Lincolnton, Ga., for $1.5 million, and roughly $600,000, or 40 percent, of the allocated funds went to local subcontractors and businesses.
Today, the historic building hosts a wide range of events, such as weddings, and is fully operated by Waycross' human resources department.