New Way Launches New Website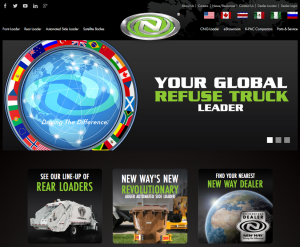 SCRANTON, Iowa (Jan. 27, 2015) – New Way® Trucks of Scranton, Iowa kicks off 2015 with the launch of a new website (newwaytrucks.com). The global leader in refuse truck manufacturing has updated the site to offer added value and convenience to customers.
"We have gathered customer and dealer feedback to aid us in the development and design of a new site that is user friendly, provides expanded product overviews and specifications as well as contact information for all departments," said Phil Allen, vice president of sales at New Way®. The most important consideration for us in producing a new site was to make sure that our customers can easily locate the information they need, when they need it."
The new site has been designed for today's users, and with an eye toward the future. "We have been seeing a rapid increase in the number of visitors who are utilizing mobile technology to access the site," Allen explained. "We incorporated responsive technology for user readability. We have also prepared a foundation for the future in which we will be able to incorporate one-click translation to other languages for our global partners. It is exciting to plan for the implementation of this feature in the near future."
New Way® saw an explosion in growth in 2014, which included the introduction of the first organics and municipal solid waste collection vehicle in the world, the ROTO PAC®. The new site provides dealers and customers with more detailed information and demo availability of the ROTO PAC® along with all other refuse collection vehicles. In addition, a Dealer Login area and Parts & Services section have been included to assist the New Way® Trucks dealer network with sales and service.
"For over 30 years, we have been committed to quality services, quality products and customer satisfaction," Allen added. "This new website is one of the many ways we continue to deliver on that commitment to our dealers and customers."
New Way® is a division of Scranton Manufacturing Company, which was founded in 1971. Since the early 1980s, New Way® has become America's fastest growing manufacturer in the waste industry. Their success is attributed to a family-owned structure, offering top quality refuse trucks backed by ethical service. In the past decade, they have expanded to sell units internationally via two joint ventures in China. Today, New Way® products are operating in numerous countries from the US to Iraq.