HACKNEY RELEASES PERFORMER BODY FOR FORD TRANSIT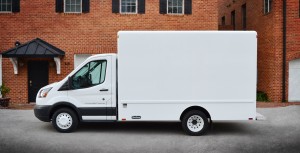 Washington, N.C., January 27, 2015 – VT Hackney, Inc. (VT Hackney), a company of Vision Technologies Systems, Inc. (VT Systems), today announced its Performer body is now available on the Ford Transit cab and chassis.  The expansion of the Performer line to the Ford Transit allows Hackney to reach a broader audience, continuing its position as the mainstay in the plumbing and HVAC (Heating, Ventilating, and Air Conditioning) industry.  With maximum payload over 3,000 pounds, the Hackney Performer is offered in a 12 foot model for the 9,950 GVW Transit chassis and a 12 ½ foot body for the 10,360 GVW Transit chassis.  The all-aluminum body maximizes the work trucks length of service and comes equipped with Hackney's custom shelving designed specifically for the plumbing and HVAC industry.  The Transit will be available in Hackney's stock inventory for immediate purchase.
For more information, visit www.hackneyservice.com.
VT Hackney a company of VT Systems, is the leading manufacturer in North America for specialized truck bodies and trailers that services multi-stop food and beverage service distributors and municipal emergency rescue departments.  With its two leading brands, Hackney and Kidron, VT Hackney specializes in beverage truck bodies and trailers, emergency rescue bodies and trailers, contractor services truck bodies and multi-temperature refrigerated truck bodies and trailers. Please visit www.vthackney.com.
VT Systems is an engineering company providing integrated solutions to the commercial and government markets in the aerospace, electronics, land systems and marine sectors. VT Systems' innovative solutions, products and services include aircraft maintenance, repair and modification; software solutions in training and simulation; satellite-based IP communications technology; network solutions that integrate data, voice and video; rugged computers and computer peripherals; specialized truck bodies and trailers; weapons and munitions systems; road construction equipment; and ship design and shipbuilding. Headquartered in Alexandria, Va., VT Systems operates globally and is a wholly owned subsidiary of ST Engineering. Please visit www.vt-systems.com.