GE's Next Generation Evolve™ LED Canopy Light Provides Uniform, Energy-Efficient Lighting for a Variety of Mounting Heights
EAST CLEVELAND, Ohio (August 5, 2014)—Providing similar durability and uniform illuminance as its first-generation model, GE's new Evolve™ LED Canopy Light is engineered with a sleek, new look that offers easy installation and expanded lumen levels for a variety of mounting heights.
The Evolve LED Canopy ECBA Light Fixture provides an energy-efficient and robust means for lighting areas with canopies, such as gas stations, truck stops and drive-thrus at banks, pharmacies and restaurants. Offered at three lumen levels—4,000, 8,000 and 13,500—and 4000K and 5000K color temperatures, it allows users to find the best LED lighting solution for their outdoor space.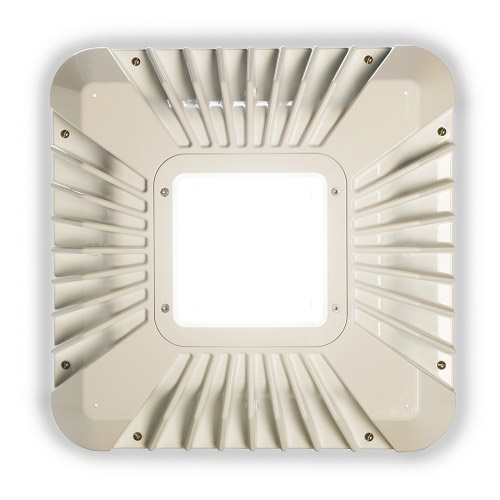 The Evolve LED Canopy Light Fixture is designed for effortless installation, making it ideal for retrofits.
"GE designed the ECBA fixture to have a recessed light engine and a premium, diffused light source," said Abby Mosher, product manager, GE Lighting. "By having the LEDs recessed within the fixture, combined with GE's reflective optic technology, the light is not pixelated. Rather, it provides an optimal photometric pattern, which provides a uniform, clean light for customers under the canopy."
Ideal for retrofits, the Evolve LED Canopy ECBA Light Fixture is fully sealed and designed for effortless installation as it requires only four screws and can be completed in minutes. Additionally, maintenance is a breeze with the LED lighting fixture's easily accessible power cavity located below the canopy deck.
The robust housing design of the new Evolve LED Canopy Light includes a symmetrical heat sink that keeps the LEDs cool, helping to prolong the life of the fixture. It also is built to withstand extreme weather, from hot and humid summer days to cold and windy winter nights.
Compared with metal halide canopy lighting, the GE Evolve LED Canopy Light provides significant energy savings. Furthermore, the product has a lumen maintenance rating of L95 at 60,000 hours, enabling this LED lighting fixture to significantly reduce maintenance costs and needs.
The new Evolve LED Canopy Light is available with occupancy sensing and dimming options.
To learn more about illuminating gas stations, drive-thrus and other outdoor spaces with GE's LED lighting, visit GE Lighting's website or the GE Lighting pressroom .