High Lift Wheel Dolly Reduces Fleet Maintenance Injuries
New Analysis Shows Use of High Lift Wheel Dolly Reduces Fleet Maintenance Injuries by Up to 45% and Increases Alignment Precision
Stevensville, MD, March 12, 2014 – As pressure mounts in transit agencies and heavy duty truck maintenance facilities throughout North America to improve efficiency and reduce workplace hazards, one relatively low tech and unsung hero has emerged – the high lift wheel dolly.
According to a recent industry overview by heavy duty vehicle lift leader, Stertil-Koni, the high lift wheel dolly delivers two essential advantages in today's modern, fleet maintenance shop.  "First," noted Peter Bowers, Technical Sales Support Manager at Stertil-Koni, "the wheel dolly allows proper alignment of a dual tire assembly with the brake drum to the axle tube to be completed efficiently and accurately.  Second, it dramatically lowers the occurrence of back injuries and abdominal strains because wheel removal is completed at an altitude which is higher than floor level and in line with technicians working in a fully standing position."
The stakes are high.  According to recent finding by the University of Arizona Risk Management Services, musculoskeletal disorder injuries "account for more than one-third of all occupational injuries and illnesses each year."  What's more, the study also showed that "most of these injuries are preventable."
Enter the high lift wheel dolly.
It is used for removal and installation of single and dual wheels on raised buses and trucks and has proved particularly effective for brake work.   Continued Bowers, "Recent enhancements have made it even more effective.  The latest version of the high lift wheel dolly from Stertil-Koni is stronger, taller and has a lifting capacity up to 1,000 lbs.  In addition, it is fully hydraulic and powered by either pneumatic or 12 VDC battery."  For added durability and convenience, nylon rollers minimize maintenance and make the wheel dolly truly mobile in the modern maintenance facility.
About Stertil-Koni USA, Inc.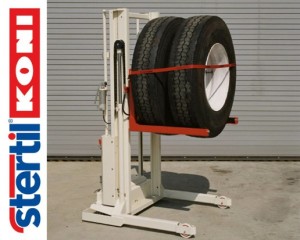 Stertil-Koni is the global market leader in heavy duty vehicle lifts – bus lifts and truck lifts – and is the preferred supplier to the world's leading companies in the truck and bus industries. Stertil-Koni's breadth of products meets all ranges of lifting needs and includes mobile column lifts, two-post, four-post, in-ground piston lifts, platform lifts, half-scissors and its innovative axle-engaging, in-ground, scissor lift configuration, ECOLIFT. Stertil-Koni has also recently begun installing the DIAMOND LIFT, a full rise telescopic piston lift designed to set new standards in precision heavy duty lifting. Stertil-Koni also recently introduced its new 2-post series, FREEDOM LIFT, with lifting capacities ranging from 16,000 to 30,000 lbs. Stertil-Koni is headquartered in Stevensville, Maryland, has production facilities in Europe and the U.S. and is proud to have the greatest total number of ALI/ETL certified heavy-duty lifting products in the industry.