2014 Work Truck Show is 'all about the future'
The big trucks arrive March 5–7 at the Indiana Convention Center in Indianapolis, Ind., for North America's largest work truck event: the 2014 Work Truck Show.
Educational programming, including the Green Truck Summit, begins March 4. This year's event also marks the 50th year for the annual ntea convention.
Mark Woody, ntea 2014 convention chairman and president of Palfinger North America, said that both at this year's show and beyond the focus is sharply on new technology, equipment and ways of thinking.
Many of the world's leading chassis manufacturers use the Work Truck Show to give updates about product line developments, including new technical information on specifications and installation. In 2014, 14 original equipment manufacturers are scheduled to present chassis update sessions: Chevrolet and GMC Commercial Truck; Daimler Vans USA LLC; Ford Commercial Truck; Freightliner Custom Chassis Corporation; Freightliner Trucks; Hino Trucks; International Truck; Isuzu Commercial Truck of America Inc.; Kenworth Truck Company; Mack Trucks Inc.; Mitsubishi Fuso Truck of America Inc.; Peterbilt Motors Company; Ram Commercial; and Western Star Trucks.
Studies have shown that poor employee communication skills cost the average organization 25–40 percent of its budget every year. Learn how to improve communications in your shop at the Generation Next Leadership Workshop and Networking Reception: How to Become a Superior Communicator special session from 3 p.m.–5 p.m. Wednesday, March 5. The session covers all aspects of the communication process, including non-verbal cues, effective listening and how to convey directions. It is presented by Doug Cartland, president, DCI.
NTEA 2014 highlights also include an opening reception at the JW Marriott March 4, and a president's breakfast and annual meeting featuring keynote speaker Condoleezza Rice March 6.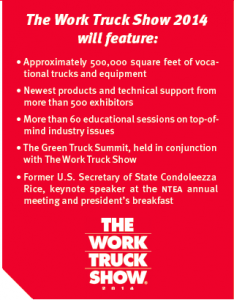 In addition, the Green Truck Summit 2014 covers latest fuel trends and features an exclusive mayor's panel. The summit takes place in conjunction with the Work Truck Show and runs March 4–5.
Natural gas, other alternative fuels and advanced vehicle technology take center stage at the Green Truck Summit, the vocational truck industry's premier clean vehicle technology conference. This year Indianapolis Mayor Greg Ballard will also moderate a chassis OEM forum about the future of sustainability for work trucks.
The forum's panel of experts features representatives from North America's leading truck manufacturers. Topics of discussion include truck chassis evolution and future products. At the forum's conclusion, attendees are invited to participate in a question-and-answer session with Mayor Ballard.
"Mayor Ballard's panel is a must-attend event for fellow mayors and government fleet managers," said Doyle Sumrall, ntea managing director. "There, attendees will get first-hand insight to where the nation's leaders are looking to go with technology and fuels."
Breakout sessions are held both days and cover a variety of alternative fuels, drive systems and new technology. The complete Green Truck Summit schedule is available at www.ntea.com/greentrucksummit/schedule. A schedule of Work Truck Show educational sessions can be found at www.ntea.com/worktruckshow/index.aspx?id=3456.
Work Truck Show attendees considering implementing green programs in 2014 should also check out the Green Truck Ride-and-Drive sponsored by Hino Trucks, where they can experience the latest in cutting-edge clean vehicle technology with test drives and demos.
To register for the Green Truck Summit and The Work Truck Show 2014, visit www.ntea.com or call (800) 441-6832. Green Truck Summit registration includes keynote address, lunch and evening reception March 4.