Police chief brings federal and vice experience to small-town Michigan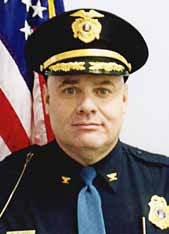 Milton Agay is police chief of Berrien Springs Oronoko Township Police Department in Berrien Springs, Mich. He has numerous certifications and an education from several colleges including Lake Michigan. Agay is a graduate of Kalamazoo Regional Police Academy and also graduated from St. Joseph High School in nearby St. Joseph.
He has been chief for the last six years of his more than 30-year public service history. Agay was a patrol officer for the department for seven years before becoming its chief, and had also been a police detective and a lieutenant as well as an ATF task force agent. For two years he headed up the department's public information office and acted as director of public safety for the city of Benton Harbor, Mich., until 2000.
Continuing education plays a large role in his professional life. Agay has received several law enforcement awards as well as certifications and awards from the Boy Scouts of America.
The Municipal spoke with Agay recently about his career in law enforcement.
Why did you get into law enforcement?
"I got into law enforcement because I grew up in a 'cop family.' My father and grandfather were both police officers."
What do you like best about being in law enforcement?
"The best times were when I was assigned as a U.S. Marshal and working gun trafficking, gangs and homicides with multiple agencies throughout the state along with Indiana and Illinois authorities. Nothing was better, though, than working the prostitution cases. My most memorable time was conducting a raid on an after-hours establishment and arresting 214 people."
Since becoming police chief, what have you done or implemented in the department?
"I've converted our department to using electronic crash and ticket reporting and am in the process of moving to as much electronic and eliminating paper output as possible. I have updated our policies and procedures and brought the department in compliance with risk management requirements. We have also increased training while assigning individual officers to specific job tasks and responsibilities, making the department more team oriented with everyone having a buy into the various operations. We have also allowed officers to be assigned to multi-jurisdictional task forces."
What have you done to decrease crime in your city that might help another city do the same?
"I've increased county outreach programs, specifically in the schools and through Neighborhood Watch programs. We also conduct an annual Police Citizens Academy, where members of the community learn about being a police officer and crimes. We also utilize the social media extensively to keep the public informed of our department's activities, such as our Facebook page."
Do you have any hobbies? Family?
"I'm married to a former news reporter, whom I met while she was covering a series of drug raids. We've been married for 20 years. I have two sons; my oldest is 19-years-old and is a reserve in the U.S. Army, now attending Loyola University. My younger son is a sophomore in high school and is an all-star athlete in football and basketball."