New ACE Torwel Economizer MINI Spreaders in 1/3 yard capacity
Professional grade MINI spreader, for efficient treatment of tight spaces, designed for utility vehicles and pickup trucks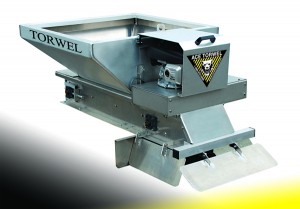 Bellingham, Massachusetts, January, 2014 –– ACE Torwel, Inc.'s snow and ice management recently announced the NEW Economizer MINI pickup truck and utility vehicle spreaders.  Performance advancements target more efficient, reliable snow and ice control in 1/3 cubic yard models.  This affordable MINI spreader is designed for universities, home owners and professionals alike.  Ideal for small narrow spaces, like sidewalks.  Spreads sand, salt, seed, lime fertilizer and other coarse materials.
Made in the USA, ACE Torwel's Rugged Economizer MINI V-box spreaders are lightweight, made of 50/52 series aluminum (hopper) and 304 stainless steel (frame) construction.  Economizer MINI spreaders feature a quiet, durable 5.5 hp Honda gas engine with built-in overload protection.  Operators can easily control the flow of material with an in-the-cab control panel that features, on / off motor switch and on / off conveyor switch, and a 35 foot cable for installation is included.  A sealed rubber delivery system with belt over pintle chain supports continuous smooth flow of all materials.  All aluminum material deflectors with adjustable spreading width from 4' to 24' cover small and large areas.  Each unit includes everything needed for easy installation including tie-down kit, straps and wood runners.  Upgrades include chute extension for pickup truck models, and steel woven top screen.
About the Company
ACE Torwel, Inc., has designed, manufactured, and distributed mechanical, electrical, and gas-over-hydraulic spreader systems and commercial grade snowplows and pushers for more than 65 years and they are looking for new dealers.  Invested coast to coast, ACE Torwel operates from modern manufacturing facilities in Bellingham, Massachusetts and Willmar, Minnesota, while ACE Group's Head Office is located in British Columbia, Canada.  For more information on ACE Torwel products and dealer programs, please visit www.asphaltace.com or www.acetorwel.com or call 888-878-0898.