There's no business like snow business

The mission of Central Parts Warehouse is to supply quality parts at affordable prices for its resellers, municipalities and end users. Additionally, the company operates a free technical service call line and regularly publishes industry-relevant information on a company blog.
Owner Bill Nero is seen as a leader in the snow and ice industry. He credits CPW's success to a deep understanding of industry trends, a passion for innovation and a desire to help other snow removal professionals realize their full potential.
The company was born in the Nero family's two-car garage and a random morning routine.
"I was taking a morning shower and 'boom,' it hit me. Put a condensed version of all the important and faster-moving replacement parts for Meyer and Western Snowplows into one easy to read catalog," Nero said. "At first we started selling the commonly needed snowplow parts, like hydraulic hoses and starter solenoids, but later we branched out to entire snowplows in the local area," he added.
One hallmark of those early years was Nero's policy of staying open 24/7 during snowstorms. Customers would literally knock on his bedroom window at 3 a.m., standing in two feet of snow and looking for parts.
Because of continued growth, he decided to move his operation out of the garage and into a 4,600-square-foot facility. Central Parts Warehouse now operates out of a 15,000-square-foot warehouse with an additional 20,000 square feet of outside storage for spreaders, snowplows and other weather-resistant inventory. But with more than 50,000 loyal customers, the expansive inventory does not stay idle very long.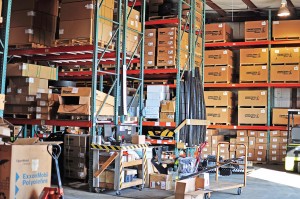 According to Nero, "One of CPW's competitive advantages is our database management system." The way the company has been able to identify prospects, market to those prospects, ship orders to them quickly and track exactly where those shipments are is invaluable. Central Parts Warehouse is in business because it does things that most companies in the channel of distribution do not do. Moreover, the addition of some new employees, coupled with improved marketing strategies and unmatched customer service has propelled the company recently.
"Over the last 30 years we've built a great reputation," Nero said. "It used to take multiple phone calls before we made the first sale. Now we are getting calls from prospects who know who we are and what we do. They're placing orders with their first phone call to us."
With the assistance of historical purchasing data and a robust computer system, Central Parts Warehouse has drastically streamlined its inventory control process. Those changes included a redesigned warehouse layout
From the coverand modernized shipping department. Every part is assigned a specific bin location and organized in numerical sequence by manufacturer. This attention to detail helps employees locate the right part the first time, then quickly and efficiently ship those parts to customers.
At peak season, the company keeps about $3 million dollars of inventory in stock: a figure that would be substantially higher if not for detailed analysis of purchasing patterns.
Despite all these electronic advancements, the company's printed catalog has been key to its growth. Nero put the idea into action in 1990, publishing a 10-page black and white glove box catalog. The latest version of the annual publication is 114 pages and includes additional accessories like warning lights, toolboxes and suspension kits.
Over the years Central Parts Warehouse has added a wide range of snowplow manufacturers to its catalog, along with multiple manufacturers of tailgate and hopper salt spreaders. It distributes a catalog annually to anyone who has purchased in the past four years, and the catalogs are available upon request through the company's website.
One of the challenges facing anyone in the snow and ice control business is seasonality; however, with the internet, its catalog and other marketing efforts, Central Parts Warehouse has thrived over the years — even despite two recent lackluster seasons of below average snowfall in Chicago and other areas of the country.
As you can imagine, the majority of CPW's business follows traditional buying patterns for the snow removal industry: autumn and winter. To balance this seasonality, the company entered the truck equipment and parts business in late 2012.
CPW's latest endeavor is a totally redesigned website built on the hottest technology and integrated with emerging trends like Amazon Marketplace, social media, customer reviews and informational blog posts. Finally, the company plans to move into a new 50,000-square-foot facility to improve logistics and provide better service for its increasing base of municipal and snow removal companies.
When asked about the future of Central Parts Warehouse, Nero commented: "With the addition of some new key individuals running the company and their unwavering commitment to be the best in the industry, our future is so bright we have to wear shades."