Progress Manufacturing Announces Upcoming Youth Job Fair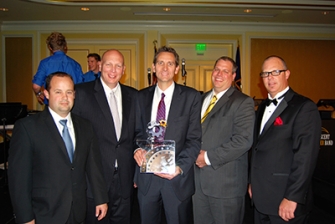 (Press Release) – Nov. 13, 2013 – PROVO, Utah — Whether it is helping tribes in Africa have access to water, participating in walks to help cure Multiple Sclerosis, or holding job fairs to teach kids about manufacturing, the employees at Progress Manufacturing strive to 'Leave a Legacy of Good.'
It is so important to them, that it has become the company's mantra. And if you believe in Karma, you may think she has noticed the company and is smiling upon their efforts. The company has increased its employees by over 25 percent this year, has won national product awards for sway control trailer hitches and accessories and was recently named "Manufacturer of the Year," for Utah.
"When I first came to Equal-i-zer in 1994, there were just three of us," states President, Jed Anderson. "We would jump in a pick-up truck and head out for donuts to celebrate our wins. I can't believe how much we have grown and all we have accomplished. I credit our success to our hard working employees, our fun atmosphere and our continued efforts to Leave a Legacy for Good."
Kenny Mauerman, Chief Operating Officer, agrees with Anderson. "Standing on the stage at the Little America, accepting the award as Manufacturer of the Year, was surreal," states Kenny. "We have all worked so hard. It was amazing receiving that kind of recognition. We have brought on some great talent and new innovative products, and I am excited about what the future holds."
Part of the future of Equal-i-zer and Fastway is to continue manufacturing their products in the USA, which involves an ongoing search for talent.
With the decrease of US manufacturing, Anderson worries that kids do not know of the positions available in manufacturing and production.
Every year, the company gets involved in a service project where the employees volunteer their time in the community. This year, they are opening their doors to the youth, so kids can learn about manufacturing and production. Equal-i-zer and Fastway are holding the hands-on job fair on November 20, from 4:00-6:00 PM. Teens that are interested in learning about manufacturing are welcome to attend the fair and build something onsite. Space is limited. To register, call 801-377-9599.
"We are so excited about this job fair," states Anderson. "Kids will be introduced to engineering, welding, machining, and will see tools and processes they never knew existed. My hope is that through this experience, more children will become interested in engineering, designing and creating, and someday they will create jobs, products and also being named, "Manufacturer of the Year."
###
Equal-i-zer and Fastway are divisions of Progress Manufacturing, a Utah company that specializes in the production and manufacturing of sway control hitches, adjustable ball mounts and trailer hitch accessories. To schedule an interview or receive more information, please contact Lori Gilson at lgilson@progressmfg.com or 801-209-0103.