Kochek Expands their Storz Hydrant Converters with Two New Cap Models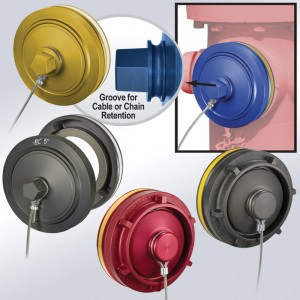 Improvements to pentagon nut and standard style converters optimize interoperability
Putnam, CT, July 15, 2013—Kochek Company offers storz hydrant converters in two NEW models that expand options and efficiencies for fire fighting personnel in addition to its existing line of storz styles.  Kochek engineers have designed a dedicated groove to the low profile pentagon nut and button style caps for more dynamic cable and chain retention as well as expanding the caps' coating and color options.  The assembly features Aluminum Alloy 6061-T6 forged extrusions and stainless steel aircraft cable with a stainless steel eyelet end.  The head has a ½" relief machined cut around the outside creating a recess for the insertion of highly visible reflective tape.  Color options are available in several different finishes: Powder Coat, Quantum®  and Mircalox® hardcoat anodizing that is compliant with industry specifications.  All components of both the nut cap and standard models meet or exceed NFPA specifications.
Kochek's hydrant conversion product line specifically addresses the goal of accelerating response times in critical situations by addressing interoperability.  Replacing existing threaded steamer ports on a fire hydrant to a storz converter reduces the connection time and allows water to be supplied faster to the scene.  Kochek's four styles of storz hydrant converters give a fire district more options for universally maintaining their water supply.
More information about Kochek's complete line of storz hydrant conversion products may be found by visiting the company's website at www.kochek.com where an informative Storz Hydrant Converter Selection Guide is available for downloading.
About Kochek Company
For more than 25 years Kochek Company has machined, finished and assembled specialty fire equipment for today's fire industry.  Based in Putnam, Connecticut Kochek is the nation's largest manufacturer of PVC lightweight suction hose and a wide variety of strainers, dry hydrants, elbows, adapters, caps, plugs, and valves.  For more information, please contact Kochek at 800-420-4673 or visit the company website at www.kochek.com.