From defunct railroad bridge to Purple People pedway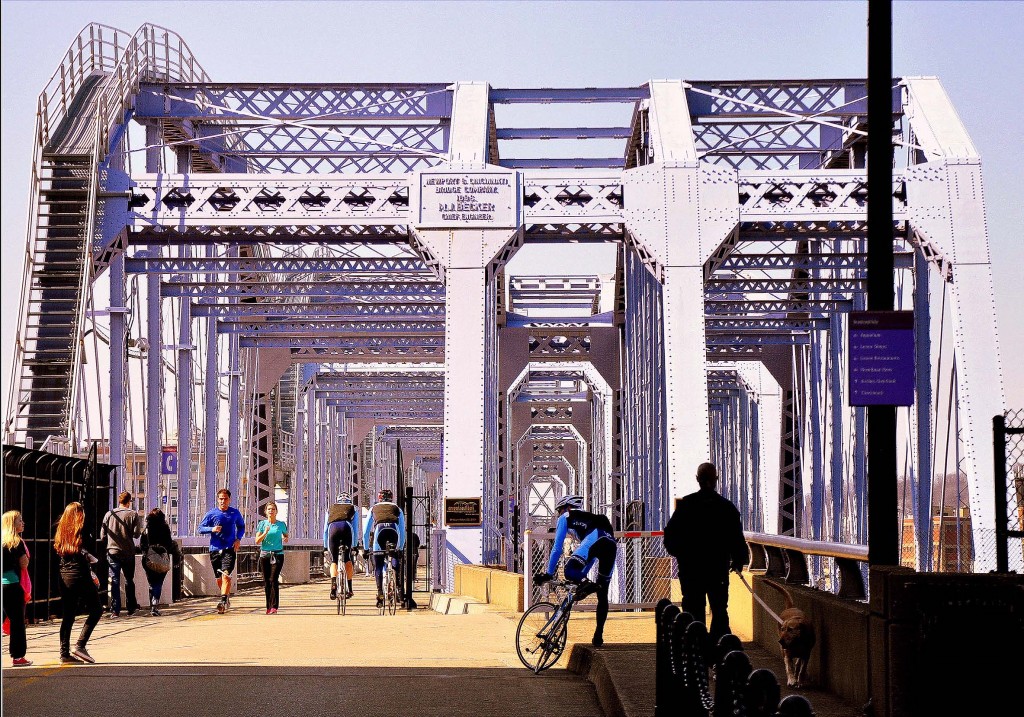 The Purple People Bridge that connects Northern Kentucky to Southern Ohio has become as iconic and beloved as the area's famous Montgomery Inn ribs, Graeter's ice cream and Skyline Chili. The color is one reason it stands out, but the community has also embraced saving the bridge as a way of celebrating the town's proud history and connection to the past.
The bridge first opened on April 1, 1872, under the name Newport and Cincinnati Bridge. It was Cincinnati's first railroad bridge spanning the Ohio River. Over the course of the next 35 years, it would be retrofitted to accommodate streetcar, pedestrian and automobile traffic. In 1904, the bridge was renamed the L&N (Louisville and Nashville) Railroad Bridge.
The bridge was closed to railroad traffic in 1987 and then to automobile traffic in October 2001 after years of neglect and deterioration. On April 17, 2001, though, the L&N Railroad Bridge was listed on the National Register of Historic Places.
In late 2001 the city of Newport, Ky., and Southbank Partners, an economic development group, used $4 million in state funds to begin to restore the bridge.
"We asked that instead of demolishing the bridge, the state give us the money to create a pedestrian bridge," said Wally Pagan, president of the Newport Southbank Bridge Company. "If you have the opportunity to save something unique, you should certainly try to unless it is in such bad condition that there is too much liability."
Pagan's advice to municipalities who want to
redevelop old structures is multi-faceted:
Save buildings or structures that can give value to your community in some way. Any time you can save part of your history, you should do it.
Team up with other municipalities. When small cities partner together and go to the state representing 160,000 people instead of 6,000, they have a louder voice.
Work with a nonprofit economic development organization like South Bank Partners in Newport or 3CDC in Cincinnati. These organizations have the opportunity to do things a city cannot do because of regulations, policies or laws that restrict the city.
Work with the state to receive grants to save rather than demolish. The state gave Southbank Bridge Company the amount of funds it was going to spend on demolishing the bridge to put towards its rehabilitation.
Be creative when thinking how to re-purpose old structures and bring them new life.
When it was time to decide on what color to paint the bridge, a variety of options were explored. Computer-generated images were shown to participants in more than a dozen focus groups, all of whom picked the color purple as a top choice. "We wanted a more festive bridge that was different from the others, and purple is not only festive but regal," said Pagan. "It was also placed on the historic register at the same time that we were deciding a color, so we chose a lavender shade more in tune with a historic color." It was soon coined the "Purple People Bridge" by area residents. After rehabilitation, it reopened as a pedestrian-only bridge in May 2003.
The bridge provides convenient access to the popular shopping,
dining and entertainment district, Newport on the Levee, in
Newport, Ky., as well as downtown Cincinnati. In 2006, it became
possible for the public to climb and cross the top of the bridge wearing
appropriate safety gear — similar to bridge climb experiences in
Australia and New Zealand. Citing lack of funds and low attendance,
however, the Purple People Bridge Climb closed in 2007.
The structure is still used by about 300,000 pedestrians each year and is a popular site for private events. "We host events for nonprofits, such as Susan G. Komen," said Pagan. "We also have weddings on the bridge, birthday parties and other events."
Newport Southbank Bridge Company is exploring new and creative ways to use the bridge "We are currently looking at having a zip line come off the bridge into the river and working with the Coast Guard to develop this," said Pagan. "We try to be imaginative and create all kinds of opportunities with this old bridge."
The most exciting plans currently underway are a proposed $100-million hotel and entertainment redevelopment on the bridge. "We have a developer who wants to create a boutique hotel and three restaurants," said Pagan. "The bridge will still be a pedestrian bridge as well."
The current phase of the project is an engineering study to ensure it can support the weight of these proposed structures. "We received a $660,000 grant to make sure the bridge can withstand the weight," said Pagan.
Newport Southbank Bridge Company was created by South Bank Partners, a nonprofit company involved in promoting economic development for eight cities along the Ohio River. The group is responsible for a number of projects that have benefited the riverfront towns they represent, including an eight-mile hiking trail along the Ohio River and a public shuttle connecting the cities. Pagan was president of the company for 15 years before he semi-retired and took over the bridge project.
For more information about the Purple People Bridge and the Newport Southbank Bridge Company, visit www.purplepeoplebridge.com