HUSKY'S SELF-SUPPORTING TANKS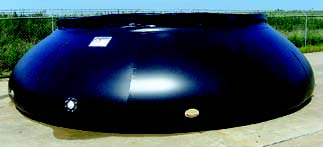 Husky self-supporting tanks are the perfect solution when storage or manpower are
concerns. Low-side and high-side models and open top, frameless portable tanks are
available. Great for oil spill clean up, chemical or fuel storage, potable or wastewater
storage and for fighting fires. Husky's quality and service is what you get from a leading
manufacturer.
Husky Portable Containment
Dewey, Okla.
(800) 260-9950
www.huskyportable.com