Cloud-computing is taking the 'FUD' out of GIS enterprise software
by Tim Tierney
Founder and President of Trueflag.
info@trueflag.com
FUD: It stands for "Fear, Uncertainty and Doubt," and it is the bane of any organization with software needs. In this fast-moving field, organizations can become paralyzed in their buying decisions by the FUD resulting from there being too many options to consider, not enough in-house knowledge to judge among them, and the start-up investments of time and money being so high that a wrong choice cannot be risked. Years end up going by as the catch-up gap widens.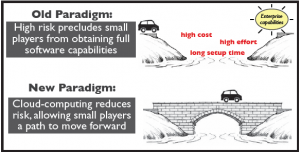 For governmental agencies, FUD hits particularly hard when it comes to enterprise-level systems for GIS (geographical information systems), the reason being that these entail the maximum in complexity and expense, plus also require lengthy implementations before coming online. Adopting such a system entails the "perfect storm" of risk for the buyer: A situation where major investments of time and effort must be made up-front in a system that won't be known to fit organizational needs until months or even years down the line.
The result of this is that only the larger organizations are able to obtain all of the enterprise capabilities they need. Middle and small-sized organizations are limited from or even entirely shut out of the market, as they lack the funding and sophistication to get the "big boy toys."
What is needed is software options that are "low-risk" by virtue of being low-cost, low-complexity, and working directly out of the box. Fortunately, such options are finally starting to emerge thanks to the advent of cloud-computing, a new paradigm in software in which the systems are hosted on the Internet by the vendor and provided on a subscription basis.
An organization can preview a cloud-system and know that when they decide to buy that they will get exactly what they saw in the preview, instead of hoping that the software really does what they saw in the brochure! Furthermore, initial setup efforts will be nearly zero because there is no installation, and ongoing maintenance is also close to zero because it is born by the vendor.
As a result of cloud-computing, smaller organizations are now obtaining software capabilities once reserved for only the top end. Obtaining and deploying GIS software tools can now be as easy as it is for physical equipment, like generators or backhoes.
Interestingly, this revolution is being led by a new guard of firms rather than the oldguard of established vendors, who have too much invested in their old business models now being disrupted.
One such new-guard firm is Trueflag, which hosts and maintains an online system for GIS offered on a subscription basis. Trueflag offers a system for multiple users of different roles, in which each user can have a suite of interfaces tailored for his or her needs. In order to offer predictable costs and superior value, all user seat licensing is "floating:" You only pay for users who are concurrently logged in and all rates are "flat:" There are no extra charges for software transactions, etc.
The traditional enterprise software business model is based upon collection of purchase fees, annual maintenance fees and consulting fees. For an old-guard firm, switching over to a cloud-based model as described above would have the immediate effect of slashing the revenue coming from its existing customer base.
Old-guard firms are therefore being slow to embrace this revolution.They are doing a good job of "talking the talk" about cloud computing, but it is the new-guard firms focusing exclusively on this market that are truly"walking the walk." Buyers must therefore keep an open mind towards these newer vendors if they want to get the best offerings.