Klamath Falls keeps the community comfortable with geothermal system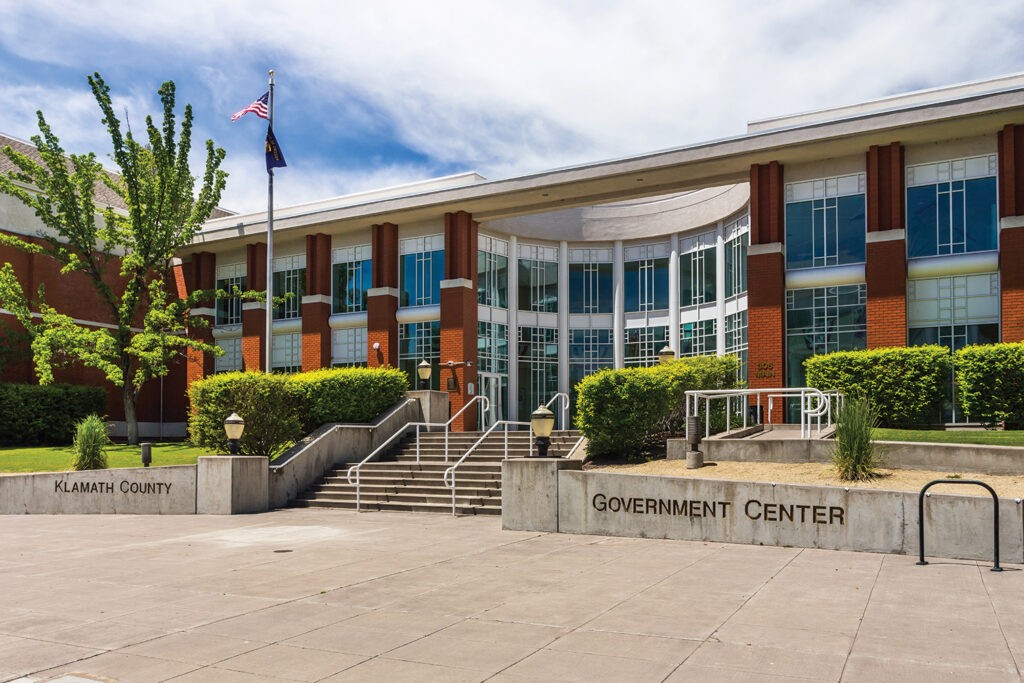 Klamath Falls, Ore., is in hot water – literally. The city of 22,000 is situated above a large, geothermal reservoir that is used to help heat the city and prevent snow from accumulating on downtown sidewalks. According to the Oregon Institute of Technology, the city's geothermal system is at or nearly at operational break-even, making it a win for everyone.
"From an environmental standpoint, it is a natural and sustainable resource, and it's a lot cleaner than burning gas or oil," said Robbie West, Klamath Falls water distribution manager.
A long and 'heated' history
While geothermal heating has been used in Klamath Falls since the early 1900s, the first municipal system was not constructed until 1981. After some fits and starts, the initial system was shuttered in 1986 when several pipe failures were noted. The system was reconstructed in 1991 and is used to provide heat for churches, banks, government and commercial buildings and to allow pedestrians to navigate downtown sidewalks without worrying about slipping on ice during the winter.
According to the city's website, two hot water wells located on Old Fort Road provide geothermal fluid to the heating system. The geothermal water, which has a temperature ranging from 200-220o, is then transported from the production wells through a 1-mile system of pipes to the heat exchange facility. A geothermal well at the heat exchanger facility reinjects the fluid back into the aquifer so that the resource is not depleted.
"The hot water that we are pulling out of the ground heats up the heat exchange plates, but it doesn't actually go out through our distribution system," West said. "Our distribution system is made up of what we call make-up water, which is water that comes off our potable water systems, which is running through those lines."
West said there are approximately 20-25 customers who have their own heat exchangers and use the city's geothermal process to heat their structures. There are also two other heat exchangers in the field that work to run the city's sidewalk snowmelt project in the downtown Main Street area as well as at the TimberMill Shores mixed-use development.
Klamath Falls, Ore.'s, snowmelt system uses geothermal technology to keep snow and ice off of downtown sidewalks. (Photo provided by city of Klamath Falls)

Some new pipes have been installed as part of Klamath Falls, Ore., geothermal system. (Photo provided by city of Klamath Falls)

Shown is the district heat exchanger for the Klamath Falls, Ore., geothermal system. (Photo provided by city of Klamath Falls)

A sidewalk heat exchanger operates in the Timbermill area of Klamath Falls. (Photo provided by city of Klamath Falls)
"Some of the water goes to Veteran's Memorial Park downtown, which has a Veteran's memorial as well as walking paths so that residents can walk around without dealing with the snow and ice," West said.
Comparable cost
West said that geothermal is a tricky type of heat source that can be very efficient provided that a person knows how to run it to maximum advantage. The Klamath Falls geothermal system is billed based on a set BTU, or "therm," rate that is determined by taking the temperature of the water as it enters and exits the heat exchange system. The difference between those two numbers is then multiplied by the number of gallons circulating through the system. This rate is then billed to the customer.
"We have one customer who has figured out that if he gets his whole system hot, gets everything nice and warm and then slows down the flow rating through the geothermal heat exchange, then he is cutting down his cost," West said. "Essentially, the slower you can get the water to go through that heat exchanger, the hotter the plates get because you have more contact time and the more efficient you are going to be."
While it is comparable to what the local gas utility charges its customers, West said that one thing that makes the geothermal system less attractive for some is the requirement that all customers must have a backup heat source, i.e., gas or electric, in the event the geothermal system is required to shut down for maintenance. While this failsafe helps keep the community comfortable, the added costs of owning and maintaining two systems can put a strain on the budget and cause customers to rethink their commitment to the clean energy source.
A unique system
West said cities that might be considering the implementation of a geothermal heating system should be aware that as interesting and unique as the concept is, it is not without its challenges and quirks. Over the years, Klamath Falls has discovered that geothermal water is more destructive to pipes than traditional water: It has spent a lot of time and money replacing those pipes to keep the system running smoothly.
There is a main replacement project scheduled to be completed this fiscal year and a couple more scheduled in the next three to four years. Once those are finished, West estimates that 80% of the pipes will have been replaced in the past two decades. The city has also had to improve pipe insulation, maintain the heat plates and more over the years, which is a significant investment. "It is a cool system. It is unique, and it is an efficient way to heat a building if you run it properly, but it is not without its maintenance and troubleshooting," he said. "There's more to it than people realize. It's not as simple as turning on the pumps and letting it run."
Next Article: Oklahoma City tests methods to control electric vehicle fires