Florida city combats gun violence through community involvement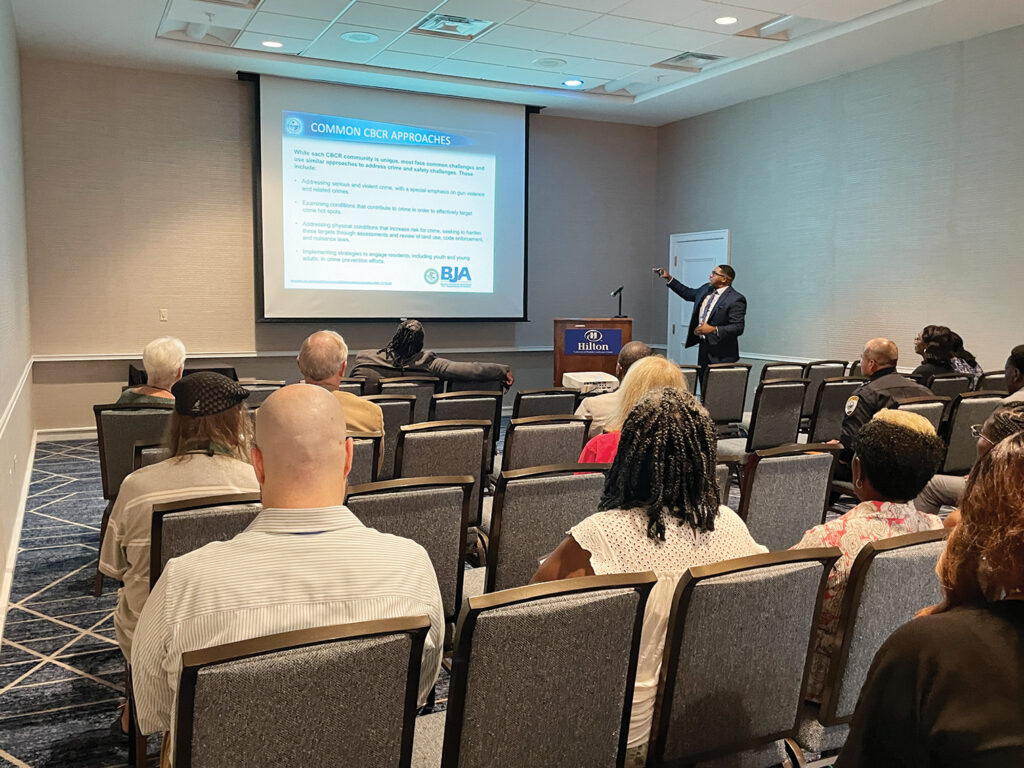 Gun violence is on the rise in the United States. The number of people who have died by gunshot wounds – both murder and suicide – has risen sharply over the last decade particularly since the start of the pandemic, according to Pew Research. Stories of mass shootings all too often fill news headlines.
The city of Gainesville in north central Florida has taken measures to combat its own rising rates of gun-related violence. In early August, it hosted a two-day summit to address the crisis. Called "Choose Peace: Gun Violence Must Cease," the event consisted of talks by local community leaders, educational breakout sessions where attendees learned and discussed causes and solutions for gun violence and a tabletop exercise that gave participants an opportunity to work through a real-world scenario. Around 400 people attended, including roughly 75 young people.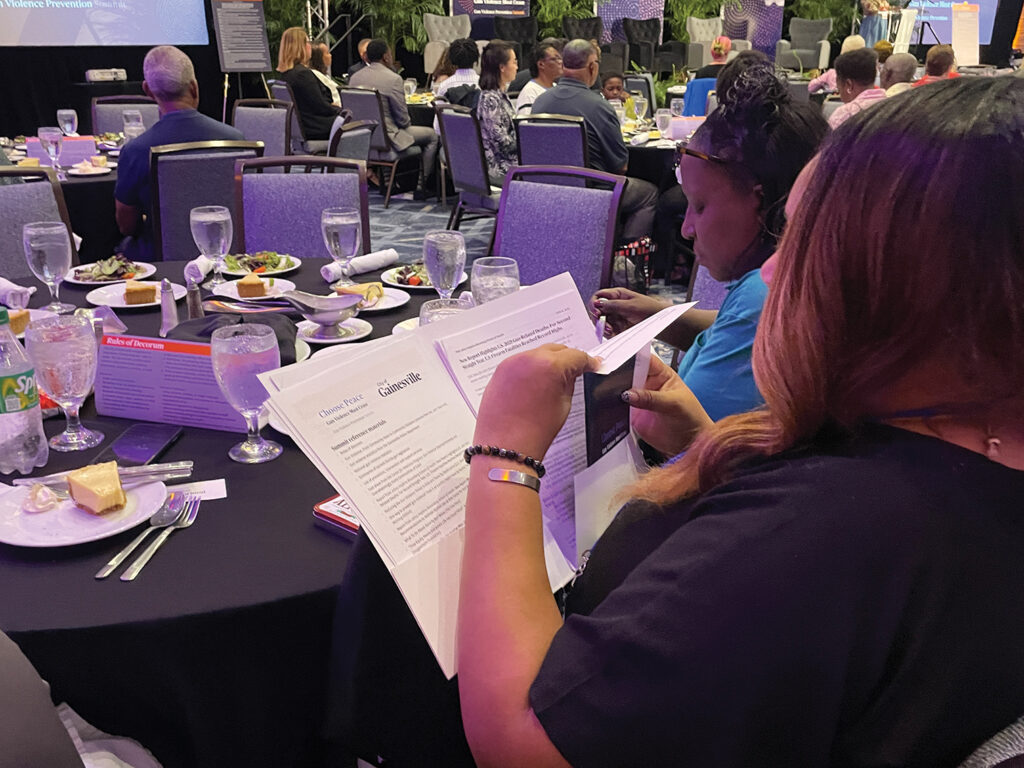 In her short two-plus years on the Gainesville city council, Commissioner Desmon Duncan-Walker has made combatting gun violence her mission. District 1, which she represents, has the highest incidence of gun-related incidents, and the numbers are increasing. Earlier this year, she proposed that the city declare gun violence a public health crisis.
The bloodshed is proliferating among the local African American community, she noted. Some of the root cause of gun violence is that the community is in great need of affordable housing, quality education and healthcare.
But the hardest statistic to swallow is that gun-related crimes are increasingly being perpetrated by young people – some as young as 12.
"It is so disturbing and so sad," she stressed. Even teenagers can acquire a gun that a relative might carelessly have left unsecured or steal one from someone's car or home. "It is not hard to get a gun these days. Guns are way too accessible."
Youth Town Hall, host of the summit, publicized on day one of the gathering that it, too, would be addressing the issue of violence among the young. A panel of African American males focused on what they perceived to be the main problem: glorified violence in modern culture. Video games, social media and music have a strong, negative impact on young people today, particularly what is known as drill music, they said.
Duncan-Walker commented, "I have a background in art; I have an appreciation for all art forms. But I look at that and think, 'That's not art.' It's damaging, it's completely hinged on the wrong message."
To demonstrate the harm such music can cause, she had one drill song – "Who I Smoke" – played for those in attendance, with a disclaimer in the program warning that it contained explicit lyrics. "Afterward, there was very little oxygen in the room because a lot of the parents had not heard it." But she thought it crucial to play the music for others, including parents and teachers, and discuss with them the influences facing their children today – even if it shocked or disturbed them.
"I'm a realist. I believe in confronting problems head-on. I don't believe we're going to get anywhere tiptoeing around the issue."
Before the summit, she made a last-minute decision to show the video at the same time she played the song. The conversation that followed was very fruitful. Duncan-Walker affirmed that the young people in the room "were ready for that conversation; they were looking forward to it, even if it was a slight departure from what they were expecting."
Many young people hear that type of music daily and model what they hear, she continued. She expressed her own elation that the young people present willingly gave an inside glimpse into the topic. Two other panelists, Dr. Derek Hicks and Dr. Micah Johnson, university professors with experience in the field, also gave academic assessments of drill music and discussed its power over young people, as well as ways to counteract it.
Day two of the summit focused on local policy. It brought the public health aspect to the forefront and included talks on preventative strategies and social structures that could protect people, especially children, from future gun violence. Participants covered ways that each demographic could take action and challenged each other to consider the next steps that could be taken.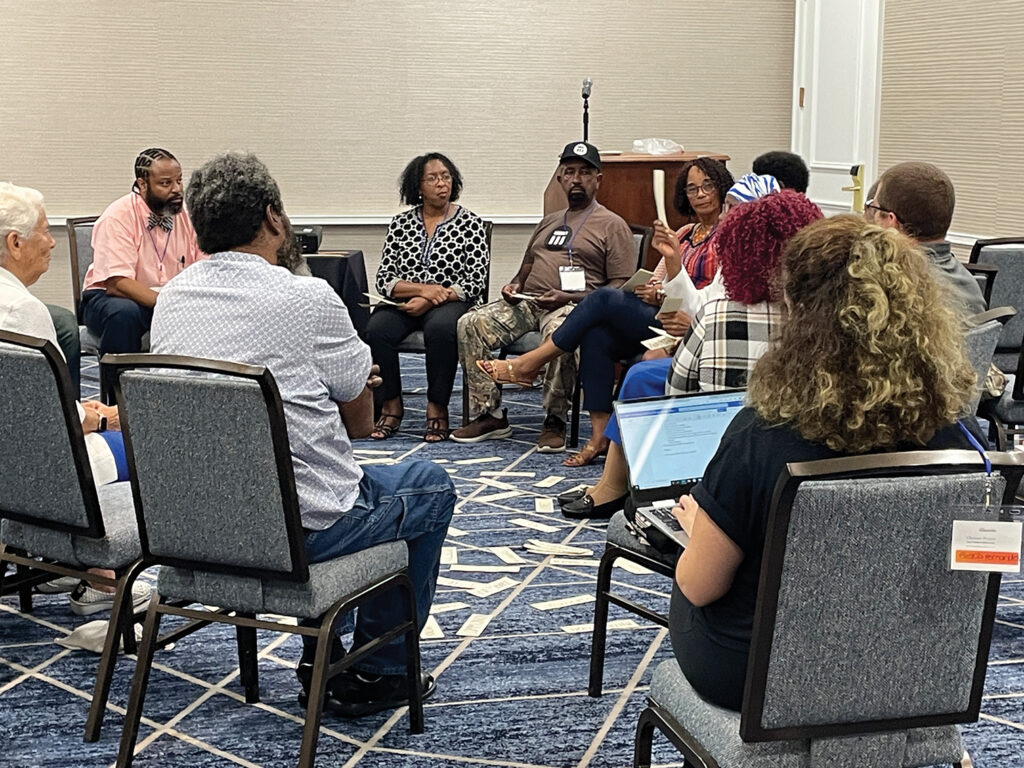 However, decreasing gun violence can only be achieved through a community effort, Duncan-Walker explained. She emphasized the importance of remaining vigilant about what children are absorbing and to watch for warning signs that could indicate future trouble, which is especially important in schools, where children spend so much of their time.
"The police cannot arrest their way out of this," she stated. She noted parents, community members, faith-based leaders, school board members, health care workers all need to come together to help stop the violence. "It's critical, and it will take all of us."
Several local organizations, such as the River Phoenix Center for Peacebuilding and Children's Trust of Alachua County, partnered with the city of Gainesville to offer their resources and aid for the summit. Additionally, many groups hosted tables at the resource fair to arm citizens with information – rather than weapons – to resist the rise in violent crime.
The summit took a step in the right direction, Duncan-Walker said she believes, although it only scratched the surface of the problem. She vows to continue leading the effort to stop gun violence in her community. The greatest outcome she had hoped to gain from the summit, the creation of a gun violence task force, remains a work in progress, though the county commission and Santa Fe College, located in Gainesville, have begun working with her toward that goal. "But I'm here to represent my constituents and the people of District 1 who put me in this position. I like to think also I represent a larger swath here in Gainesville as well, because I side with the folk who need and have been waiting for justice a long time. It's a joy and a privilege and an honor to serve the people. I prioritize them and put their interests first."
Next Article: Downtown park is new heart of North Carolina community