Perseverance reconnects coastal town to its legacy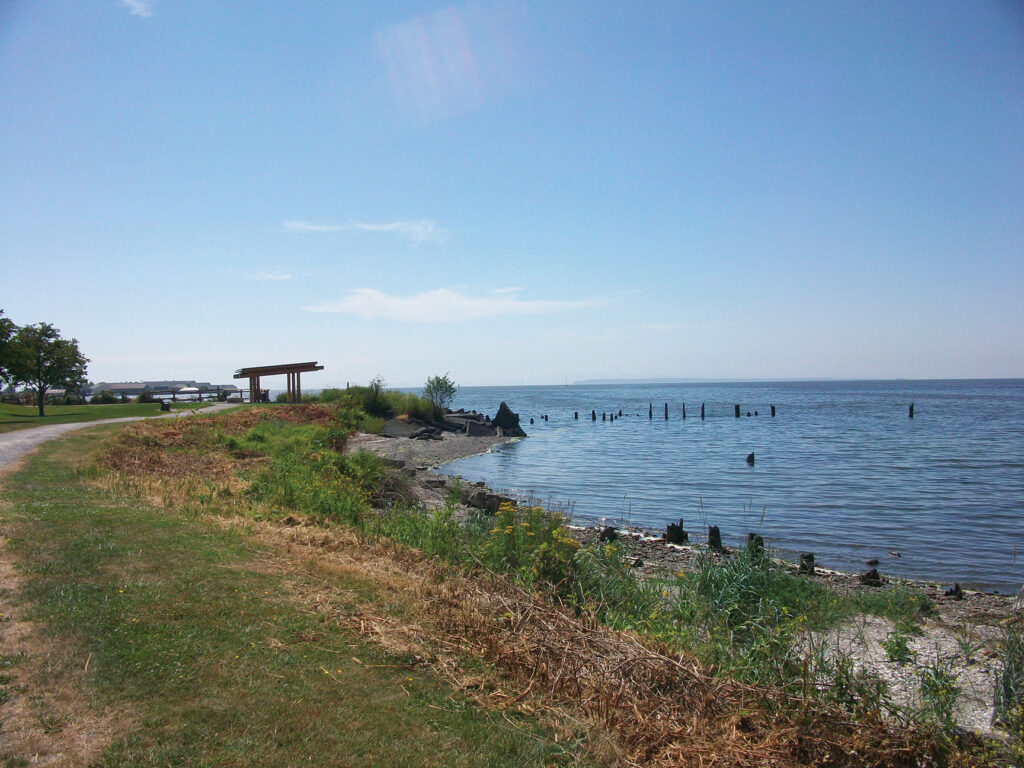 Along the U.S.-Canadian border rests Blaine, Wash., a small town with a population of around 6,000 residents. Of its 8.43 square miles 2.80 are water, according to the U.S. Census Bureau. It is a prime location for migratory birds and waterfowl to roost, which brings in tourists who come to birdwatch. However, decades of debris and erosion have taken their toll on the waterfront, and city officials have been working for years to counter their effects and preserve and protect the coastline at Marine Park.
Blaine began as a seaport, becoming industrialized with sawmills and a salmon cannery and crisscrossed with roads and wharfs elevated above the water on pylons. Relics from the old shingle mills were dumped along the shoreline as industrial waste; more recently, a 1960s and '70s road project saw concrete chunks dumped along the coastline, twisted rebar protruding from the pieces and creating a dangerous eyesore. Officials knew something had to be done to reclaim the land.
Alex Wenger, economic development and tourism coordinator for the city of Blaine, became part of the team working to restore the beachhead when he began working there in 2004.
"I've really seen this project come and go," he stated, noting that even his father, as regional shoreline planner for the state, had been involved in it years ago. "It's almost a legacy project for me."
In Blaine, Wenger explained, "We were experiencing significant coastal erosion; this approximately 50-year-old broken shoreline was failing. That left compromised, exposed soil. Basically, the dirt banks were eroding much more quickly in the last couple years."
This erosion caused pieces of the city's shoreline trail to wash away. Park benches became undercut and needed to be removed, and critical infrastructure on the land needed to be protected, including a $35 million state-of-the-art water reclamation facility that cleans sewer water and reuses it as irrigation water.
Work began in 2009 with a feasibility study. From there, it was a matter of securing grants and making plans for a park that residents could safely enjoy.
The rubble was cleared in 2014 so construction could begin. Wenger reported that the city was able to obtain a large grant from the Washington State Recreation and Conservation Office called the Aquatic Lands Enhancement Account. Money from the ALEA is allotted to communities in Washington that seek to protect and enhance coastal lands.
Blaine city officials took a two-pronged approach toward fixing the problem: stabilize the shoreline and create a habitat for people "to go down to the water's edge and experience a beach-like environment," Wenger said.
Before the project, since the community of Blaine is separated from the waterfront by railroad tracks, Marine Park provided the main waterfront access for citizens and tourists, particularly birdwatchers. Now, a portion of the park is set aside to protect the habitats of those birds and waterfowl, while other parts are designated for human enjoyment.
Marine Park's playground received a boost during the city of Blaine, Wash.'s, project to preserve and protect its coastline at the park. This lighthouse playground nods to the city's nautical past. (Photo provided by the city of Blaine)

Through its efforts to ease erosion, residents and visitors will be able to enjoy Marine Park and its shoreline for generations to come. (Photo provided by the city of Blaine)

Marine Park provides the main waterfront access for citizens and tourists, particularly birdwatchers. (Photo provided by the city of Blaine)

Children will get to play pirates when they visit Marine Park. (Photo provided by the city of Blaine)
Among the popular attractions are the playgrounds. One has a nautical design, intended to resemble the Lady Washington, a local ship that sails to coastal cities like Blaine; another resembles the historic lighthouse that once graced Semiahmoo Spit but was torn down in 1944. The sides of the lighthouse playset are graced with panels upon which are printed historic photographs, captioned by a local historian "as a way to capture Blaine's history, maritime past in the playground itself," Wenger said.
He proudly reported that the community pulled together to make the park a reality. Ninety thousand dollars of the funding required to build it came through private donations by the citizens. Bronze sea life plaques placed at the park recognize donors who made the construction possible.
To improve and beautify the shoreline, planners trucked in all-natural materials – tons of boulders and beach sand – to create a look consistent with the rocky beaches of the Pacific Northwest. The final phase of the Marine Park project will be completed later this year, when "pocket beaches" will be put in, allowing water access for people who wish to wade or even swim in the cool waters of Semiahmoo Bay.
Wenger calls Marine Park "the crown jewel of the city's park system." In addition to the playgrounds and walking trail, it offers free Wi-Fi, quality restrooms and spectacular views.
"It's a favorite walking spot for locals to go down and look at wildlife … the sunsets are amazing looking toward the west. So, whether it's your first stop in America or your last on your way out, it's a really great spot to go."
For other cities looking to undertake similar projects, Wenger had this advice: "It's all about having a plan." If officials can create a plan that convinces the community of the need and possibilities, that can lead to conceptual drawings, securing permits, pursuing more grants, "and before you know it, you've got yourself a permitted, funded project. It might take a few years or a decade to accomplish, but start small and just keep going." Though there will always be more work to accomplish, the citizens of Blaine, Washington, will benefit from the years of perseverance shown by community leaders like Wenger and their commitment to keeping Blaine's shoreline stable and beautiful.
Next Article: Brownfield redevelopment program turns old railroad depot into environmental Connor Park