Parks and recreation fundraisers — a chance to build community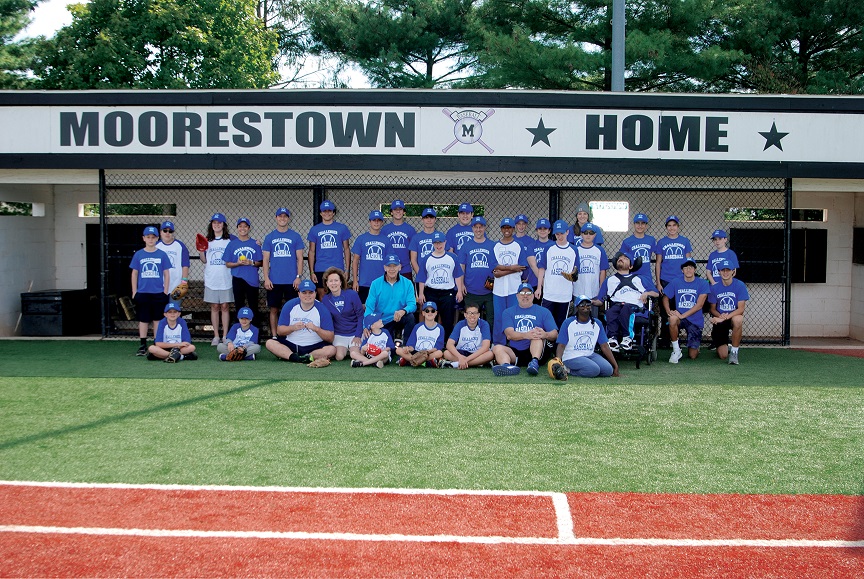 Some might dread the thought of fundraising, but for these parks and recreation administrators, holding fundraisers provides programs and resources to their communities that might not be available otherwise. Additionally, fundraisers build community — bringing everyone together for a common cause.
Theresa Miller, director of parks and recreation for Moorestown, N.J., said her department holds several fundraisers, including several for those with special needs.
"There are no special needs programs in our area, so people from all over South Jersey come to us," she said. "Our summer camp started with 10 individuals and now it's at 50."
The summer day camp, which began in 2007, is funded by the nonprofit, Mission Voice — The Lisa O'Donnel family. This year a business — Quaker Wealth Management — participated. The four-week program includes field trips, special entertainment, arts and crafts, music and more. Miller said the department charges a nominal fee of $275, which includes everything, but they have scholarships for those who need it.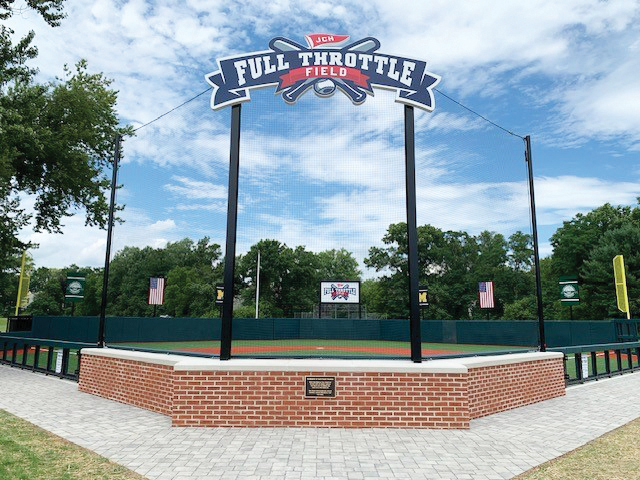 It's expensive because the department needs to have two certified nurses, certified special education teachers and other personnel. The program has two age groups.
Moorestown has funded other programs through fundraisers or donations, including a special needs holiday party; Social Meeting After School Hours, or S.M.A.S.H., for special education high schoolers and young adults; Family Game Night; Challenger Baseball; Reconstructive Orthopedics for Adults; summer basketball leagues; and summer camps.
The department also has volunteers and donors like Holman Enterprises, which donates $1,000 per summer for the children's theater program. This funds the program's backdrops and playbills.
Moorestown has two Rotary clubs. The Breakfast Group adopted Jeff Young Park while the Lunch Group adopted Frank Fullerton Park. Both groups paid $5,000 for new signs and held two cleanup days. Miller said generally 50 volunteers come out to mulch, weed and plant.
The Reconstructive Orthopedics for Adults program receives donations from physicians to pay for tai chi, yoga and full-body tone classes. Many businesses sponsor T-shirts for their camps and sports programs. Miller goes out and talks to a lot of groups — nonprofit organizations and business associations — "so they have an awareness of who we are and what we do."
Moorestown has four full-time employees, including Miller, and averages nine part-time employees, but that number changes seasonally — as many as 55 in the summer and an additional 10 in the winter.
Miller said, "Our town council is very pro-rec."
She explained the extra money that comes from fundraising and donations enables the department to offer a program like Reconstructive Orthopedics for Adults free to seniors who would find paying $10 a week difficult and may be too proud to ask for a scholarship.
Miller shared the ingredients for a successful fundraiser. "It takes a committed group of people to help you — a committed committee and not necessarily a large committee."
With the special education summer camp, Miller, Lisa O' Donnell and someone from Quaker Wealth Management were the committee speaking to people. However, for the Family Game Night fundraiser, there's a large committee of parent volunteers. And she acknowledged that on the day of an event, you need many more volunteers.
She added that it's also crucial to have a township manager or mayor behind you. Miller also recommends reaching out to people of all ages to volunteer. She utilizes high school students who need to acquire community service hours.
"We set up a counselor-in-training program where the students work for free, but they get the community service hours needed."
The Challenger Baseball program is an adaptive program for people with special needs, funded by Ken Catanella, that partners them with able-bodied teens.
The scouts are another source of volunteers — especially those working on their Eagle Scout badge. They've built trails, painted the rec center and enclosed a lot of the park's Port-a-Johns. "That's a huge expense to do," she said.
Miller further advised, "Reach out to nonprofits. I work closely with them; they're amazing."
When asked if there was a fundraiser that was the most successful or popular, she responded, "They're all good. I can't really pick one; they're all really, really important to us." But said, if forced to pick, she'd have to choose the special education summer camp because it's the most expensive to run. "But they're all extremely important."
When asked why it's important for parks departments to hold fundraisers she responded, "Because there's a tremendous need in the community today to stay active, to enhance socialization. It's important for people of all ages — especially children — to participate in fun activities that promote socialization, exercise and being with friends."
Miller shared a story of being with seniors at one of their activities, and a widowed lady came up to her and said, "This is the best thing that ever happened to me. If not for this, I don't know what I'd do."
Bark for the Park
Spencer McKellar, deputy parks and recreation director and project manager for the city of Kentwood, Mich., shared a couple of successful fundraisers his department holds. Serving a population of 57,000, the parks department has 11 employees: a couple of front desk personnel; three to four program and project coordinators; and a couple of administrators "for higher-level decision making." The public works department is in charge of park maintenance, meaning it hires any seasonal workers. Kentwood's park system encompasses over 410 acres total including 15 parks and two trailheads.
The Bark for the Park fundraiser is an annual fundraising event that began in 2021, with this May marking its third year. Residents who wanted to see improvements at the dog park sparked it.
"They gave us a list of different things they'd like to see, but the biggest was an update to the water source — we just had a hose and it made a muddy mess," McKellar said. "With limited funds for specialized parks, doing fundraisers encourages the community to come out and support."
These K9 officers from Wyoming, Mich., attended the Kentwood Parks and Recreation's Bark for the Park event regularly. The event is a fundraiser to help pay for improvements at the dog park. (Photo provided by Kentwood Parks and Recreation)

Teens work in the Bow Wow Bakery making dog treats. (Photo provided by Moorestown, N.J., Parks and Recreation)

These canines enjoy themselves at the annual Bark for the Park event sponsored by Kentwood, Mich.'s, parks department. The white dog, in particular, almost seems to be laughing at the beagle exiting the tunnel. (Photos provided by Kentwood Parks and Recreation)

Speakers and music are on hand when the fundraising event, The Vibe, is held in Kentwood, Mich., to raise funds for adaptive equipment. (Photo provided by Kentwood Parks and Recreation Department)
He noted that the event is both a fundraiser and a community event for dog owners to bring their pets.
"After the first two years, we raised enough to purchase a drinking fountain with a bottle filler, dog bowl and at an accessible height, so it serves everyone who visits the park and prevents the muddy mess," he said.
They have a variety of sponsors and booths with pet-related items — veterinarians, salons, dog treats and pet accessories — and this year, they had a counselor who helps people get dogs for medical or emotional support.
Funds were raised through different levels of sponsorship packages — some included the booth — or they could just pay for a booth.
"We encourage vendors to donate promotional items, treats or toys, for a doggie bag, and all participants receive a goodie bag," he said. "The dog park has limited features, so with the fundraiser, we'll be able to continue to add features or maybe add more dog parks in town."
5K for Limb Loss Awareness
McKellar said Kentwood's largest fundraiser is the 5K for Limb Loss Awareness, held every April, which is National Limb Loss Awareness Month. This fundraiser started in 2018. The funds raised through "registration fees and great sponsorship packages" helps buy adaptive equipment and fund programs.
The Kentwood Parks Department offers adaptive water skiing and downhill skiing, kayaking, archery, golf, bowling and rock climbing. In the last two to three years, the department has raised over $30,000 to purchase new adaptive equipment. Some businesses sponsor certain aspects of the 5K event, like water stations, for example.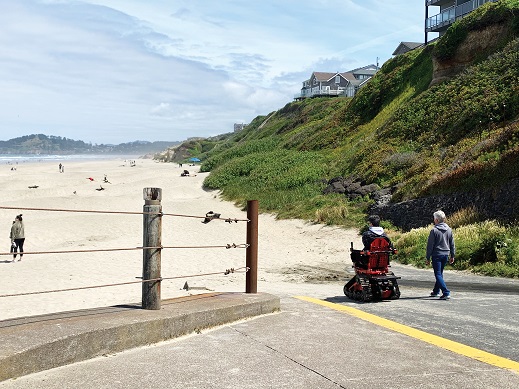 In September, the department held a Vibe fundraiser for the same purpose.
"It's more of a backyard party — that's how we like to describe it," McKellar said. "It's more informal."
The event includes food, music, a speaker and silent auction. Some proceeds pay for the musicians and speakers while "anything above and beyond goes to equipment and programs."
McKellar said, "The most successful fundraisers are the ones that have community support. Parks and rec has a certain reach, so when you get local businesses and organizations and volunteers involved, that reach grows exponentially and so does the fundraiser."
When asked how important fundraisers are to supplement park budgets, he responded, "It depends on the philosophy of the city and its leaders. We have a lot of support for parks and rec programs, and it continues to grow. We just passed a dedicated millage last summer that guarantees funds for perpetuity. It's important to get decision-makers involved so they understand the impact parks programs have."
Some communities can only serve a select few because of financial constraints, according to McKeller. "Fundraisers allow us to provide things for all ages and abilities. Everyone and anyone who lives in the community should be able to participate if they want to — that's what we strive for here."
Newport, Ore.'s, TrackChair Program
Newport Park and Recreation Director Michael Cavanaugh was so excited about the program a community fundraiser made possible that he spoke to The Municipal while on vacation.
"I'm so proud of this program we're getting off the ground. I think it's one of those projects that all municipalities and communities should be targeting and shooting for," he said.
The project is to provide a TrackChair that will enable the physically challenged to visit and enjoy Newport's Nye Beach on the Oregon Coast.
Cavenaugh explained it all started with a co-worker years ago who had an idea to provide a beach wheelchair because the Oregan Coast in Newport is "tough to access." When Cavenaugh assumed the director's position, he learned the parks department owned a beach wheelchair with big bubble tires, but the department didn't have the greatest angles to get to the beach. This brought concerns about injuries and liabilities.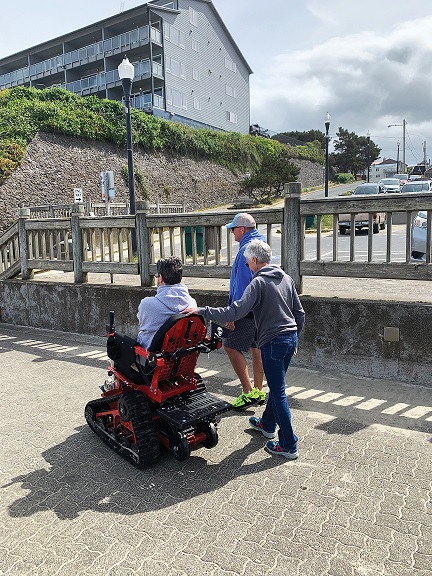 He said ADA access to the beach was a priority for the city council, and one of the commission members knew about an organization called David's Chair — a nonprofit that grew from one individual named David who had Lou Gehrig's disease and had a TrackChair. David told his best friend, Steve Furst — now the CEO — that when he died, he wanted someone else to get his chair.
Someone contacted David's Chair and asked to meet. "The timing couldn't be more perfect," Cavanaugh shared. David's Chair was looking to expand, and it wanted to partner with someone on the coast to keep a permanent chair.
"The stars aligned perfectly," Cavanaugh said.
A representative from David's Chair did a demonstration for the city council, city manager, the committee and other stakeholders, who immediately saw the benefits and were amazed at all it could do.
In June, the city held a fundraising event and demonstration. The Friday night event included food, a silent auction and raffle with about 30 to 40 businesses donating items. The local Elks Lodge gave organizers the space for free, and a local brewery came and offered a special brew called "David's Chair." Meanwhile, a local band donated its time to play at the event. Close to 80 people attended, and the city also received private donations.
Cavanaugh said the parks department publicized the event through its email distribution list and even received donations from other parts of the state that way. Aside from the wide tracks on the all-terrain TrackChair, there are also TrackChairs that can bring the person to a standing position, and Cavanaugh said there are some that have control extensions that allow a caretaker or loved one to walk beside the chair.
"They can walk side-by-side down the beach instead of behind, bringing a little piece of dignity back — that, to me, is so powerful." He added, "Park and rec is about community — it's about bettering people's lives. I'm so proud of this."
Newport had a friends of the parks organization that used to do fundraisers for the parks, but the last one was for the aquatic facility about nine years ago. That group dissolved, but Cavanaugh said the nonprofit Friends of the Newport Parks and Recreation is starting up again so all donations from this fundraiser are going through that group.
The parks department has a memo of understanding with the nonprofit, which will maintain ownership of the chair, which will be stationed in Newport, and handle reservations. David's Chair will communicate with the department when there's a reservation, and park staffers will retrieve the chair from the shed where it will be stored, help get the user into the chair and clean it afterward.
To have a successful fundraiser, Cavanaugh said, "Obviously the will and desire to make the project happen (is vital)."
Partnering with a steering committee made up of city government officials, advisors and community organizations — like the friends of the parks and chamber of commerce — is also crucial.
"The more people in community you have and the more hands stirring the pot, the stronger the success of the fundraiser."
He noted city budgets are tight, and parks and rec departments tend to be lower on the list, so fundraisers and friend organizations are important.
It's important to be aware of and put oneself in the shoes of others who might not be thought of. He noted, "With how divisive the world is today with politics, etc., events that can bind and make the community and nation strong — it's important." Miller pointed out, "Recreation is not just sports — not just for children — it's for all individuals of all abilities. We're very inclusive. Our motto is 'All in' — we welcome everyone."
Next Article: The Municipal Top 10: Best cities for recreation