The learning curve of electrification
Global Environmental Products Inc. has been building and delivering 100% electric street sweepers for several years now. Its M4EV was the first all-electric sweeper model offered for sale. Launched in September 2019 at the national PWX Show in Seattle, the sweeper was the first full-sized Class 7 all-electric street sweeper.
While the first of its kind, the technology behind it had been designed, tested and implemented over a 10-year period in coordination with Global strategic electrification partner, US Hybrid. The drive system, electric motors and smaller versions of the batteries had years of real-world testing in one of the most demanding sweeping environments — New York City. Designs were tweaked, systems integrated and certain components scrapped for newer, more reliable versions. The goal was to deliver a powerful and reliable street sweeper that could go out and perform as well as its diesel counterpart while delivering substantial emissions reduction and a lower carbon footprint.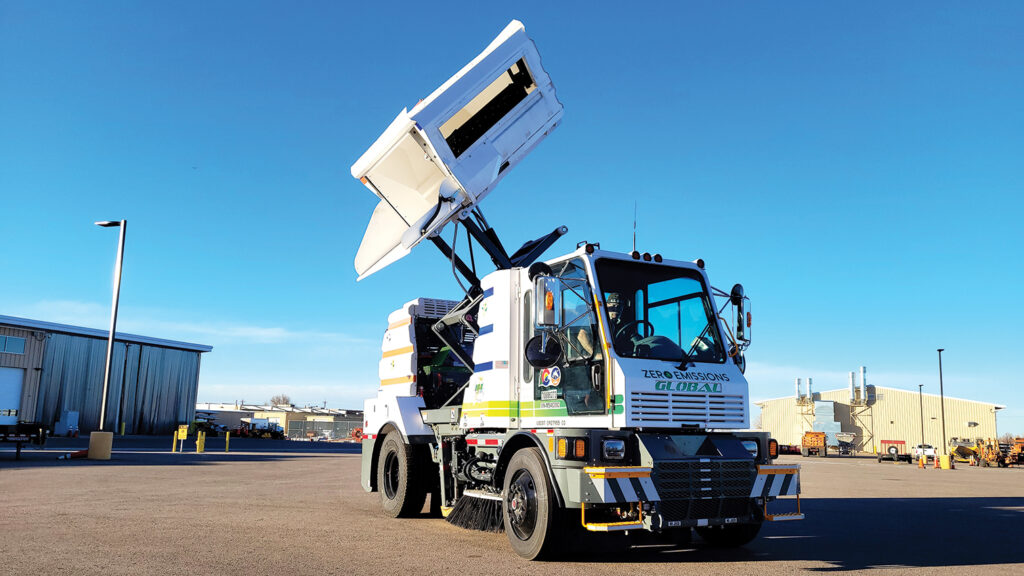 According to Sebastian Mentelski, "All this engineering and technological development led Global to the point where they could remove the diesel engine all together and develop a street sweeper that is a 100% Plug-In Electric sweeper, capable of delivering best in class sweeping performance for a 'Full Shift.'"
The idea was to introduce the sweeper to the North American market at the 2019 PWX show in Seattle, then measure interest and demand. The next step was private showings and demonstrations to select dealers and customers at four locations across the United States in late spring and early summer of 2020. As the date of the first launch show approached, it quickly became apparent the COVID-19 virus was turning into a worldwide pandemic and altering the way everyone was conducting business. Travel became restrictive and meeting in larger groups wasn't possible. The product launch campaign had to be shelved.
By the mid-to-late summer of 2020, Global had received enough interest from a select number of municipalities that received or were in the process of acquiring funding to offset the cost of all electric vehicles. So, a traditional tow-and-show demonstration campaign had to be the next step. People wanted to see the sweeper in operation.
Global leaned on its excellent dealer network for assistance. Global worked with its strategic partners across North America to send a Level 2 charging system — capable of being plugged into most 50 AMP/240 Volt receptacles — that could charge the sweeper overnight before demonstrations the next day. Adaptations had to be made to the charging system to accommodate the various provisions dealers had available to them. Many dealers had to bring in electricians and modify outlets and circuit breakers in their facilities to meet the charger's requirements. Every stop presented different logistical challenges that needed to be overcome, and the results were well worth the effort.
Since those early demonstrations in the summer of 2020, Global has sold dozens of 100% Electric Plug-In Street Sweepers across the country. Their users range from smaller municipalities to some of the largest municipal fleets in North America. The product line up has expanded from the M4EV to include the three-wheel M3EV, R3EV Air and soon the R4EV Air, offering customers the choice of all-electric Class 6 or Class 7 fully electric mechanical or regenerative air street sweepers.
What has Global learned by being the first to market with an all-electric full-sized street sweeper? While many customers initially wanted a machine that would run one shift per day, demand from larger municipalities for a machine that could perform two shifts per day quickly became apparent. Global and US Hybrid developed the on-board components that now allow the sweepers to be plugged into rapid charging systems that can fully charge the sweeper in three hours and, in most instances, charge the sweeper to 35% capacity in about an hour. This allows those customers needing a machine to perform double shifts to utilize the Global electric sweepers. All of this is possible with DC fast charging stations, and Global believes that fast charging is crucial and should be available at every municipality in the future.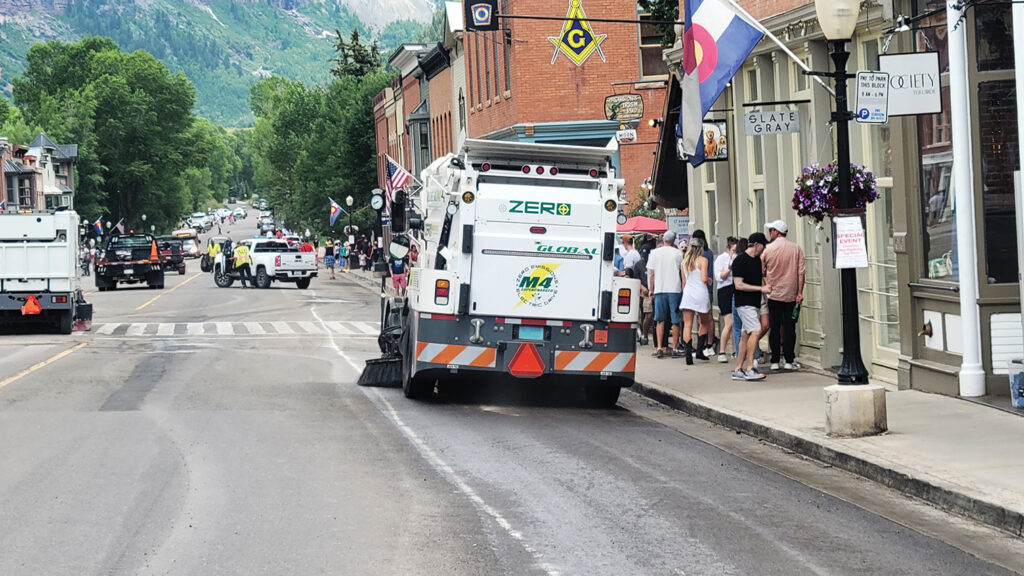 Another example of the difference between supplying electric sweepers versus diesel engine sweepers is the buying cycle for purchasing an electric sweeper is considerably longer. Electric sweepers can qualify for various government grants that help to offset the increased expense of the electric sweepers. Global, in coordination with respective dealers and their customers, had to learn what federal grant money was available for such purchases and how that money was allocated differently from state to state. Global had to embark on an education campaign to help answer questions for those charged with allocating the funds so that everyone could be certain the Global EV sweepers comply with various grant requirements. Recently, Global was able to assist with information showing that its sweepers met "Buy American" requirements, which allowed the Federal Aviation Administration to approve grant funding for airports to buy the Global EV sweepers to reduce emissions at some of the nation's busiest airports.
A technological advantage even the first M4EVs were equipped with is that all Global EV sweepers are equipped with Wi-Fi capabilities. This allows Global to diagnose potential issues with the electric propulsion system in real-time, remotely. This greatly increases response time for troubleshooting and eliminates much of the "guess work" that is sometimes associated with further development of a new product.
Walter Pusic, president of Global Environmental Products, stated, "Essentially, we have the ability to diagnose all EV faults from our computers in California; customers don't have to worry about any additional training and are not required to repair any electrical components." He further stated, "Global's electrical engineering department is also developing an extremely user-friendly On-Board Diagnostic System for the sweeper electrical system," which offers the same benefits. The system is currently available on mechanical models and will soon be available for Global regenerative air product lineup as well.
It has been said that the one constant in this world is change. In the more than a decade that Global has been building Diesel/Electric Hybrid and now Fully Electric Plug-In sweepers, the company has learned that truer words have never been spoken. The advancements in the technology surrounding the electrification of vehicles are moving ahead at a rapid pace. As a result of being first to the market with these full-sized municipal EV sweepers and working through many of the issues presented by integrating the technology into an established, reliable sweeper, Global has learned a lot about the real-world application of these sweepers and is well positioned to take advantage of future technological advancements.
For more information, visit https://globalsweeper.com/.
Next Article: Troy, New York, replaces water transmission lines