Houston highway transformed into ecologically rich landmark destination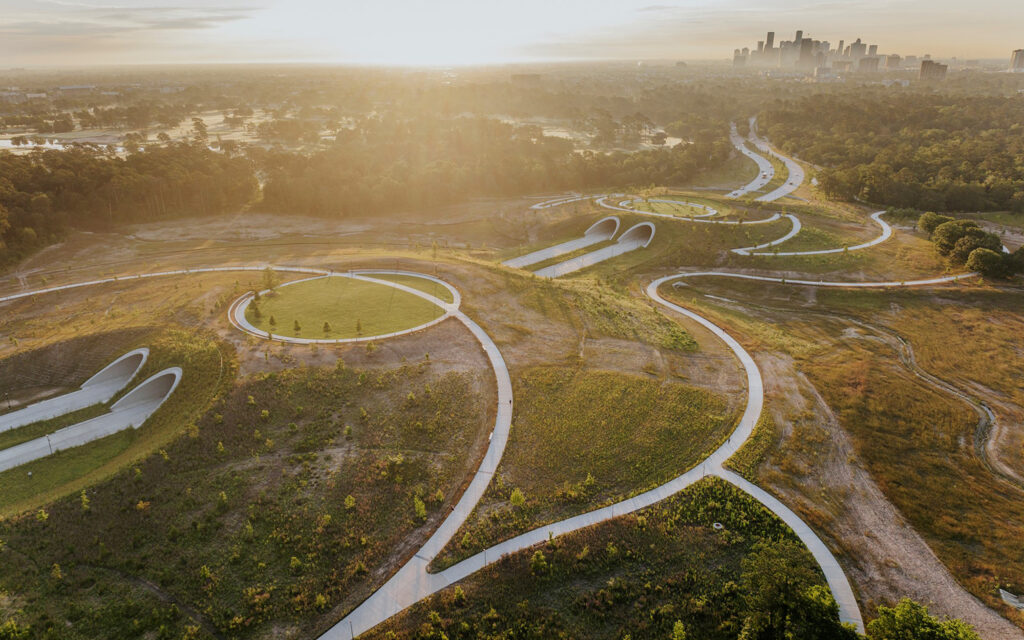 The Kinder Land Bridge and Cyvia Melvyn Wolff Prairie is an ambitious, 100-acre project located in the heart of Memorial Park in Houston, Texas.
Memorial Park is 1,464 acres but was divided into two parts in 1955 when a six-lane drive was built. This division made it difficult for pedestrians to get across the park and disturbed the habitat and migration for species, making the area less ecologically resilient.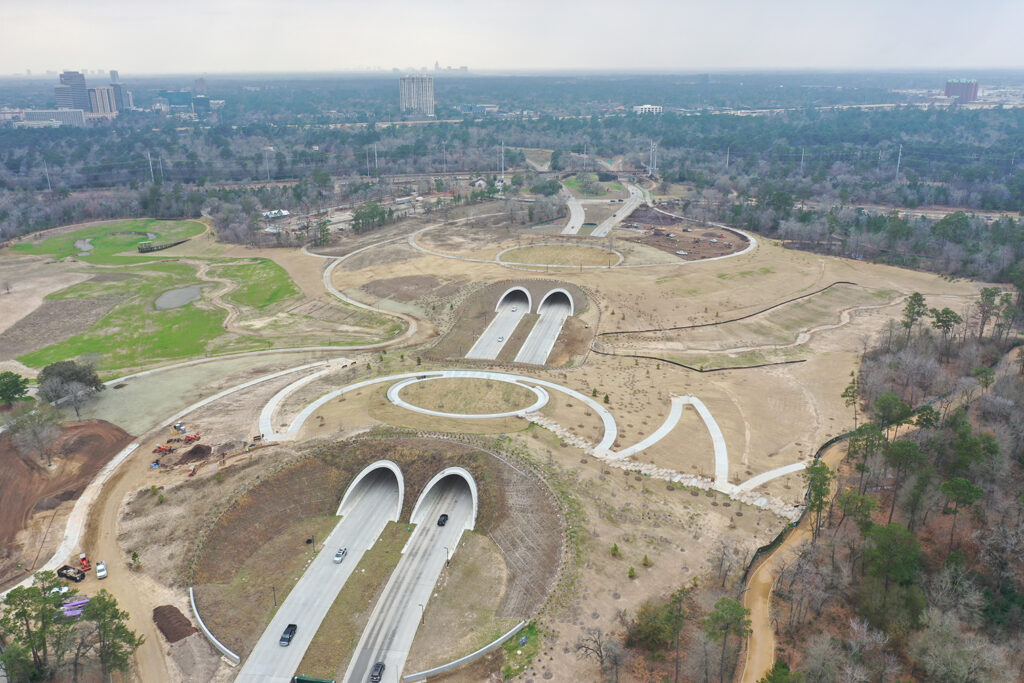 "I'm very proud that, with this project, we can demonstrate how impactful ecological restoration and the creation of accessible public open space, both of which are so critical to the health and civility of our culture, is possible through thoughtful design," Thomas Woltz, principal and owner of Nelson Byrd Woltz Landscape Architects, commented.
In the 2015 Memorial Park master plan, the land bridge and prairie made up a key component of the 10-year plan that assisted in accelerating projects within the master plan. One of the master plan's main goals is to restore ecological systems and increase ecological resiliency. Another is to reconnect Memorial Park's land and waterways with the people and trails.
A $70 million gift from the Kinder Foundation in 2018 made the 10-year plan possible. In 2021, the Cyvia and Melvyn Wolff Family Foundation also donated $10 million to be put toward the prairie. The Emily Clay family committed $3.5 million toward the land bridge and prairie.
"The Kinder Land Bridge and Cyvia and Melvyn Wolff Prairie will elevate park visitors' experience and our city on a national and even global level," stated Shellye Arnold, president and CEO of Memorial Park Conservancy. "With endless gratitude to our generous donors, Memorial Park Conservancy is honored to gift this project to Houston."
Ballpark fields, parking lots and a roadway previously occupied the space where the land bridge and prairie were built. They have since been relocated to the north side of Memorial Park.
In 2022, four large tunnels, two in each direction, measuring 300 feet and 460 feet long respectively, were built over the Memorial Park roadway so that now traffic flows through these tunnels. Made up of 620 separate prefabricated concrete panel arches, the tunnels have geometrically pure elliptical headwalls at each end.
The framed tunnel openings offer views of the Houston skyline and prairie vistas. Over 55,000 cars utilize the tunnels each day.
The tunnels were covered with over half a million cubic yards of soil, all from within the park. Topsoil was stored and mulch and compost from the Memorial Park Conservancy's BioCycle program was added to produce a growing medium for the prairie. The two 35-foot-tall hills make up the land bridge, which connects visitors to the north and south sides of the park once more.
The Emily Clay Family Scramble will give direct access to the project to visitors at Memorial Park via a sustainable architectural design using upcycled chunks of pavement. The chunks are from a section of road dividing the park that had to be removed during the project's construction. The scramble includes large blocks leading to the top of the east mound, which allows visitors access to the land bridge from the Seymour Lieberman Exer-Trail.
The prairie surrounding the land bridge helps to re-establish ecological biodiversity through the savanna, wetlands and reforested sections. A culvert underneath Memorial Drive serves as another passage for wildlife as well as providing water flow to the natural Buffalo Bayou corridor.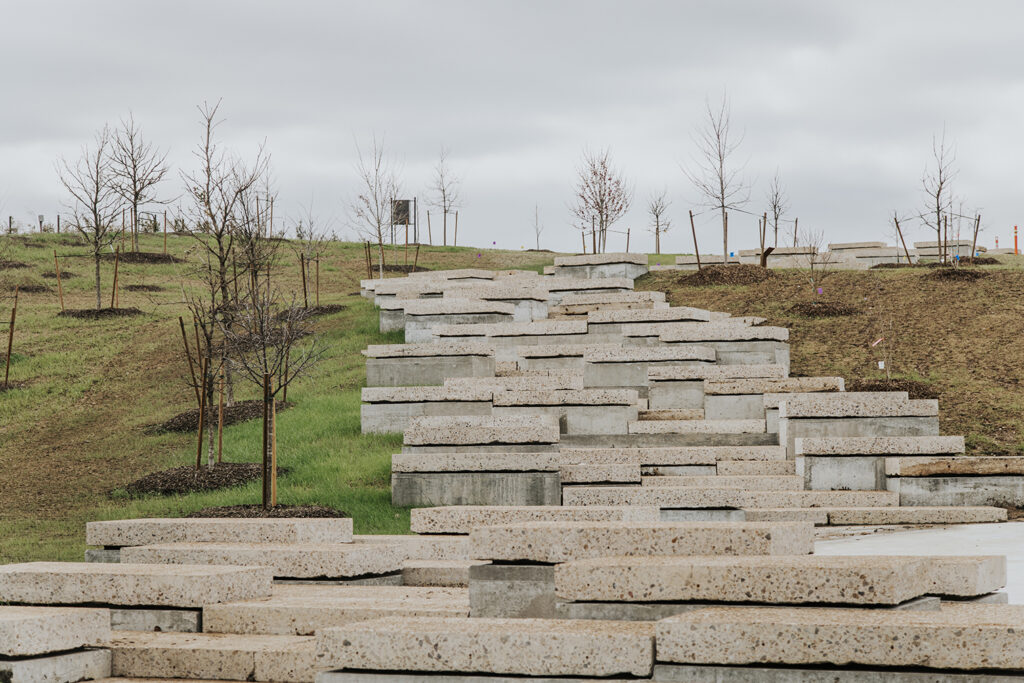 "Not only are we providing an expansive land bridge for humans and wildlife across a major commuter artery, but we are also re-establishing an important and endangered ecological habitat by planting nearly 45 acres of native Gulf Coast prairie," Woltz explained. "As a result, my expectation is that this project will have a reverberating positive impact on the human residents of Houston, the wildlife and the overall ecological health of the city."
The 45 acres of coastal prairie within Memorial Park will provide necessary food and shelter for insects and migrating birds. The coastal prairie plants are resilient enough to withstand storms and act as a green sponge, helping with processing and storing stormwater and water quality treatment within channels and wetlands. They will also help to reduce the amount of roadway pollutants introduced into the watershed.
With a setting 34 feet above Memorial Drive, the land bridge offers unparalleled views of uptown and downtown Houston.
Houston Parks and Recreation Department Director Kenneth Allen stated, "This project is a spectacular addition to the already-spectacular Memorial Park greenspace. It's not only a sight to behold, but it also offers numerous benefits for wildlife and our native coastal prairie. It will instantly become a destination stop in the city of Houston, and the Houston Parks and Recreation Department is proud to be a part of the incredible partnership that helped make the Kinder Land Bridge and Cyvia and Melvyn Wolff Prairie a reality."
Construction of the project required teamwork and coordination between landscape architects, civil engineers, structural engineers, scientists, fluvial geomorphologists, prairie experts and biologists. Memorial Park Conservancy has partnered with Kinder Foundation, Houston Parks and Recreation, Uptown Houston and the Nature Conservancy to make up an advisory team to try to deliver improvements worth more than $200 million to Memorial Park by 2028.
The Kinder Land Bridge and Cyvia and Melvyn Wolff Prairie officially opened to the public Feb. 11. "Today we celebrate another major milestone resulting from Memorial Park's visionary master plan," declared Sylvester Turner, mayor of Houston, on the day the land bridge and prairie opened to the public. "This landmark destination is a model of an extraordinary public/private partnership that has produced a legacy project for generations to enjoy for years to come."
Next Article: 'Alley Activation' initiates comprehensive plan in Huntingburg