Wisconsin city races transit fleet toward EV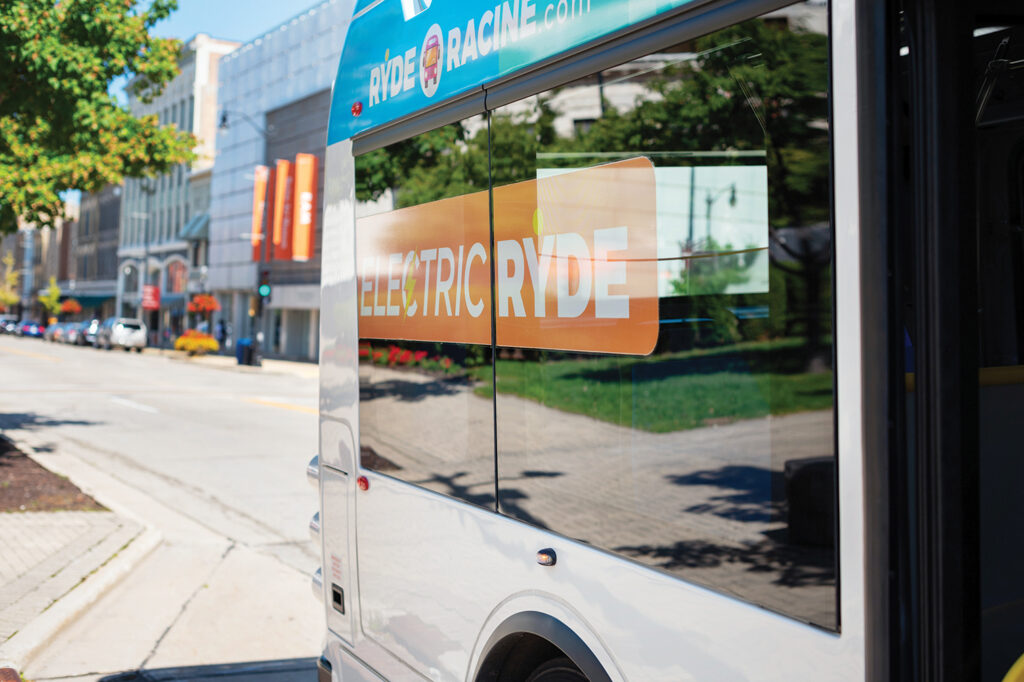 Electric vehicles are continually in the news and being discussed everywhere, whether they're for private use or, increasingly, replacing traditional cars and buses for city usage.
Racine, Wis., was awarded nearly $3.8 million from the U.S. Department of Transportation's Federal Transit Administration Low or No Emission Vehicle Program in August. The money was used to add four more electric buses to the municipal inventory, bringing its fixed-route fleet to nearly 40% zero emission.
Prior to the grant, Racine already had the most electric buses of any fleet in the state, with nine.
What was formerly known as the Belle Urban System now offers a chance to "Enjoy the RYDE" as it says on the sides of the new, brilliantly colored buses. The idea was to get passengers to look differently at the buses and how they could fit mass transit into their lifestyles. The initiative was designed along the lines of trolleys seen in other towns and hopes to replace the old prosaic designs of buses and streetcars.
Trevor Jung, Racine transit and mobility director, said that from 2018 to today, the city has secured over $15 million to transition approximately 40% of its transit fleet from fossil fuel-powered to all-electric buses.
"Nine Proterra ZX5+ buses are currently operating in revenue service in Racine, while four additional buses are on order as a result of the most recent program grant award. These electric buses have replaced, or will replace, diesel buses that have met their useful life by operating 12 years in service with over 500,000 miles."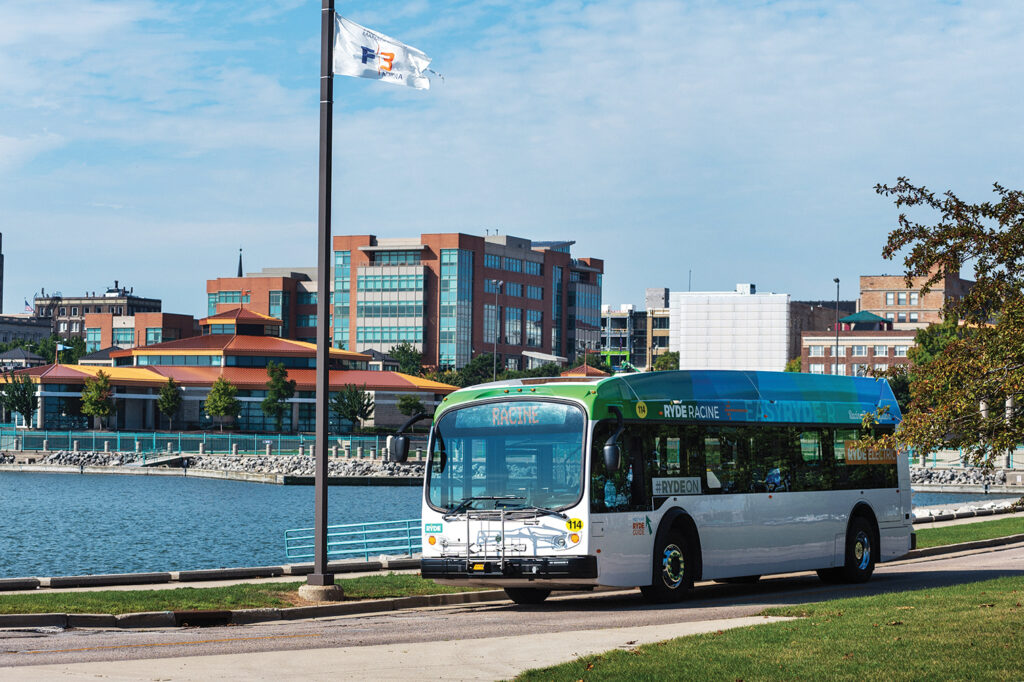 Jung explained, "The city of Racine's electric bus program was launched to serve the public in April of 2022, and the EV buses have been on the road since then, meeting the service needs of the public transit system. As these vehicles are newly minted, and have 30% fewer parts, savings are significant in maintenance and fuel expenditures. Also, 10 of Racine's existing bus routes are shorter than the available battery range, so there have not been major issues with running out of power mid-route or needing to recharge midday. Because these buses charge overnight, power costs are also lower due to decreased demand for electricity after dark. Overall, the EV bus transition has been a smooth rollout."
As expected, and proven by the 30% fewer parts in the newer models, technology has improved since the first buses were purchased. Jung added, "Battery technology is continuing to evolve at a rapid pace. Our bus configuration on our latest order compared to just two years prior is indicative of the constant innovation in the battery industry. In terms of reception from drivers and passengers, the RYDE Racine community has shown excitement for this new and modern fleet. Our drivers have expressed gratitude for making major investments in the transit system, and our passengers notice the quiet and clean appeal of our new EV bus fleet."
And there is apparently no stopping the city's progress toward full fleet electrification.
"RYDE Racine has prepared a long-term Fleet Transition Plan that meets FTA requirements," Jung said. "The plan includes information from RYDE Racine's Capital Improvement Plan, Transit Asset Management Plan and the Transportation Improvement Plan: These plans and documents illustrate the need to replace aging diesel buses with the potential of an all-electric fleet by 2033. RYDE Racine's FTP follows FTA's useful life benchmarks to determine when existing diesel buses are eligible to be replaced with new zero-emission buses.
"The city of Racine has committed to the goals of the Paris Climate Accord, and RYDE Racine believes in the principles of savings, service and sustainability. These commitments will result in the continued effort to reduce the city's carbon footprint," he promised.
Indeed, once zero-emission transit buses have replaced all the diesel buses in Racine's fleet, the carbon footprint will be reduced by approximately 922 tons annually.
As with any update in technology, what at first seems impossible becomes the norm as innovations are tested and more is learned. Cleaner forms of energy are becoming options in every aspect of people's lives. Simply saying "but we've always done it this way" is no longer a good answer, Jung said; Racine has looked into the future, projecting 10 years ahead. By the time April 2033 rolls along, there will probably be other new programs and implementations in place in Racine and among other municipal fleets, maybe including things that once seemed the stuff of science fiction or cartoon flying cars. Until then, passengers can catch a RYDE in Racine and experience the future here and now.
Next Article: Myrtle Beach goes to the dogs with third bark park