Scottsburg chooses a sequence batch reactor for new wastewater treatment plant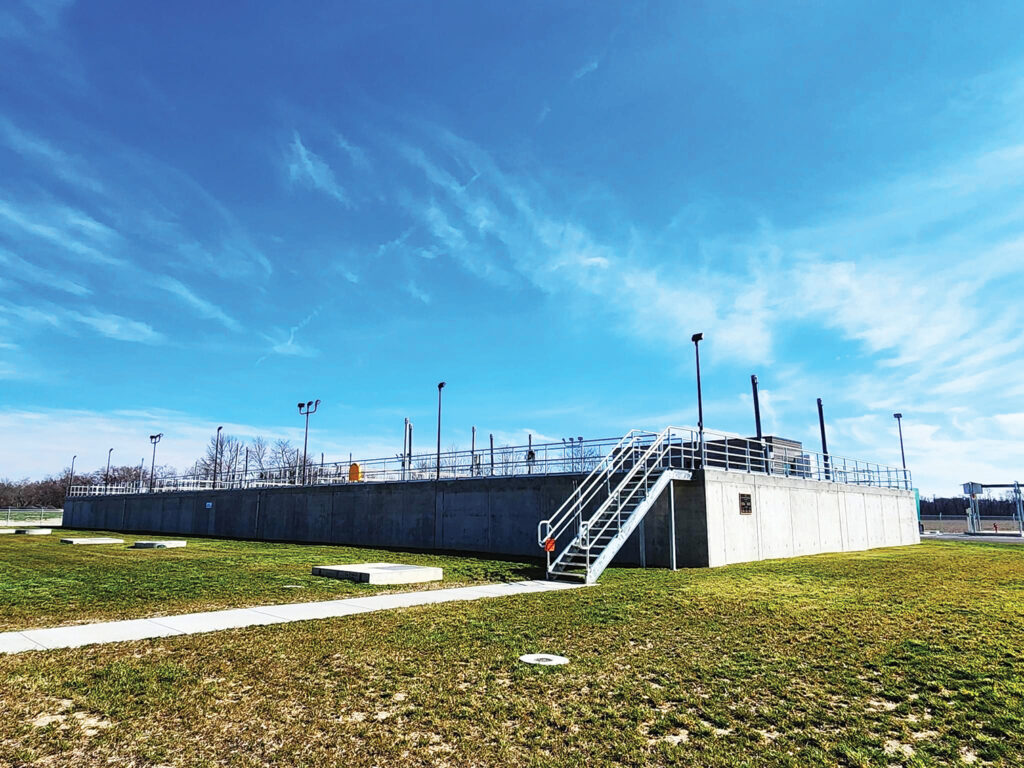 In the 1980s, the state of Indiana encouraged cities to test out new technology for wastewater treatment plants. Cities were given money to try out a continuous batch reactor. By the time Mayor Terry Amick of Scottsburg, Ind., took office, this system was failing and many others across the state had already closed.
"We had maintained it through a 20- to 30-year life span, but months before I took office, we had a sewer ban placed on the city by the Indiana Department of Environmental Management," Amick explained.
"When I came into office, the city had a new plant design that was already approved by the state, but I did not go forward with the design from the previous administration," he continued.
This rejected plant design was an oxidation ditch plant with an oval shape. While it was going to raise the capacity of the wastewater treatment plant, Amick ultimately decided to research other plant options and chose to move forward with another design.
Amick traveled to Tennessee to view a new and improved reactor design. After seeing it, he questioned the operator about its effectiveness and was told that, while it works, it could be troublesome. After talking to the engineer, he received similar reviews. Amick then visited Avon, Ind., to view a perfect square reactor that was said to work better. The operator there stated it worked well.
This past March, Scottsburg, Ind., held a ribbon cutting for its new wastewater treatment plant. This new plant utilized a square shape, while also being larger, and is able to handle a larger capacity. (Photo provided by the city of Scottsburg, Ind.)

When Mayor Terry Amick took office, the city already had a new plant design approved by the state. However, after other plant options were researched, a different design was chosen. The new design would increase capacity and save the city money. (Photo provided by the city of Scottsburg, Ind.)
A sequence batch reactor plant design with a total project cost of $18 million was ultimately chosen. "We picked different things from different plants we liked and built our plant," Amick described. This design allowed the city to reuse nearly everything from the existing plant. The main reactors were switched from rectangular to square, and the wastewater treatment plant's capacity was doubled to 2.7 million gallons.
In a sequence batch reactor, a fill-and-draw activated sludge system is used for wastewater treatment. The reactor is filled with influent wastewater during the fill portion, and a decanter removes the treated effluent during the draw portion. When wastewater enters a reactor and the reactor then becomes full, it acts as a traditional activated sludge system, only without continuous flow. After biological reactions are complete, aeration and mixing cease. During the cycle, frequent wasting holds the ratio of influent substrate to biomass fairly constant. With this design, return-activated sludge pumps and primary sludge pumps are no longer needed. A sequence batch reactor acts as an equalization basin, which allows it to handle peak flows in the influent.
The primary advantages of using a sequence batch reactor are that equalization, primary clarification, biological treatment and secondary clarification can typically all be done in a single reactor; it creates a minimal ecological footprint; it offers significant capital cost savings; and it provides control and flexibility in operations. However, this type of system also requires a higher level of sophistication and maintenance as well.
Three new reactors were built along with a lift station, headworks, blowers and an enlarged ultraviolet building and system. Choosing this system meant the city could build a larger plant and still come in under budget. The reactors are massive, and there is enough room to build 30 more as Scottsburg continues to expand.
The new design took about three months, and the construction took a little over a year at 13 months. The city repurposed what it already had at the previous plant, including redoing the tank and expanding the operation. This way, Scottsburg also already had a sludge press. The new wastewater treatment plant is even built on the same site, just north of the old plant. A ribbon-cutting ceremony was held in March for the new wastewater treatment plant.
Next Article: Helping your community shine: Hosting successful cleanup days