Ranger program reclaims Modesto parks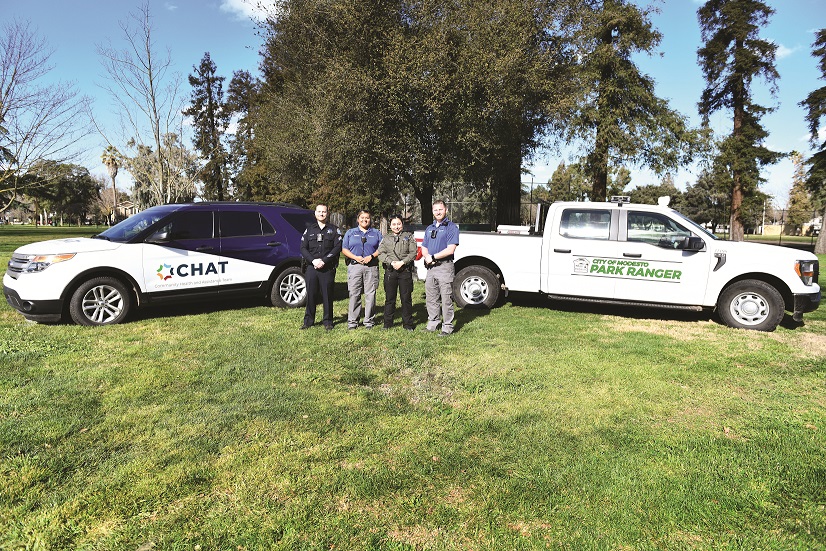 Last summer, Modesto, Calif., ran an 18-month pilot program training and posting four park rangers to its city parks. The hope was that the program would bring families back to the parks.
To qualify, a candidate had to be 18 years of age or older and have a California Driver's License and one year of law enforcement experience. It was expected to take two to four months to recruit and train the rangers, and the projected cost was almost $624,000. So how is the program doing this year? Was the city able to continue it?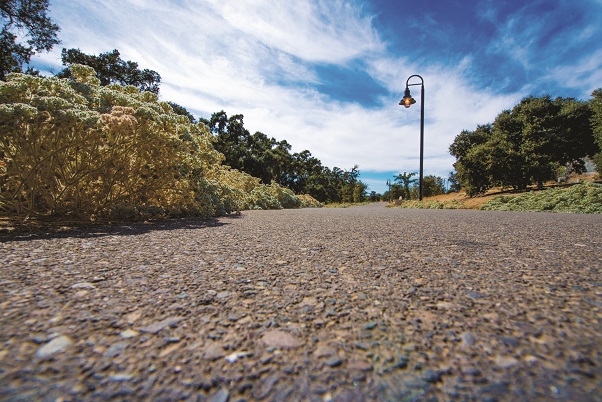 Modesto Chief of Police Brandon Gillespie gave a resounding yes.
"It was just pure excitement," he said. There had been many complaints about the parks being used for drug activity and transactions. There was quite a homeless population, the public bathrooms weren't in the kind of shape most people wanted to use. "Most community members couldn't take their kids to the park," he admitted.
"So we received overwhelming support. We haven't heard anything negative as to what the rangers do. We get complaints, but they are reduced in number. Actually, the biggest complaint we still get is one we knew would happen, because we have 76 different parks and four rangers."
The city's 76 parks feature 1,246 acres of public space and trails.
"There are just not enough of them to cover them the way we and the public wanted. Everyone wants rangers in every park, and we are spread really thin. We can't train them fast enough."
Modesto has been strapped for many years, really ever since the Great Recession, Chief Gillespie said of the program's initial funding challenge.
"We were looking for good ways to use our resources. We were already down some officers, from 286 to 210. Park issues are usually low-level, minor things like curfew violations, illegal camping, dogs off a leash, things like that – and it could take hours before an officer could get there if he or she could get there at all. We knew we couldn't send police officers in a timely manner. So how could we get help to the people? That's the question we asked ourselves."
"During the pilot program, we used cadets aged 18-24. The first two kind of evolved it; they already knew the officers and they knew the radio codes, so they set it all up perfectly. As they went out, they could say what was going well and what wasn't. Now we are transferring that position to its own standalone spec, which freed up our police officers to do other things that were needed."
The plan was that rangers would primarily use trucks to patrol the parks and open spaces; however, they now use electric bikes, foot patrols or any other means that facilitate access to the various areas.
"We needed vehicles, of course, and had to design them so they didn't look like anything else. They're all green."
When asked about the rangers' safety precautions, he replied, "There have been minor incidents. Recently, one of our female rangers was slapped by a homeless person in the park. Those are the kinds of things we are continually assessing. The rangers haven't had pepper spray, tasers or batons as of yet, but we are thinking we should give them pepper spray just in case. But we don't want to knee-jerk and overreact. We do make sure they have radios because if they need help, they need to be able to call for it and we need to be able to respond and take care of whatever the need might be, immediately."
He added that the community could also help improve the culture of the parks by staying in contact with the city parks and recreation department and the police department to keep officers aware of what is going on in the parks.
"We can keep abreast of our community's needs and develop the best and fastest responses when our citizens keep us informed, by communicating through email, the GoModesto app, or calling our dispatch center to report problems.
"I also encourage our community to interact with the rangers when they see them: Say hi, get to know them, let them know what's going on and how things are going."
Chief Gillespie said the ranger pilot program was funded through American Rescue Plan Act of 2021 funds. Additionally, the city passed a 1-cent sales tax increase.
According to the Modesto Bee, the tax increase began April 1. The city planned to spend the initial proceeds hiring more park rangers and increasing park maintenance.
He added, "This is now part of our general fund budget. I foresee us expanding until we hit that right number, so we can sustain that same right number in the parks. We'll get that 12 rangers out there and see if that's enough. If it's not enough, we'll ask for more."
The chief hopes the continuing presence of the rangers will help the homeless, possibly connecting them with helpful resources – because illegal camping isn't the answer, he reiterated.
"We keep learning and modifying. We're seeing renewed interest in people coming out to the parks. We're trying to make it so the parks are used by families and used for community events. We're seeing renewed interest in people coming out again. For the last five years, people haven't gone to the parks because they haven't felt safe, but we are seeing a lot more community use now."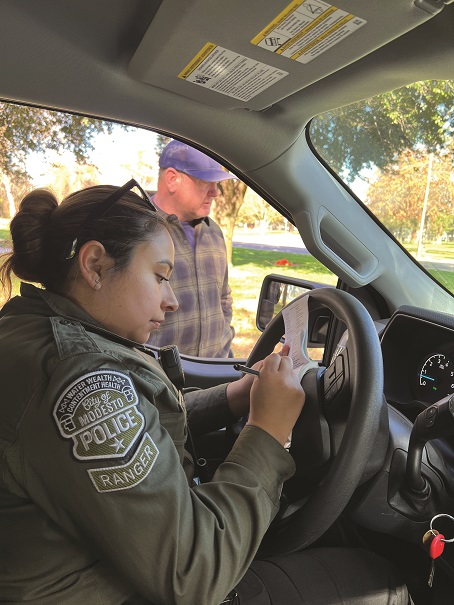 As to whether the department receives requests from the citizens and their families, he laughed and replied, "They all say the same thing: 'We want more park rangers,' If a lot of the community groups had their way, there would be a park ranger assigned to every park."
"When they are there, part of their mission is education and being engaged with families. The positive use is just awesome. The negative things – drugs, etc. are not happening when the rangers are there. When they're not there, that's when we get complaints."
Chief Gillespie said that all the training was done in-house. The PC 832 Arrest and Firearms Course is the minimum training standard for California Peace Officers.
He said, "The kids who started in this program were excited. They want to be police officers in the future, and they got to be a part of something brand new, right from the start."
"We try to have good communication and neighborhood associations, things like the College Area Neighborhood Alliance, where we can work together. Whether things are positive or negative, we rely on social media and we go to events to keep up to date as to how things are going. There's always room to improve. We count on the community to be our eyes and ears."
Park usage varies with the seasons, which will make a difference for the rangers and their placement.
"Summertime is busier because the weather is so nice. More people are out, and there's more activity everywhere. In the cooler weather, we see illegal camping or suspicious vehicles because an obviously empty park can look like a good place to set up. In the winter, we see camping under structures to get out of the rain." Thanks to the work of the Modesto Police Department and the park rangers program, there is beauty once again in the city's parks.
Next Article: Crazy Horse Memorial remains a work in progress