Stop the Parking Shuffle with New BendPak Lifts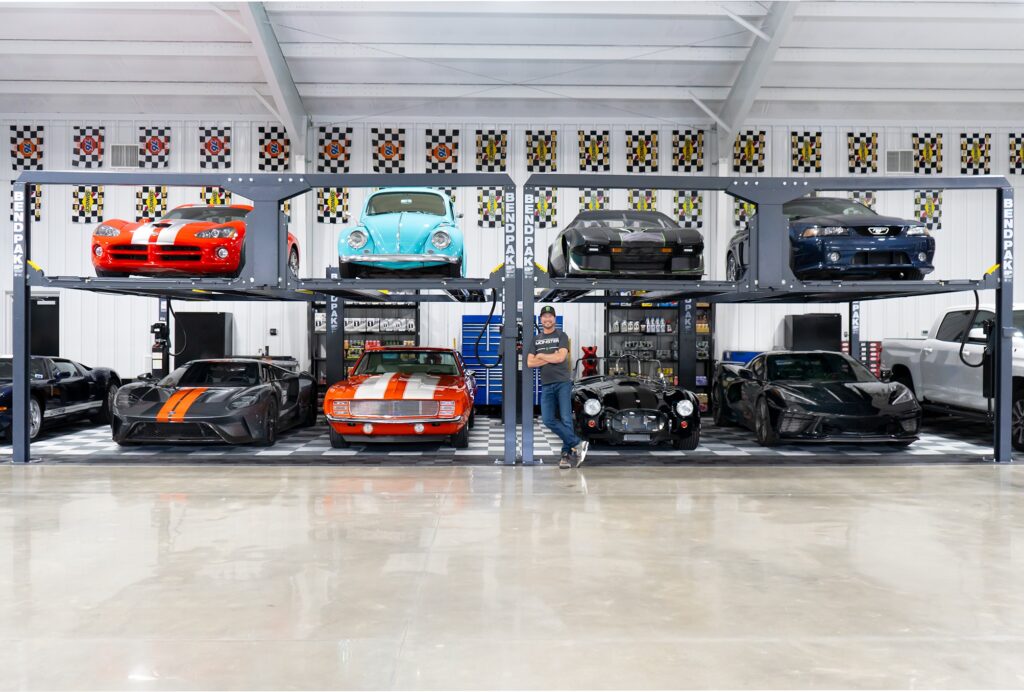 AGOURA HILLS, CA (June 20, 2023) — Stop wasting time doing the parking shuffle. The new BendPak PL-12000DP and PL-12000DPS double-wide parking lifts securely store four vehicles in two parking spots without all the time-consuming vehicle shuffling necessary when using traditional double-wide parking lifts.
The (patent-pending) secret is BendPak's independent platform design. Traditional double-wide parking lifts require removing all cars parked below before lowering all cars parked above. But since each PL-12000DP and PL-12000DPS platform operates independently, one can be lowered while the other side remains still. As a result, it's only necessary to move a single vehicle out of the way to get to one parked above. Plus, the unique structure provides double-car-width open front access, resulting in more efficient entry and exit.
"We developed the PL-12000DP and PL-12000DPS to address the most common complaints about side-by-side parking lifts," says Jeff Kritzer, BendPak president and CEO. "Whether used in a home garage or a commercial parking application, people hate the time-consuming hassle of shuffling multiple vehicles around to get to the one they want. They also worry about dents and dings when trying to squeeze between columns. Our open-entry, dual-platform design resolves those issues while also providing more clear space under the lift in the raised position for vehicle maintenance or walking through."
The PL-12000DP tall-rise, extended-length model offers exceptional versatility, with a maximum rise of 82.2 inches, 183-inch runways, and a drive-through height of 80.5 inches. The PL-12000DPS standard-rise, standard-length lift has a more compact footprint to fit in smaller spaces. Its max rise is 70.2 inches, with 159-inch runways and a drive-through height of 68.5 inches. Both models have a total rated capacity of 12,000 lbs. / 6,000 lbs. per platform. They can handle cars, light trucks, motorcycles, ATVs, golf carts, and other equipment.
The lifts are built to last with heavy-duty steel construction, galvanized lifting cables, and durable powder-coat finish. A dependable hydraulic drive system provides reliable power that requires little service and maintenance. Tandem drive cylinders and an intelligent hydraulic circuit provide precise, equalized lifting.
The PL-12000DP and PL-12000DPS parking lifts offer peace of mind with automatic safety locks at multiple heights, wide baseplates for stability and built-in front wheel stops. They are backed by BendPak's full five-year warranty.
Full-width platforms protect bottom vehicles from any leaks or drips above. To facilitate use as a dual-purpose service/parking lift, the lightweight aluminum center decks can slide out to provide open-center access to raised vehicles.
For more information about the BendPak PL-12000DP and PL-12000DPS multi-platform parking lifts, including specifications, photos and video, visit bendpak.com/car-lifts/parking-lifts/pl-12000dp/.
About BendPak
Established in 1965, BendPak Inc. is an American-owned global manufacturer of vehicle service equipment and specialty consumer products sold under the trademarked brands BendPak®, Ranger®, Autostacker®, QuickJack®, Cool Boss®, GrandPrix®, JackPak®,MaxJax®, Dannmar® and ErgochairTM. Its collective range of products includes car lifts, parking lifts, EV battery lifts, pipe benders, air compressors, tire changers, wheel balancers, wheel aligners, brake lathes, evaporative air coolers, rolling work seats, and other equipment. Visit bendpak.com or call (805) 933-9970.
Next Article: Stormwater project completion fixes channel erosion in Colorado Springs