North Dakota city reveals a creative side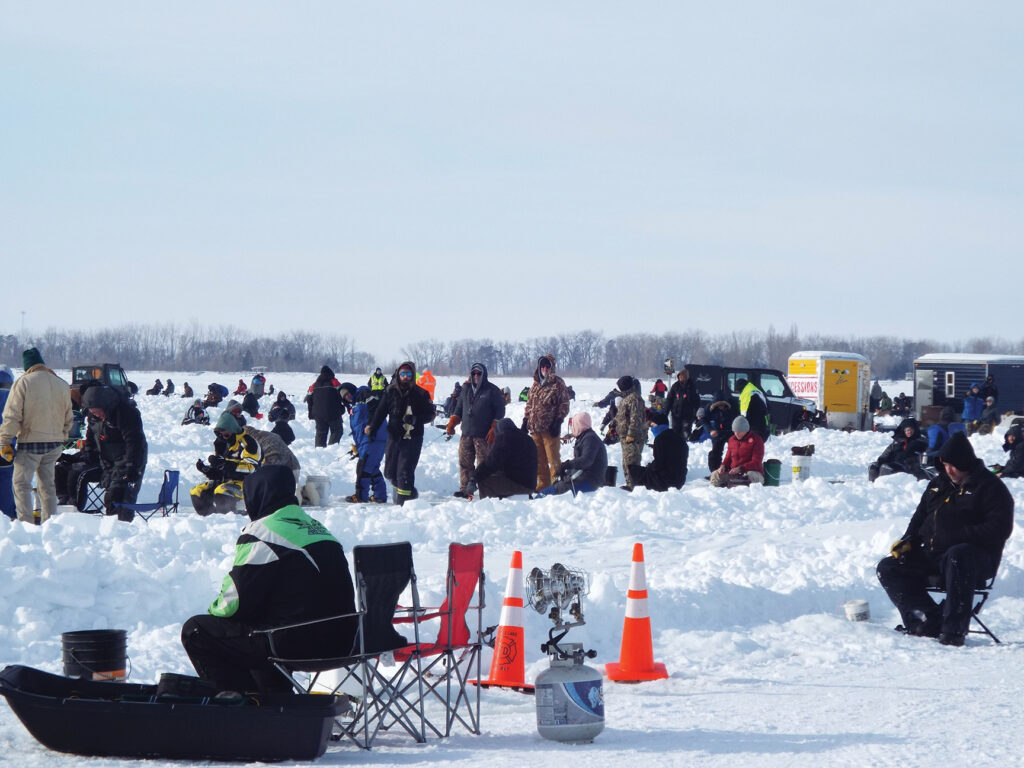 Devils Lake, North Dakota, was formed because of a continental glacier that covered most of North America during the Pleistocene Epoch. According to Wikipedia, that part of history lasted until about 11,700 years ago and a basin was formed as the glacier moved, eventually filling as it melted.
During a severe drought in the 1930s, Devils Lake nearly evaporated, but climate change means that the lake now measures 1,450 feet. It continues to expand, which had led to some pretty amazing fishing. Devils Lake is known as one of the best fisheries in the central United States, and both the locals and visitors take full advantage of it. In fact, January will see the 39th Annual Volunteer Fire Department Fishing Tourney take place: It's three days of family-friendly entertainment for those who are willing to brave the cold.
Cory Meyer, who co-chairs the event along with TeeJay Kurtz, Nathan Bennett and Erik Samuelson, explained the history of the long-running fishing tournament.
"It started 38, 39 years ago, with the Fraternal Order of the Eagles, and when they went defunct, there were already some volunteer firemen who were part of it. It just was a sort of natural, easy transition, a little paperwork," Meyer said. No one wanted to see such a big event lost in a town whose population numbered 7032 in 2020. The tournament draws 3,000 to 5,000 attendees each year, depending on the weather.
Meyers added, "People come from all over the state, really, even others from across the country, to be part of this. It's just so much fun. There are some who come solo just to participate, while others come as a family.
There are all kinds of things to do besides fishing on Saturday, he noted. "We've given away some awesome prizes."
North Dakota temperatures don't fool around when it comes to winter; a minus-zero reading is not unusual. If you're going to ice fish for the first time and didn't come fully prepared, you might want to avail yourself of similar outfit. (Photo provided by DLVFD Ice Fishing Tournament)

An incredibly talented group that always welcomes more artists, the Woodcarvers Club creates work of such detail it almost has to be touched to realize that those "feathers" are wood. (Photo provided by Lake Heritage Region Center)

This finished piece will become an instant, treasured heirloom for generations to come, lending itself to storytelling as well as play. (Photo provided by Lake Heritage Region Center)

Carol Greywater, an artist on the Spirit Lake Reservation, specializes in Native American, wildlife and fantasy art. (Photo provided by Lake Heritage Region Center)

Carol Greywater, an artist on the Spirit Lake Reservation, specializes in Native American, wildlife and fantasy art. (Photo provided by Lake Heritage Region Center)
It takes a lot of volunteers to put the tournament on. There's food and music, and then there's the drilling of the holes early Saturday morning.
As with so many other large annual events, planning for the next one begins almost immediately after each tournament ends.
Visitors can also tour the Fort Totten State Historic Site. It was built in 1867 as a military post to protect the Totten Trail and the Totten Indian Reservation. In 1890 the post was decommissioned, and it then served as a Bureau of Indian Affairs Boarding School from 1891 to 1935. Murals still on the walls, though faded, show the everyday life of the children housed there.
The Fort also served briefly as the preventorium for residents with tuberculosis. In 1940, it became an educational facility once again, serving as grade school and high school until 1959.
In 1960, the Fort was declared a state historical site. Visitors can walk the grounds and enter original buildings, a peek into the past with The Interpretive Center, Plummer's Store, The Fort Totten Little Theatre, Traveling Exhibits and Pioneer Daughter's Museum, where uniforms and artifacts of Colonel Creel and other former officers stationed at the post are on display.
In June, visitors can participate in the Devils Run Car Show, which began in 1993. It started with a car club called the "Lucky Devils" and just a few local classic cars, growing through the years into one of the largest car shows in the upper Midwest and attracting nearly 1,000 cars annually. This event lasts three days, and in addition to the main attraction there's plenty of food and entertainment, including "Muffler-Rapping," Burnout and Balance Beam contests, a parade and a night at the drive-in movie. "What better way to enjoy a celebration of cars?"
The three-day event, usually the first weekend in June, is attended by car enthusiasts from all over the country and Canada. The 30th anniversary of the event is scheduled to begin next June 1.
Another big draw, no pun intended, is the Lake Regions Art Festival. It was held in July and has already been scheduled again for next June. Lisa Crosby, director of operations at Lake Region Heritage Center, bubbled over with a list of superlatives for this display of creativity.
"We had 40 artists exhibiting at the juried exhibition, and they were judged," Crosby said, noting a juried exhibition displays artwork selected through a competition in the hope of being selected. "The artists were mostly from North Dakota, but we do get some from Minnesota, too."
The categories were glass, traditional, photography, oil, acrylic, watercolor, mixed media and drawing, with three artists in each placing. There were two very special prizes: the Heritage Award and Colonel Eugene E. Myers Purchase Award: Artist Ellen Diederich won both prizes, and her "Land of Milk and Honey" became a part of the University of North Dakota permanent collection.
Crosby said, "In addition to the art show, we had active exhibits — wood carving, blacksmithing, rug punching. Lake Region demonstrated beautiful Native American music and dancing. We had the Devils Lake Community Orchestra playing; we had Miki's Dance Studio, where the students were demonstrating tap and other forms of dance; and we saw scenes from 'Jersey Boys' performed by the Little Theatre group, a sort of teaser for their upcoming show in Roosevelt Park. There was a boxcar parade for children, with prizes for Most Artistic and Best Use of Recycled Materials, and a bluegrass jam, where anyone with a bluegrass instrument was welcome to join in making music."
The festival lasts a week, and it would take that long to see and do everything. Crosby explained, "We had food trucks. We had ice cream trucks. We had face painting. We had balloon animals. We had air dry clay projects for children to make at the Lake Region Public Library. We had an artist who brought boxes of colored chalks and did the most amazing picture on the sidewalk, and it was beautiful while it lasted!" The artist was Carol Greywater, an artist on the Spirit Lake Reservation — on the southern shores of Devils Lake — who specializes in Native American, wildlife and fantasy art. Native American heritage and many other elements are rich in North Dakota. Immersing oneself in the multiple cultures, the food, music and artwork, probably means a visitor will make plans to return again and again.
Next Article: Boulder uses Safe Routes to create safer paths