Clean streets are getting electrified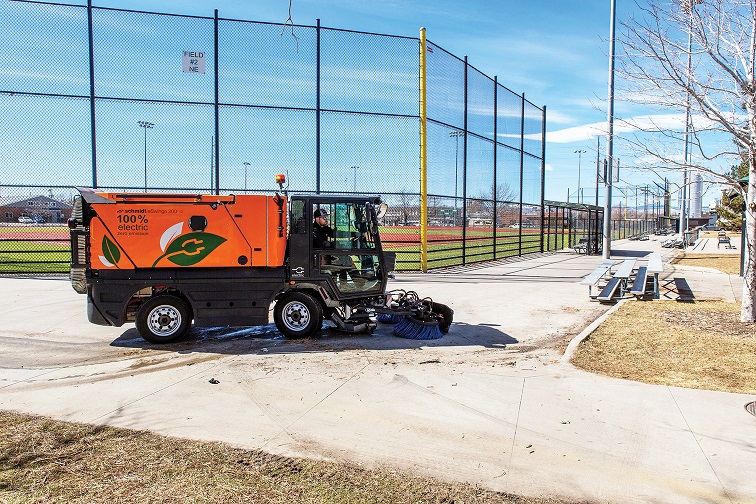 European municipalities have long embraced compact street sweepers to clean their streets, sidewalks, parking lots, and runways. Despite their compact size, these sweepers pack a punch, with European companies refining their designs with performance and operator comfort in mind. German company Schmidt, which has been making sweepers since the '60s, tapped into its design and engineering expertise to provide clients with the best sweeper technology available. Now Aebi Schmidt Group brings this innovative, tested technology to the U.S., with a new green addition: the eSwingo 200+, a fully electric compact sweeper.
"The eSwingo successfully launched in Europe in 2019. Europe was ready to adopt electrification a little sooner than we have here in the U.S.," said Sean Brunger, who handles sales for Aebi Schmidt's European products in North America. "The units are manufactured at the Schmidt plant in Germany and shipped here," he added.
With Europe's move to electrification, Aebi Schmidt saw a need for an all-electric sweeper. It based the design for the eSwingo 200+ on a diesel model, the Swingo.
"(The Swingo) is the No. 1 compact sweeper in Europe. The diesel version was on the market for over 20 years, with over 7,000 units sold," Brunger said. "It was just a matter of taking proven technology and simply electrifying it for not only today's use but for future use."
The eSwingo 200+ offers a spacious cab that often takes operators by surprise. (Photo provided by Aebi Schmidt North America)

Thanks to its compact size, the eSwingo 200+ is perfect for cleaning sidewalks, bike trails and other narrow paths. (Photo provided by Aebi Schmidt North America)

An operator attaches an optional suction hose to the eSwingo 200+. (Photo provided by Aebi Schmidt North America)
The eSwingo 200+ is perfect for daily sweeping duties, whether in neighborhoods, city streets, parking lots or industrial locations. With the growing popularity of guarded bike lanes, the eSwingo's compact size makes it ideal for maintaining and cleaning these tight spaces. Its all-electric system runs quietly, protecting the hearing of operators and residents alike.
Because it is a vacuum sweeper, the eSwingo helps prevent dust being stirred up as it applies a constant stream of water as it sweeps. This prevents exposing residents or pedestrians to a cloud of dust. A two- or three-broom system is available with a pulled suction shaft. Thanks to modular equipment and a wide range of optional expansion options, the sweeper can be adapted to customer-specific requirements.
As far as performance, the eSwingo is designed to do a full shift without recharging. Brunger noted it can work up to 10 hours without factoring in different variables, such as going up hills while sweeping versus sweeping flat pavement. Operators can recharge it in just eight hours with an on-board charger.
Brunger shared, "The ability to carry out a full shift of work with this electric sweeper has been a top-selling feature for municipalities. It's also extremely quiet with low noise emission, making it possible to run the sweeper anytime without bothersome noise."
With its compact size, many operators look at the eSwingo and assume they won't fit in the cab. Brunger noted he enjoys bantering back and forth with the operators. "They say there's no way I'm fitting in that thing," Brunger said. "I tell them, 'Get in and you'll see.' Each time, I get the same surprised reaction. Many of them say there's more room in this cab than they have in their full-size sweepers."
Aebi Schmidt factored operator comfort into the cab's design. Not only is the cab spacious, it offers excellent visibility, ergonomic controls, an adjustable steering wheel column and a sprung driver's seat with individual adjustment options.
To top things off, the eSwingo 200+ pays for itself over its lifespan. With the eSwingo, expect up to 85% of energy costs and up to 70% of maintenance costs to be saved compared to sweepers with a diesel engine.
"A lot of European companies have a product proven over in Europe, and they are trying to infiltrate the U.S. market. Aebi Schmidt has a very strong footprint here in the United States across all of our brands," Brunger said.
The Aebi Schmidt Group parent company is based in Zurich, Switzerland. Through acquisition, the Group has grown to include six brands that are manufactured and sold through Aebi Schmidt North America. These include MB Companies, Swenson Products, Meyer Products, Monroe Truck Equipment, Towmaster Trailers and Truck Equipment, along with ELP, located in Quebec. The Aebi and Schmidt brands are sold in North America through the sales teams of the other brands.
He noted, "Aebi Schmidt North America has more than 1,400 employees in the U.S. and Canada, and that number will continue to grow in 2023."
With this U.S. footprint, Aebi Schmidt has created an unparalleled network of service and support compared to other European manufacturers entering the North America market. There is a strong service team available to come up with solutions to any problem experienced by customers.
"Having established relationships with our U.S.-based municipalities and dealers has definitely opened doors for us to get this exciting product in front of customers," Brunger said.
And the company isn't stopping with the eSwingo. Brunger shared, "Aebi Schmidt is dedicated to continuing the electrification of our equipment. In 2023, we will be launching a new 100% electric street sweeper. It's called the eCleango, and is also based off of a proven diesel-powered unit. That will be, as of this moment, the largest 100% electric street sweeper on the market when it launches with a 7.2-cubic-yard hopper. We can't wait to introduce it."
To set up a demo, visit www.m-bco.com/contact or contact Brunger at sean.brunger@aebi-schmidt.com or (216) 339-9272. Also, visit https://www.m-bco.com/schmidtsweepers/eswingo-200-sweeper/ for more details about the eSwingo 200+.
Securing the biggest bang for your buck
Electric vehicles cost more upfront than traditional diesel or petroleum units; however, avenues exist to take the edge off that initial purchase. Cooperative purchasing is one major way to increase your purchasing power by joining with others across the country seeking the same product. Aebi Schmidt North America has a contract available through Sourcewell: #093021-AEB. Sourcewell also has contracts with financing companies that enable municipalities to lease to own, connecting them to equipment now rather than having to wait for funding to become available. Sean Brunger also recommends cities view the following electrification resources to find grants and other cost savings:
https://www.electrificationcoalition.org/
https://driveevfleets.org/
https://cleancities.energy.gov
Next Article: How to smooth the road to electric work trucks