Madison takes firefighter recruitment online
The city of Madison, Wis.'s, fire department is forging a new path as it attempts to recruit trainees for this round of recruitment.
In a traditional open house setting, folks are invited to the firehouse to speak in person with recruiters. There's a presentation and a tour of the firehouse, rigs, equipment and gear. The scenario works well for most aspiring firefighters, but Madison is looking to connect a variety of people.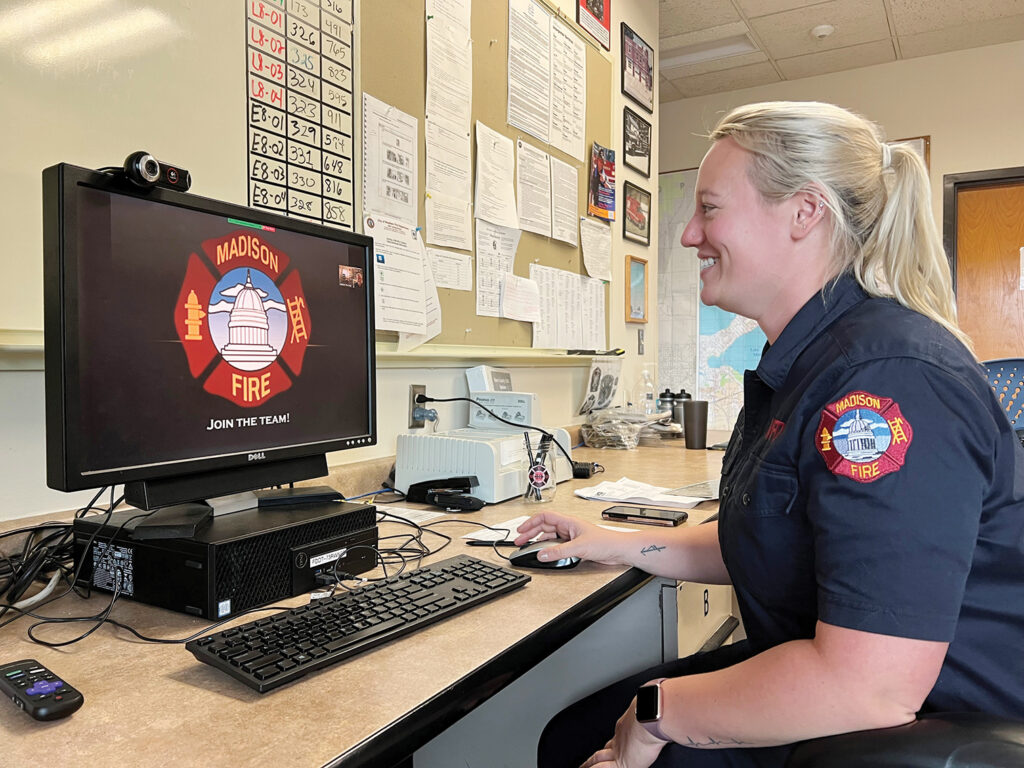 "We want to reach out to folks who may not have considered this career before or have some time constraints or location constraints that are keeping them from joining us in person down at the firehouse," said Cynthia Schuster, Madison Fire Department's public information officer. "Our chief, he really wants to bring more people into the department who are committed to public service (and) community service."
The idea was spawned when Madison Fire Chief Chris Carbon noticed that Seattle, Wash.'s, fire department was hosting virtual open houses.
"It's a way to reach a wider audience to make the department more accessible and to get this notion of becoming a firefighter/EMT in front of people who may not have crossed paths with this message before or considered it before," Schuster explained. "I think a lot of people think about this job as something that they already need to have the fire or EMS experience behind them before they can apply, but with our department, that's not the case."
The department has a recruiting academy to teach fire and EMS, so what they want, Schuster said, is people who are driven by a passion for community, who have character and compassion.
"We'll teach you the skills," she said. "We don't want to limit our options. There are a lot of fantastic people out there who would be amazing firefighters or EMTs, but may not have had the opportunity to explore it. We're hoping to reach out to those folks and to make it less intimidating …"
The virtual open houses are held over Zoom, and preregistration gets a Zoom link. There is no expectation to eventually host a physical open house on site, but the registration does gain the department access to contact information to keep lines of communication open for the future. The department's assessment testing has also changed to a virtual format as well to allow for people who might live further away or have time constraints to keep them from participating in the assessment in person.
At the department's Zoom-based open house meetings, questions can also be submitted in advance anonymously, which helps to break down the barrier of asking difficult questions.
One set of people the virtual recruitments can cater to is women. Only 4.5% of firefighters are women, but at Madison, it's closer to 10%, and it's in large part a result of efforts by the Madison Fire Department's recruitment team.
The women's open house will also host a panel with women from various ranks in the department describing their roles and describing other information specifically relevant to women.
"There are concerns about sharing bathrooms or showers, to 'What happens if I want to start a family?' 'Or have a family on the job,' however that looks. When deciding to get pregnant, there are significant risks of infertility just due to the carcinogens and chemicals that we're exposed to," said Jenna Larson, a firefighter/paramedic who is also on the recruitment committee, adding that Madison has a prenatal policy of nonhazardous duty and lactation. The department also has an affinity group for women of the Madison Fire Department where women can discuss current issues they're struggling with. The department has 43 women on the force out of nearly 400 total — three times the national average.
"We have so many women compared to the national average that we can have these conversations in a space that's beneficial for others."
Coming from a volunteer department where she was the only woman on the department, Larson knows firsthand the struggle of being on a mostly male fire department. It keeps them silent at times, hoping to just fit in, but talking about it, she said, helps to create a safer environment for everyone involved.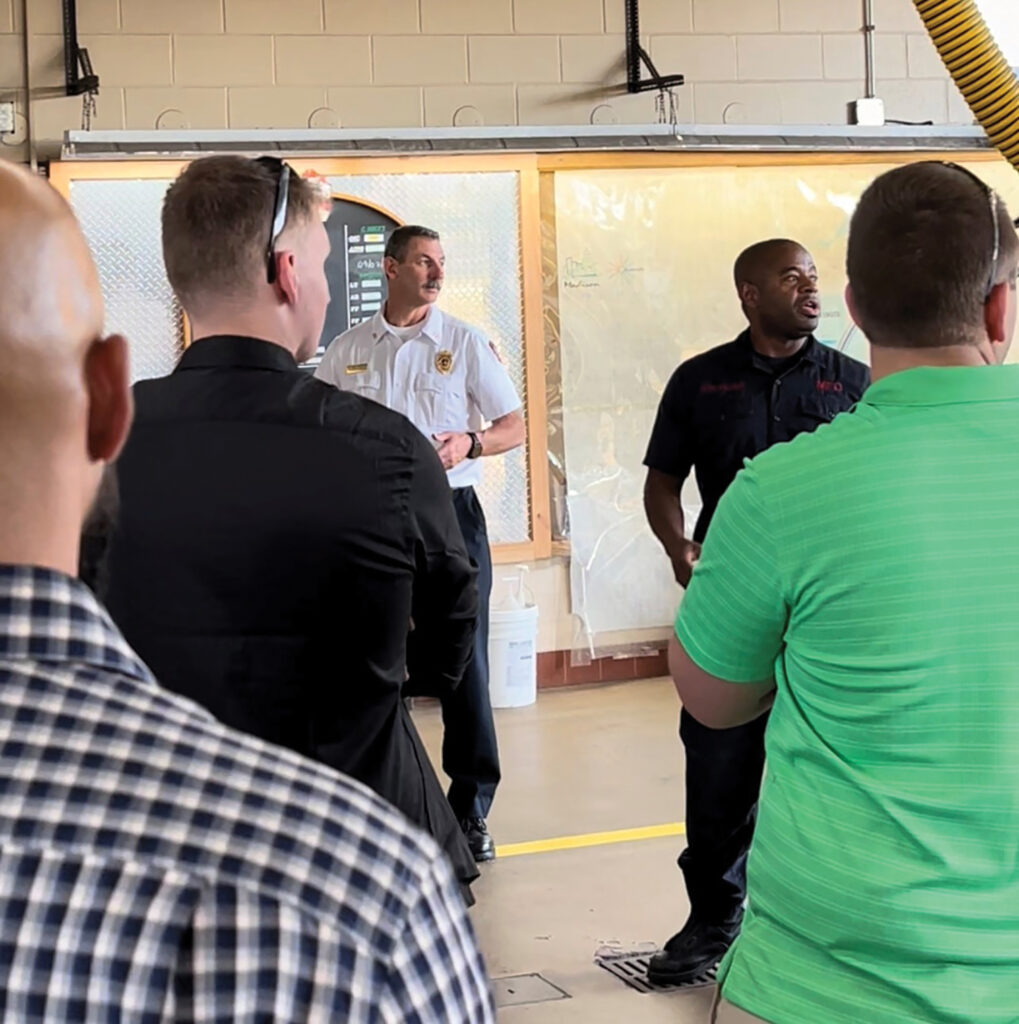 "Women need different gear than men do, as traditional fire gear is designed to fit the male anatomical body, where there are differences for women. We've really experienced that especially in gloves — something you wouldn't think of, but ill-fitting gloves can be detrimental in firefighting activities, and it took a long time to get appropriately fitting gloves, but we wouldn't have known that without talking about it."
Professional Zoom meetings can take some time to develop, and Schuster said the department leads on the project rehearse ahead of time to make sure everyone understands how the meetings work, how to mute and unmute, learn about and prevent feedback loops, and more, to ensure a positive experience for potential diverse recruits on the other end of the camera.
"I know that not everyone has the capability," Schuster said. "We're really lucky at Madison to have such a robust IT department to support our needs."
The department only recruits every three years, so regular engagement is important for it to keep people interested. The department even boasts a YouTube page where they share videos of a "day in the life," following individuals in the department.
"We also have a series called 'New Beginnings,' where a number of our folks share their story of how they were once (for example) a school teacher, and now they're a firefighter/EMT, and we have chefs and military personnel, and just to be able to share those stories, we hope strikes a chord with people who might be in those same shoes and who might be looking for a change. Maybe you weren't following us on social media, but someone shared that video and it took off on Facebook."
One YouTube video, "MFD Heavy Urban Rescue Team Assists with Rescue Following Plane Crash," dated May 16, 2021, has 1.7 million views.
"For those who have that capability to find versatile ways to relay the same message, you're going to have a greater success rate, reaching people you didn't expect to reach," Schuster said. "It gives people a taste of what the job is, but also shows the people that are inside the department working for us and making them relatable."
Larson added the Zoom meetings and other videos aren't perfect. They don't use extravagant lighting and use the firehouses as backgrounds for their videos.
"We want people to feel like we're approachable," she said. "We just want to show that, 'We're regular people over here, and we hope you'll join our team.'"
For more information about how Madison handles its recruitment process, visit the one-stop shop at https://www.cityofmadison.com/fire/join-mfd.