Levis' parks and recreation passion helps turn blank spaces into inclusive opportunities for play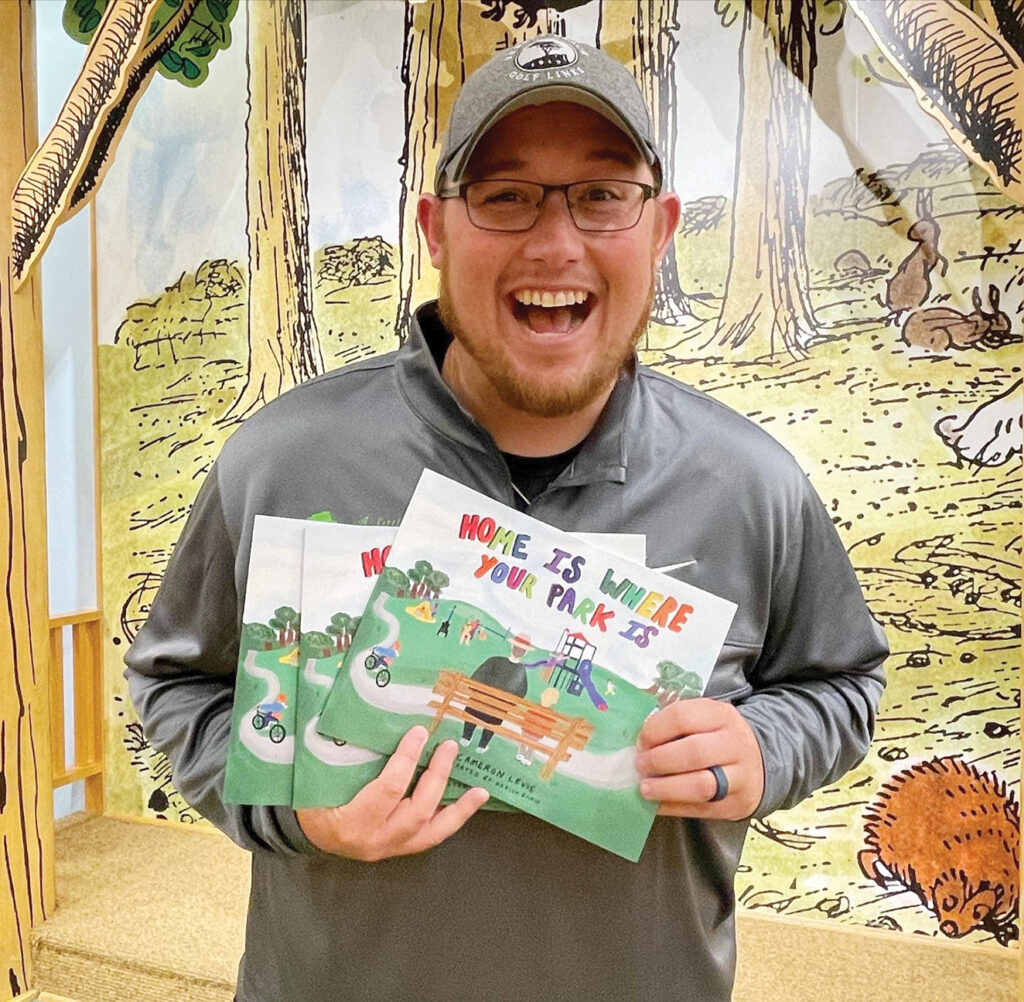 As a third generation parks professional, Cameron Levis wears his title of Bowling Green, Ky., Parks and Recreation special populations coordinator quite proudly. Serving the community through work with the parks department began in his family with his grandfather, Dr. Alton Little, who was both a previous parks director and a professor. Growing up in Louisville, Ky., his mother, Betty Jean Levis, then went into the field of parks and recreation before her recent retirement in 2020. "I just soaked it up like a sponge as a kid," he illustrated.
At a young age, his grandfather taught him multiple ways to be inspired by how parks and recreation can help shape a community. For Levis, it is all about how he can take a blank space and create something for the community to help enhance the quality of life. His mother inspired a passion within him during her work with inclusive recreation. She taught him the value of "using recreation and sports to create more inclusive communities and using play to give everyone a seat at the table," he described. "Between the two of them, I caught a passion and was taught lifelong lessons to shape communities for the better through parks and recreation."
Levis went to college and graduated from Western Kentucky University with a double major in recreation administration and sports management. He studied the aspects of business, learning how to run a department, generate revenue and use municipal funds to bring programming to the community. These degrees provided Levis with a solid foundation of what the parks and recreation department has to do on a daily basis. While he briefly considered going into collegiate or professional sports, he ultimately followed his passion and went into parks and recreation.
"I got a degree in play," he mentioned, following wise words spoken by his grandfather.
While he learned a lot during his time at college as well as the last seven years in the parks and recreation department in Bowling Green, Levis still maintains that he has learned the most from his grandfather and mother. They taught him how to interact with people and "just loved other people well," he said, which is integral in his work with the parks and recreation department.
Although his grandfather and mother greatly influenced his passion for the field and the way he conducts himself in his role, Levis wanted to make his own path for himself in the parks and recreation field. Besides simply following in their footsteps, his goal was to create his own impact in the community of Bowling Green. "Everything means more knowing I'm standing on their shoulders," he admitted.
After graduating from Western Kentucky University, Levis joined the special populations division of the Bowling Green Parks and Recreation Department. His goal in his work is to ensure there is ample programming for those with intellectual and physical disabilities so they can still participate in recreation and sports. One program he is helping to run is an adult athletic club, allowing those with disabilities to transfer into a routine sport after high school. This program is also one his own mother helped to start at Western Kentucky University.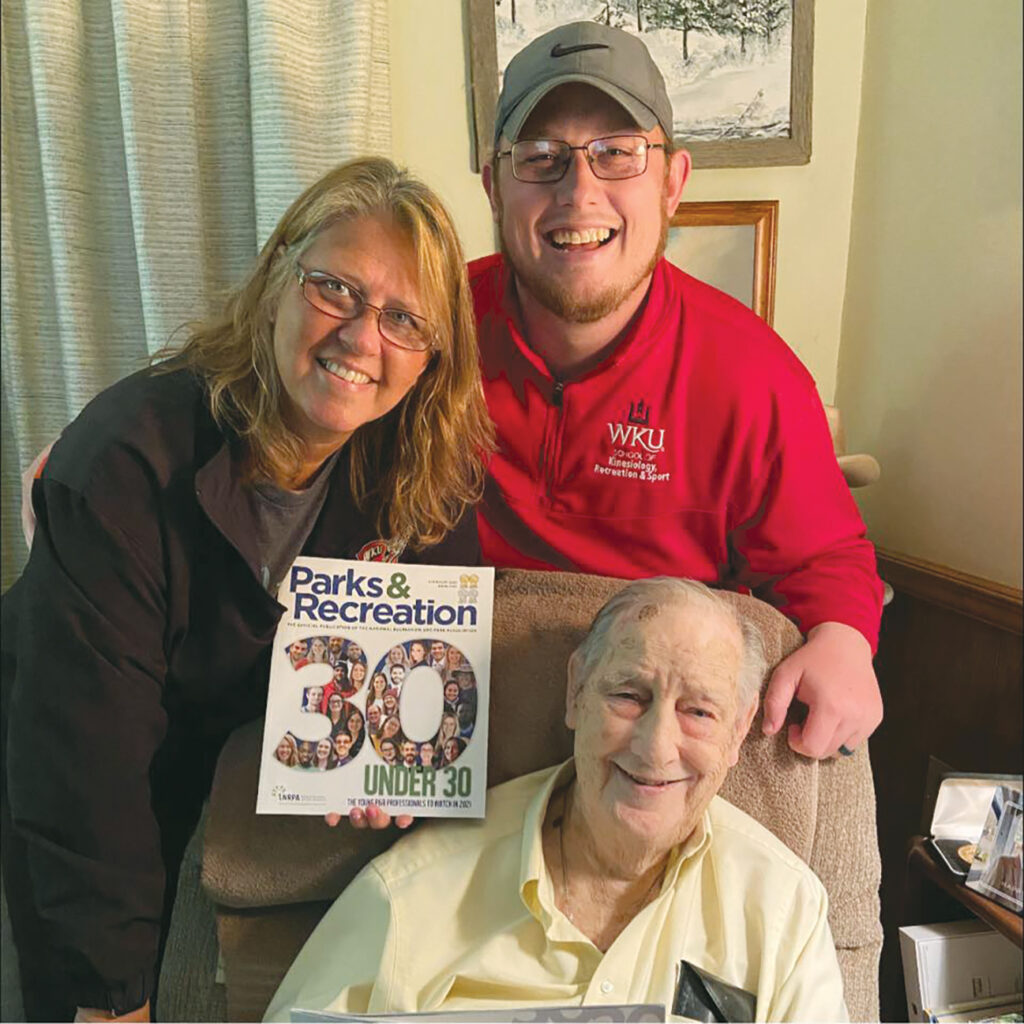 The three main programs that drive the year within the special populations program are the Special Olympics, adaptive sports of South Central Kentucky and Camp Happy Days for youth and adults. Special Olympics provides year-round training and practice for individuals with intellectual disabilities, allowing them to drive that competitive edge. When it comes to what sports Levis has seen in his time with Special Olympics, he commented, "You name it, we've tried it." He also works with a still-competing Special Olympics athlete, who his mother also worked with previously.
The adaptive sports program began when Levis started his role at Bowling Green. This program is specifically tailored to those with physical disabilities. The program includes wheelchair basketball, sports for individuals with low vision and adaptive water sports, which Bowling Green and another parks and recreation department have teamed up on. The goal is to find different ways to help those with physical disabilities get into nature and the water. There is also sled hockey equipment that is available for use on the city's temporary ice rink. Each adaptive sport ensures that sports and recreation opportunities are available to all.
Camp Happy Days helps to provide those with disabilities a good camping experience and fun times in the summer.
Levis' overarching goal is to ensure Bowling Green's parks are accessible and inclusive for every member of the community. He takes steps to ensure there is no barrier to play, such as the communication station at the city's first all-inclusive park. "I value my interactions as a child and want to create and facilitate those interactions for others," he stated. Creating these spaces within parks will promote a more inclusive society and community.
An award winner of the 2021 National Recreation and Park Association Young Professional Fellowship, Levis completed the nomination and application process to attend the annual NRPA conference. This fellowship gave him the opportunity to attend the conference in Nashville in person. However, his time at the conference was cut short, and he could not meet his mentor in person due to the unexpected passing of his grandfather during that time.
However, Levis thought it fitting that he was there when his grandfather passed since he recalled going to the conferences when he was younger with his grandfather and mother, and these conferences helped to shape and fuel his passion for the parks and recreation field. At birth, Levis' grandfather even gifted him a membership to the Kentucky Recreation and Park Society. Involvement in both the state and national levels will continue to be a staple of his career as he moves forward.
Levis has also used his personal and professional experience recently to write a children's book dedicated to his grandfather titled, "Home Is Where Your Park Is." He utilized an assignment his grandfather used as a professor of dreaming up and creating the perfect park by "taking a blank space and creating something for the community to enjoy," he described.
As for his career in parks and recreation, Levis commented, "I think parks and recreation is something that a lot of people don't realize is a professional pursuit. More people stumble into it than study it as a career. Parks are something we all use, whether we realize it or not. COVID helped to spotlight parks and show what a haven (they) could be as a way to get outdoors." He encourages those who want to be in service to other people and bring a smile to their faces to consider the parks and recreation field. For his specialty in special populations, Levis discourages the stereotype that it takes a special type of person or training to work with special needs individuals and encourages simply stepping outside the comfort zone. Through his work with special needs individuals, he believes exposure and interactions with these individuals breeds greater awareness, and awareness leads to a more inclusive and accessible society. As the special populations coordinator, he creates volunteer opportunities so others can have exposure to special needs individuals and perhaps find a newfound passion or interest from this group that "brings so much light and life to our communities," he mused. Levis' position as a parks and recreation professional allows him both the responsibility and opportunity to create social change.