Dayton, Ohio, partners with Premier Health on paramedicine program
Each year, emergency dispatch services receive approximately 240 million 911 calls. Of these calls, 28.5 million request an ambulance or other health assistance. With the average charge for an ambulance ride costing between $1,500 and $1,600, those calls add up to medical expenses over $45 billion.
Is it any wonder that one in five families wrestle with medical debt? Twenty percent of ambulance and emergency department bills go unpaid. This results in close to $10 million nationally in expenses to be absorbed by local communities. That figure does not include the cost of an emergency department visit.
What if there were a way to reduce this cost?
The city of Dayton, Ohio, Fire Department, with Premier Health — a medical network of three hospitals and two major health centers in the Dayton region — did just that.
In the first collaboration of its kind in Dayton, they have developed a community paramedicine program to reduce the repeat calls of what many medics call their "frequent fliers."
Often, patients with chronic health conditions such as diabetes, high blood pressure, chronic obstructive pulmonary disease and elderly patients with a lack of transportation struggle to attend doctor visits or physical therapy sessions. As a result, they often treat emergency medical services as their primary care physician.
The community paramedicine program assists citizens in improving their health and wellness. Three professionals — a paramedic, emergency medical technician and a social worker — work together assessing the needs of patients identified by Premier Health hospitals, the Dayton Fire Department and other healthcare providers in the area. To qualify, the patient must not be eligible for home health care.
This program, overseen by Randy Marriott, MD, FACEP, medical director of Premier Health's EMS Center of Excellence and EMS medical director for the Dayton Fire Department, focuses on preventing the need for emergency health visits through education. Teaching patients how to monitor their vital signs, to understand the benefits and side effects of their medications, basic nutrition is just one part of the program. The team also helps patients gain access to primary care physicians, senior care and prenatal care. Basic needs, such as food and home safety, are also addressed.
The aim of the program, besides cutting healthcare costs, is to free up resources for others with a more urgent need by reducing frequent flier calls. Becoming proactive and preventing medical emergencies before they occur, rather than being reactive, is one way to reach these goals.
In a statement with in Premier Pulse's blog post, "Premier Health, City of Dayton Launch Community Paramedicine Initiative," Dr. Marriott said, "This well-thought-out collaboration between Premier Health and Dayton Fire should positively affect the health of patients and help to reduce readmissions. Patients will benefit tremendously from having the support that they need to continue their treatment plan outside of the hospital setting."
Data shared by the city showed that approximately 300 people in Dayton called 911 for medical reasons over 10 times each in the previous two years. One lady called 66 times. This relatively small group of people accounted for more than 4,600 medical contacts. That's the equivalent of six and a half calls per day from this tiny subset of the population.
The initial home visit lasts between an hour and an hour and a half. This initial visit includes a vitals check, a review of medical history and current medications. The team will also perform a home safety check that includes installing smoke detectors as needed. The most important part of the first visit is the identification of basic needs and the development of a unique care plan.
Paramedicine partners, Nathan Pulliam and Kendra Harris, visited Teasha Young's home to set up a program for her, but before they got started, they repaired her beeping smoke detector. Harris told the Dayton Daily News they start by listening and learning what is affecting their patient. She stressed the importance of active listening. Sometimes the reason someone frequently calls 911 is because they can't read. Sometimes patients need help to gather records, like birth certificates and Social Security cards, in order so they can apply for needed services.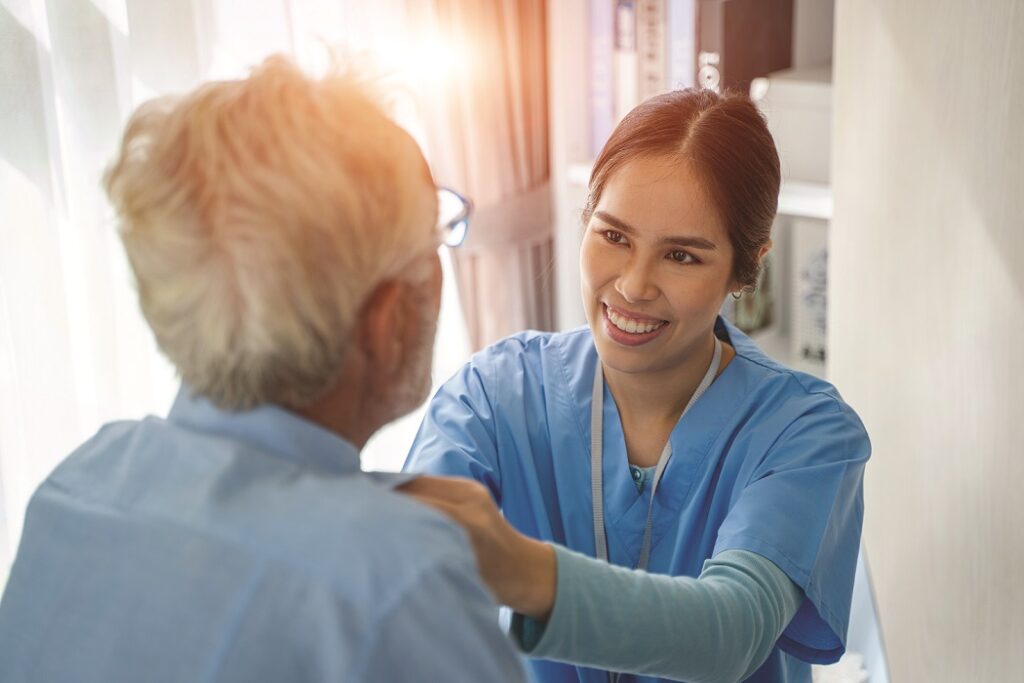 "When we go to a house we'll ask 'What are some things you want to accomplish or need help with?'" Pulliam said in a statement to the newspaper. "They'll tell us and we'll go back directly to the partners and get the help that they need for their goals."
After her first home visit, Young told the Dayton Daily News that she considered the team part of her family, and despite doubts about signing up, the program helped her with her health. "It's been a helpful tool. I don't just look at them as people in the community. I look at them as part of my family," she said.
After a recent surgery, Pulliam and Harris popped into the hospital to visit Young. "It was a good surprise for me because the only visitors I had were the doctors and nurses and the aides. It meant a lot to me," Young told the Dayton Daily News.
During the follow-up visit, the paramedicine team review the patient's current health status through conversation and a mini-exam, including checking vitals. Visiting with the program participant, the team will verify that their patient has contacted the various resources needed — Meals on Wheels, prescription delivery services — and continue to answer questions.
The program enrolls these vulnerable community members for a maximum of 90 days. Participation ends once the health goals established with the paramedicine team have been met and connections made with necessary community resources. If additionally needs are identified, re-enrollment in the program can be considered.
Premier Health funded the community paramedicine program beginning in 2019, partially thanks to a generous donation from the Good Samaritan Foundation — Dayton. Unfortunately, this funding will cease at the end of 2022. Capt. Brad French with the Dayton Fire Department said it is unclear whether they will renew the program will when funding runs out at the end of the year, but that the city and Premier are in active discussions about the next steps for the program.
Dayton City Manager Shelley Dickstein and members of her team are currently analyzing data to complete a cost-benefit analysis of the program. "It's not been a heavily utilized program, but it has had an impact with … people who use 911 as their medical provider," she said.
Data shows the program has helped over 100 people in the Dayton area. According to Premier Health and the fire department, the people enrolled in the program have decreased their emergency department visits and ambulance call by approximately 40%.
While the program may end in Dayton, Ohio, it has taken off in other sections of the United States. Rural areas, in particular, are implementing similar programs. Rural patients often live a large distance from primary care. As a result, many use emergency services as their primary healthcare in non-emergency situations. This creates a burden for EMS personnel.
Community paramedicine programs can relieve this burden. Any community interested in starting a program of their own should review the following resources. It is strongly recommended to check with the state EMS office to be aware of any resources, guidance or requirements it may have for new community paramedicine services. Successful implementation of a community paramedicine program has the potential to reduce healthcare expenses absorbed by the municipalities and free up medical resources to be available for actual emergency situations.
Additional resources for community paramedicine
The Community Paramedicine Program Manual — available at www.communityparamedic.org/Program-Handbook — includes information on topics for consideration when planning and implementing a community paramedicine program. These include program planning and feasibility, state regulations, assessing community needs, budgeting, policy development, training, beginning operations and more.
The International Roundtable on Community Paramedicine — http://ircp.info — provides articles, data sets, presentations, research and other resources on community paramedicine.
The Minnesota Department of Health, Office of Rural Health and Primary Care offers a Community Paramedic Toolkit — https://www.health.state.mn.us/facilities/ruralhealth/emerging/cp/docs/2016cptoolkit.pdf — and other research and educational resources — https://www.health.state.mn.us/facilities/ruralhealth/emerging/cp/index.html. Some information in the toolkits is specific to Minnesota, but other states can use much of the information included.