Bringing first responders, farmers together to reduce farm fatalities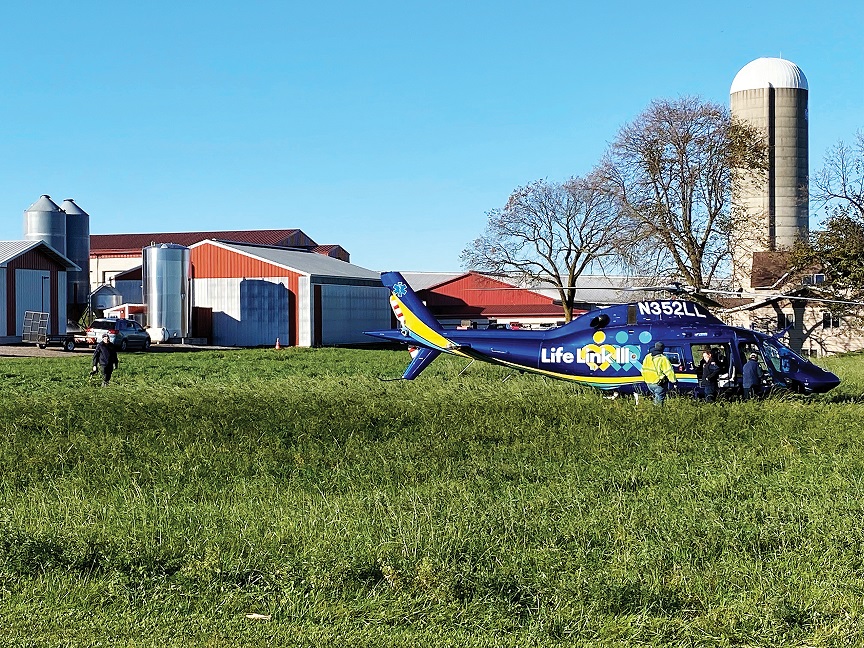 Farming is a dangerous occupation. Every day in the U.S., 100 farm workers suffer a time-loss injury. Agricultural workers are eight to 10 times more likely to die on the job than the average U.S. worker, and they endure some of the highest injury rates.
According to The National Institute of Occupational Health and Safety, in 2019, 410 farmers died because of work-related injuries. Overturned tractors accounted for most of these deaths. Because half the children living on a farm also work on that farm, children, too, die in agriculture-related incidents – approximately every three days. Most of these fatalities result from transportation accidents, including tractors. The second-highest cause of death involves contact with machinery, followed by animal or human violence.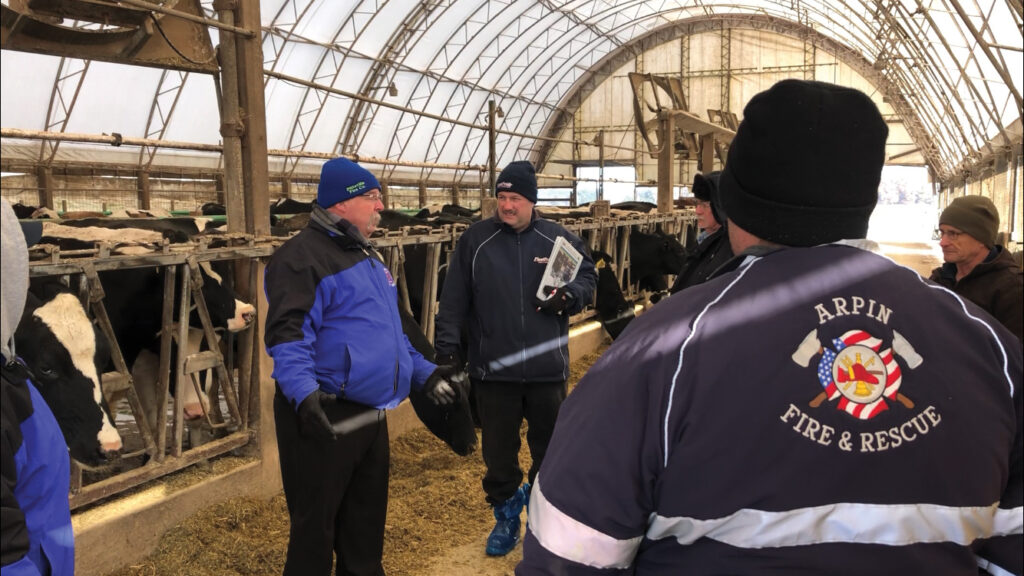 At one time, the first responders to agricultural accidents were often firefighters and medical personnel who were farmers themselves and therefore familiar with the environment to which they were responding. That has ceased to be the case.
Pittsville Fire Department Chief Jerry Minor, recipient of the Wisconsin Farm Bureau's 2022 Hero of Hope award, started a program with the National Farm Medicine Center called Farm Accident Rescue. For 20 years Minor and his team have traveled around the state, teaching rural fire departments how to deal with different hazards on a farm. But in 2001, the program stopped. "The feeling was, we had the market saturated,'' said Minor.
Three years ago, Minor asked that the program be reinstated. He knew there was significant turnover among EMTs and firefighters, and that there were more hazards on farms.
One question Minor often asks his personnel is, "If it can happen to your patient, can it happen to you?" The answer, of course, is yes.
He, his firefighters and emergency medical services felt it wasn't enough to respond to emergencies. It was important to have the knowledge to deal with the accidents, but what if the accidents could be avoided? They wanted to do more, to be proactive – hence RF-DASH.
Rural Firefighters Delivering Agriculture Safety and Health was created to protect farmers and first responders from injuries and fatalities by helping the agricultural community recognize hazards on the farm and reduce the potential for serious and fatal injuries. The program is of benefit to both farmers and first responders, though: It works to equip rural emergency responders with farm-specific first-aid curriculum, safety consultation capabilities and farm hazard mapping strategies to assist in emergency response and prevent injuries and fatalities to both groups, once assembly on farms and ranches.
To develop the program, the National Farm Medicine Center and the Upper Midwest Agriculture Safety and Health Center collected information from a variety of sources to see who farmers would trust when it came to making changes on their farms regarding safety. Of course, the people they trusted the most were family and neighbors. Surprisingly, their second choice was local firefighters and EMS.
RF-DASH began in 2016. A Midwest program, it is grant-funded with the aid of Upper Midwest Agricultural Safety and Health Center and the Centers for Disease Control/National Institute for Occupational Safety and Health. Kyle Koshalek, a member of the RF-DASH team, shared that a new five-year grant has been issued, which will carry the program into 2028.
"The goal of the next grant will be to research dissemination and implementation strategies by enrolling 15 RF-DASH sites – five sites in the Midwest, five national sites and five sites in Canada – conducting interviews and sharing successes and challenges throughout the RF-DASH network.
Each site would enroll five new farm participants for a total of 75 farms, Koshalek noted. "Lastly, we would continue to support future sustainability of the program through more formal alignment and federal standards like those of the National Fire Protection Association and Federal Emergency Management Agency, as well as providing technical assistance to a growing and now international network."
RF-DASH course content is comprised of five modules. Module one is an introduction to agricultural emergencies. Compared to roadway accidents, first responders rarely respond to accidents on farms. This module introduces them to and discusses the causes of the most common farm emergencies, including strategies to expedite and improve responses to them.
Module two covers pre-planning and farm mapping using a free, online tool that gives fire departments the ability to pre-plan and map farms, improving response times in the event of an emergency. Farm-MAPPER lets the fire department develop a response plan specific to an individual farm, including the safety features of equipment used, the location of flammable agents, chemicals, unique electrical systems and multistory structures. Having this information in advance cuts down on response time and alerts first responders to potential hazards.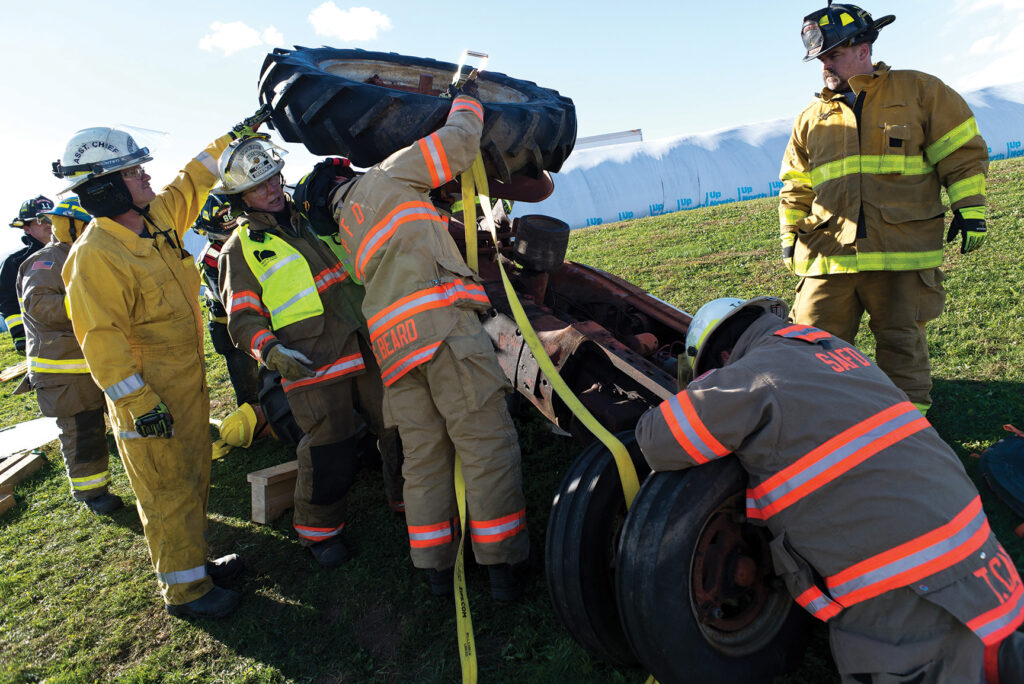 Module three analyzes the farm hazards. Most individuals understand the need to identify farm hazards; however, that is only one stage of the goal in managing hazards and risks. Farm hazards must also be evaluated and ranked in priority. The three stages tend to be cyclical as opposed to linear, sequential steps. Saferfarm.org and the Farm Hazard Analysis Tool provides everyone the ability to correct hazards and reduce the risk of injury on farms.
Farm First Aid makes up module four. This module teaches the farm family members basic first aid such as cardiopulmonary resuscitation and Stop the Bleed. It also focuses on what information needs to be shared with emergency dispatch.
Module five focuses on the fire departments. It is all about approaching the farm community.
"We want to let the farm community know this program has nothing to do with OSHA and that there are no fines or penalties. The entire purpose is not only to teach farm safety, but the root is how to stay safe," said Minor. This module teaches first responders how to develop a relationship and how to reach out to the farming community.
RF-DASH aligns with National Fire Protection Association standards, specifically NFPA 1300. The team is also working with representatives from the FEMA, the Animal and Plant Health Inspection Service and the National Response Team to help rural communities prepare for agricultural hazards.
Since 2016, over 100 firefighters/EMS have been trained as instructors in the program in Wisconsin, Minnesota, New York, Massachusetts, Ohio, Utah, Idaho, Washington, Nebraska, Pennsylvania, Manitoba, Alberta, Saskatchewan, Quebec and Ontario.
"This program is a win-win," Koshalek said. "Firefighters, EMS and the farmers are brought together for one goal — to reduce farm fatalities. RF-DASH fills the gap."
For more information on the Ag Rescue Training program, visit rfdash.org.