Delivering on electric street sweeping sustainability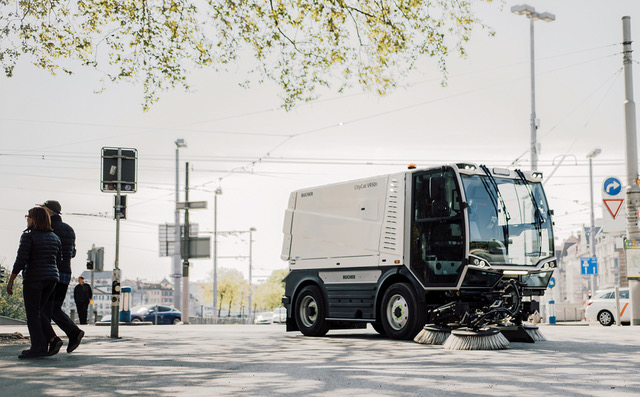 Sustainability is a word that gets tossed around, sometimes inaccurately.
One definition of sustainability is to save our natural or physical resources from running out.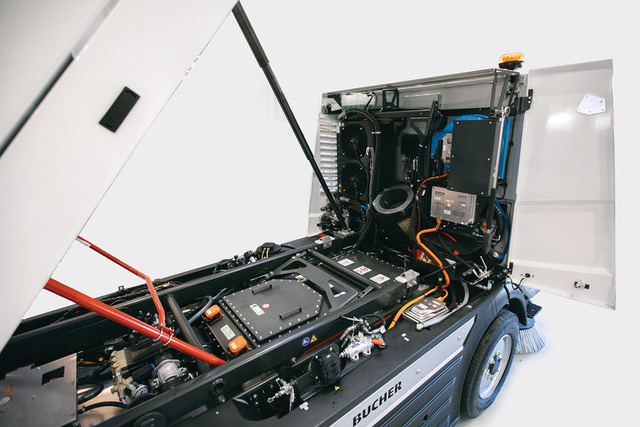 In a broader definition in relation to street sweeping, sustainability is the ability to maintain a process, such as effective and continuous street sweeping program, over time. That's why there is a huge push to add electric-powered street sweepers — and equipment and vehicles — to the fleets of municipalities and contractors.
Bucher CityCat VR50e: Electric performance in the compact class
Keeping sustainability in mind, Bucher Municipal's new mid-sized all-electric pure vacuum CityCat VR50e delivers on low environmental impact first by its custom-designed zero emission Bucher Battery Pack. This pack is tailored to the sweeper. This proven technology helps deliver a minimal footprint to the environment and achieves low noise emissions — goodbye noise pollution.
Water? While it may seem odd to mention water when talking about electricity, it makes sense with today's critical water supply issues. The CityCat VR50e uses a recirculation system to reuse water inside the hopper. The result? Reduced refilling costs and extended on-station/work time with the 232-gallon water capacity.
Water is also used to suppress dust via water jets on each brush. This provides a fine clean water spray that traps dust particles, which are then lifted by the two — or the optional three — brushes. Recycled water from the hopper is filtered and fed into the suction intake. The VR50e is PM 2.5 and PM10 4 star certified for dust emissions.
Mid-sized pure vacuum sweeper
The Bucher CityCat VR50e solves the "Goldilocks and the Three Bearsʺ conundrum. While traditional truck-mounted sweepers tend to use more fuel and are too large to access all municipal environments, compact sweepers tend to lack enough hopper capacity for large jobs and shifts. Each of these sweepers has its place in a street sweeper fleet, but sometimes you need a mid-sized sweeper.
The pick up, pulled brush system with wide suction intake in front of the axle is hydraulically moved 15 inches laterally to the left- or right-hand side of the sweeper. The two standard side brushes in combination with the third brush have a 148-inch maximum sweeping width. The VR50e delivers with the appetite of a large truck-mounted sweeper, the functionality of a multipurpose vehicle and the maneuverability of a compact sweeper — all delivered in a single package.
Full shift sweeping
One problem early electric-powered vehicles ran into was lack of range or work time before recharging. The all-electric Bucher CityCat VR50e is powered by a 137 kWh Bucher Battery Pack, which provides the autonomy to fulfill a full 10-hour shift. Stop for coffee or stop for lunch, but you don't have to stop to recharge the battery right away. When you finally need to charge, you can do so anywhere and anytime with both AC 22kW and optional DC 70kW, allowing full flexibility and customization to your charging needs.
You don't have to compromise performance by going electric either. Heavy-duty suction and a high payload are combined with a four-wheel steering system, providing capacity in the form of a 7.3 cubic yard stainless steel hopper — with high dump option — and agility via the hydrostatic-controlled, four-wheel steering.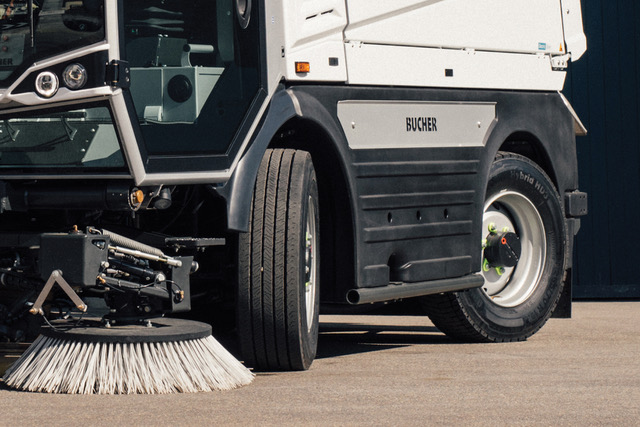 After a long sweeping shift, cleaning is minimized with the EasyClean self-cleaning function. The blower, filter screen, dirty water tank, side walls and other difficult-to-reach pockets of dirt are then sprayed by the cleaning nozzles, resulting in perfectly clean machine within minutes.
Low cost of ownership
One of the most valuable benefits of the CityCat VR50e is the low-cost ownership.
How is this accomplished?
Water recirculation system reuses the service water from the hopper and feeds this to the suction intake to minimize fill-ups and maximize on-station time.
Self-adjusting disc brakes on both axles reduce service time.
Energy-saving LED lights offer more powerful lighting while significantly reducing the number of times bulbs require replacement.
Reduced number of greasing points with autolube option to save on servicing costs.
Vulnerable nodes and electronic components protected up to IP69 standard and additional covers reduce the risk of further water ingress.
CSense display with full on-board diagnostics and reduced downtime.
Steel hydraulic pipes replace flexible hoses to reduce chaffing and premature hose wear. Up to 60% less hydraulic hoses than other sweepers in this class.
Hopper manufactured out of stainless steel for protection against corrosion and wear.
Heavy-duty fan with wear resistant blades.
Hydraulic, optimized design for less maintenance.
Maintenance-free Bucher Battery Pack protected in a shock, water and dust-proof case.
Learn more about the Bucher CityCat VR50e pure vacuum street sweeper delivering cleaner streets one sweep at a time by visiting www.buchermunicipal.com/us/en.
About Bucher Municipal
Cities and contractors turn to Bucher Municipal when they feel frustrated and stuck being pigeonholed into cleaning their streets and sewers with no other options while failing to meet stormwater compliance. We free cities from this trap of one size fits all by supplying and supporting a full product line to fit every sweeping and sewer cleaning challenge better than any other manufacturer on Earth.