The Grove at Towne Center brings downtown home for Snellville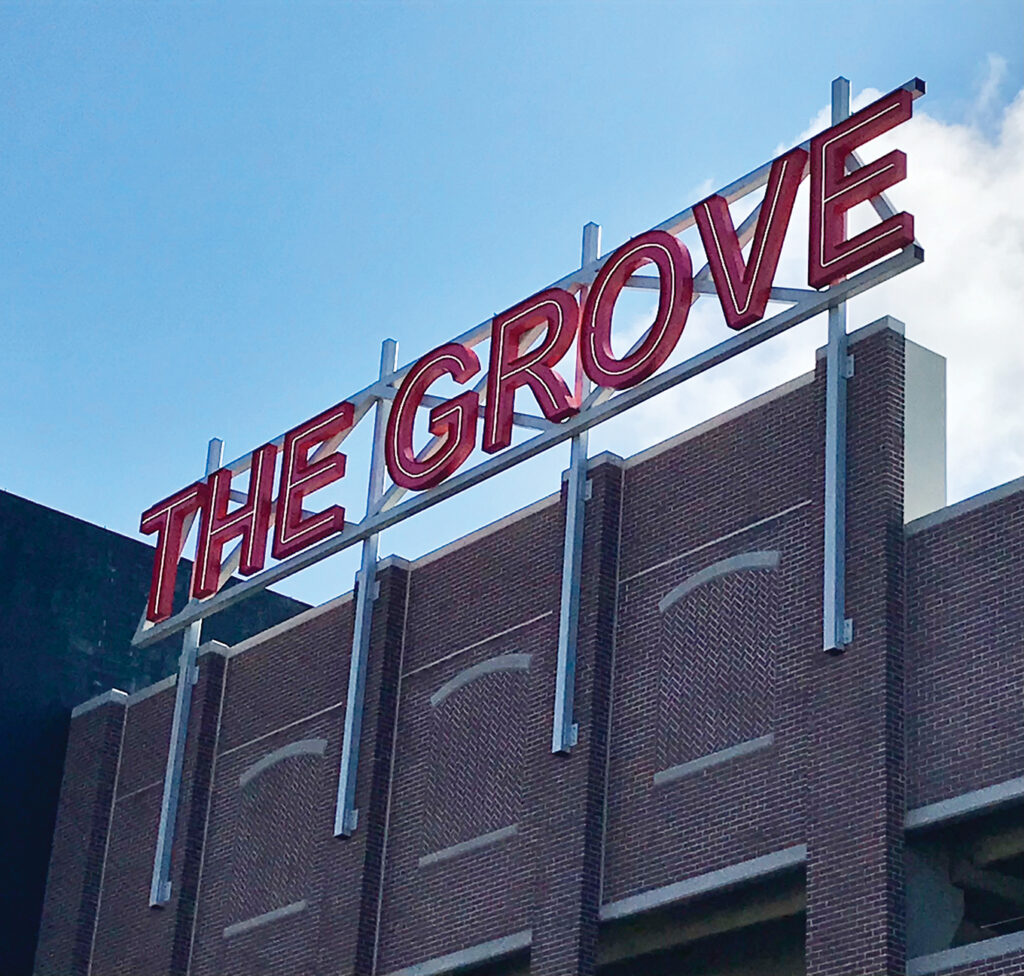 The phrase "small Southern town" rolls easily from the tongue, and that leads to mental pictures of downtown streets with little mom-and-pop stores that have served many generations. But that's often more Hollywood — or at least Mayberry — than the actual reality. Snellville, Ga., is mixing it all up with an $85 million, 18-acre project: creating a downtown. Butch Sanders, Snellville city manager, said that's right, because "Snellville has never really had a downtown. This project has been in the works/thought processes of the mayor and the city council for 20 years. Originally, Snellville was simply a crossroads of Highway 78 and Highway 124. There was a church, a post office, a general store that was finished in 1883, but that was about it."
Beginning in 2003, there have been many locals and experts involved in brainstorming and researching as the design evolved. "With focus groups, I'd say we had somewhere between 400 and 500 people. Later, we had two town hall meetings that were attended by 200, 300 people, and it was all positive," said Sanders. "We had a vision, of course, not exactly how it would look, but that's why we wanted a lot of input, and we got it."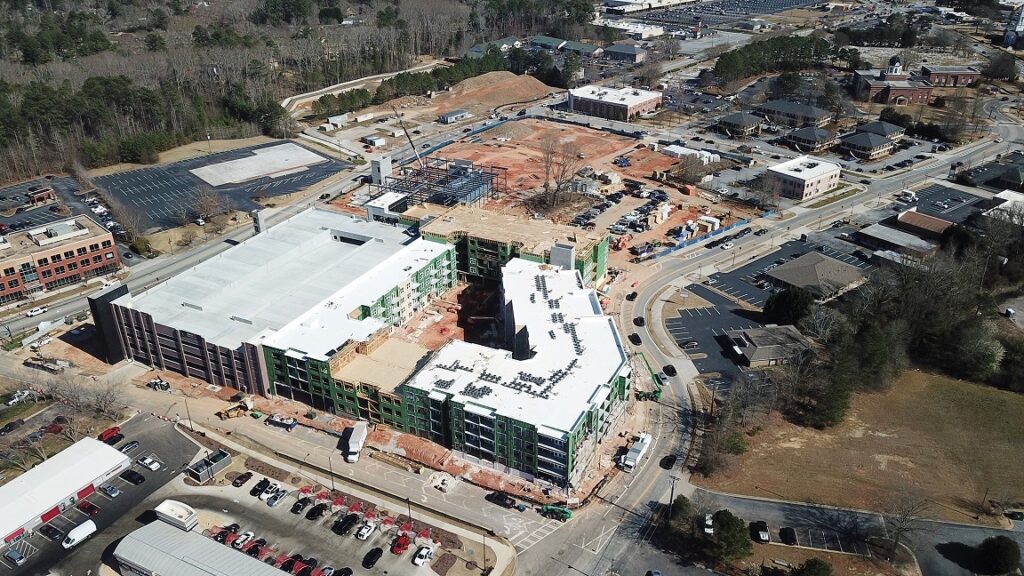 So what exactly is involved in this massive project? "Our final design incorporated everything we wanted," Sanders explained, adding, "There will be a large parking deck, wrapped with 200 multifamily apartments. Gwinnett County is working with us to build the two-story Elizabeth Williams Public Library, with books on the ground floor and business education space on the second floor. College classes, you know."
There is also a lot of interest in coworking space, which is a fast-growing trend that is here to stay; the details for that are still being worked out, and this is expected to be a boon for startups and young entrepreneurs.
Sanders said, "Very important in this finished design was a municipal market, with space beside the library. The Hall at the Grove will be chef driven — and it's non-food chain — with nine different restaurants and menus. Think of a food court, but more upscale. It will be a beautiful and relaxing atmosphere with table seating and your order brought to you, rather than ordering at a counter and then searching for a table. This is a wonderful way for chefs who are just starting out, less risky than brick-and-mortar locations and more economical because of it. There's much less overhead. It's a unique concept for a tenant. Eventually, they'll outgrow this location and move on up, with others taking over."
When that happens, the chefs will already be well known and have their own reputation to make it easier starting their own restaurant. Adding to the planned ambience is a social bar area.
Sanders is especially looking forward to the event space in The Grove, a little less than an acre when completed. "We've never had this kind of space, and it will be nice to have. There will be a really neat pavilion for concert performances, and a beautiful fountain with a really cool mosaic design. The fountain will have a lower level just for dogs to drink from when you're walking them. We'll be able to showcase local talents, as well as Snellville tourism and trade. The calendar is already filled with everything from beach glass to concerts to Food Truck Fridays!" With so much space at their disposal, the possibilities are endless and eagerly anticipated.
The name chosen, The Grove, was very important, historically, to Snellville. "We were known in the 19th and 20th centuries for agriculture, and we wanted to remember and honor and build on the past. We have 300-year-old trees that will line the park, and an arborist tends to them regularly. We also work closely with the historical society; they will have office space above the library," explained Sanders.
He added, "This isn't like an outdoor mall. It's a real town center where people can live and work and play. We will have more retail office space on the east side of the complex and will also incorporate more residential housing. A lot of empty nesters are hoping for condos. It's very important that we meet all the demands and needs of the town. We look at this as a gathering place, with employment options as well, and it's a focal point for the entire community."
The cost — $85 million — is, of course, no small piece of change. How was it funded? Sanders said there were several sources. "Sales tax and bonds, both taxable and non-taxable, for the parking deck and market. We also have general funds available, and the good news is that we won't have to use our general fund balance."
Sanders further explained that there is a phase one and a phase two for this enormous project. "We had hoped phase one would attract the private sector, and it has. Across the street will be phase two; it will be sold in the next month or two, and it will be a positive thing for the community. It has spurred interest in residential and commercial developments — definitely a positive reaction! Phase two will feature, among other things, real grass, not artificial turf, and there will be a walking trail, a splash pad and kiosks where games can be played, pretty much something for everyone. We just want to provide a great gathering place."
And some of the music will celebrate diversity by showcasing different countries and their sounds; expected will be African music and Jamaican reggae, just to name two.
This site plan gives a grand overview of the final rendition of Snellville, Ga.'s proposed The Grove at Towne Center project. (Photo provided by Snellville, Ga.)

A major asset to the new downtown is this planned parking deck; it will be a change from the old days of metered street parking. (Photo provided by Snellville, Ga.)
It's always a positive to see historical details from previous buildings incorporated into new designs whenever possible, and The Grove at Towne Center will be no exception to this tradition. Georgia is known for its granite — think Stone Mountain — and the main park will have a lot of it featured from earlier days, such as cornerstones, walkways and benches.
"And we will bury a time capsule! The council is very cognizant of history. The historical society will be working with us to develop the best program benefiting them as well as the city," said Sanders.
That very element of granite slowed down some of the early construction; pouring footing was complicated when more granite was discovered than expected in some of the targeted areas.
Sanders explained, "It only put us behind 30 to 45 days. We had expected to be completed by November or December (2022), just in time for the holiday season. Now it looks to be January 2023, and that's a great way to beat the
after-holiday blues, right?"
The library was delayed, too, which actually ended up benefiting the project's finances, as materials didn't have to be ordered during the height of pricing due to the pandemic and shipping issues. "We saved a lot of money just by having more time added to our projection. But we've been lucky that we've experienced no labor shortage; our contractors have done a great job. We just feel like we've been very fortunate. Our timing has been pretty darn good," said Sanders. Ultimately, the goal for properties adjacent to this Towne Center is to see further development of housing and businesses in the surrounding areas, including hotels and other attractions that will draw locals and tourists alike to the beautiful heart of Snellville — downtown at last.